The good news for the Avalanche is that their main roster consists of many young stars. Players like Gabriel Landeskog, Matt Duchene, and Nathan MacKinnon have all graduated to become bonafide NHL talents. The downside is their pipeline lacks in elite prospects. Not to worry though, Colorado still has some depth in their prospect pool that they are proud of and hope to gradually move them along in the development process. Here is a quick look at their top five prospects.
Criteria:
Skaters can not have played more than 42 games.
Goalies can not have played more than 25 games.
5. Sami Aittokallio – AHL – Lake Eerie Monsters – G
The Finnish goalie hasn't been lights out in his first two years in North America, but he's beginning to understand the game a bit better and how it's played compared to Europe. A reactionary goalie, Aittokallio has very quick reflexes and is strong positionally. Last season with the Monsters, Sami had a 15-15-3 record while allowing 2.65 goals against per game and a .909 save percentage. His biggest issue has been his rebound control, but he's still getting accustomed to the increased workload from his time in Finland.
4. Duncan Siemens – AHL – Lake Eerie Monsters – D
A 6'4″ hulking defenseman, Duncan Siemens is stay-at-home blueliner that throws his weight around with brute force. He's a relentless shot blocker and breaks up plays with a his pokechecking and long reach. In the WHL, he was on the scoresheet somewhat frequently for being a shutdown defenseman, but he probably won't be used as an offensive tool. He battled injury for half of last season, but this year he should return healthy and be a greater impact for Lake Eerie, all the while fighting for a spot in the NHL.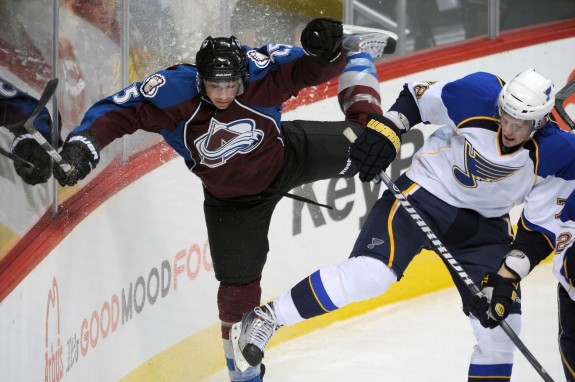 3. Stefan Elliott – AHL – Lake Eerie Monsters – D
Elliott has found out the hard way that you don't make the NHL and stick. Stefan is still trying to make his way into the Avs lineup as an offensive defensemen, but it won't be gift wrapped for him. He's an average sized defender with quick feet and agile movements. Elliott can find an open teammate down ice easily and is very poised with the puck. He likes to jump into the play and willingly pinches to keep the puck in the zone and keep the play alive. His time as a top prospect is beginning to wrap up so it will be time for him to bring his "A game" this year if he wants to solidify his spot in the top-six on defense in the NHL.
2. Conner Bleackley – WHL – Red Deer Rebels – C
Red Deer of the WHL has produced quite a few first rounders in recent years. Conner Bleackley joined the likes of Ryan Nugent-Hopkins and Mathew Dumba by becoming a 1st round selection of the Colorado Avalanche. Bleackley isn't tall, but he's stocky. He's sturdy on his skates with exceptional balance and a powerful shot. He's defensively responsible, as well, and positions himself in situations where the opposition will be able to have an odd man rush. Scoring 68 points in 71 games last year for the Rebels, Bleackley isn't ready to play in the NHL yet, but he isn't far off.
1. Chris Bigras – OHL – Owen Sound Attack – D
Bigras is arguably one of the smartest defensemen in the OHL. He knows when to jump into the play and also knows when to play reserved and stay back to help in his own zone. One of the least flashy players you'll see on the ice and you probably won't notice him at all, but that's a very good thing for a defenseman. He'd much prefer other players get recognition for goals and assists. Bigras has great lateral movement, keeps players to the perimeter, and knows how to close gaps to stop passes from getting through. There is no rush for Bigras, so he'll be back in Owen Sound for his 4th season this year.