On just the second day of the Washington Capitals 2017 development camp, goalie coach Mitch Korn pulled a ramp out onto the ice and planted it in front of the net. Used to mimic the game-like scenario of deflections, Korn had two players stand and shoot pucks up the ramp and toward the goal.
Though goaltenders get to practice deflections and have gone through their fair share of drills, this was something Capitals goalie prospect Mack Shields, one of the netminders who attended Capitals 2017 development camp, had yet to experience.
"When he brought a ramp out, it was very unique," Shields said. "I've never done anything like that and it really helped pinpoint some great points he was working out."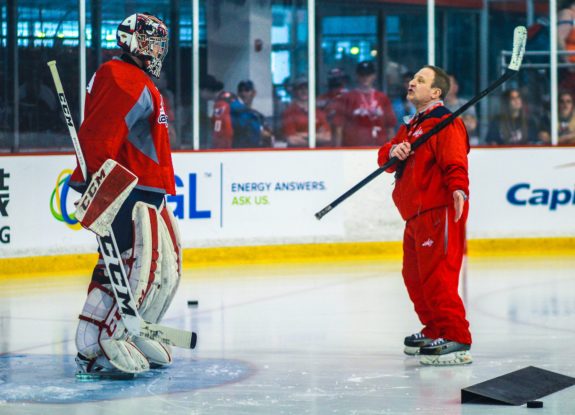 Known for his unorthodox yet dedicated coaching style, "The Goalie Whisperer" is said to be one of the greatest goalie coaches of all time. Not only did he coach Dominik Hasek and Braden Holtby to a combination of five Vezina trophies and eight nominations, but he has also worked with the likes of goaltenders like Pekka Rinne, Grant Fuhr and Tomas Vokoun.
Korn's Legacy in Washington
Washington hired Korn after they cleaned out the front office and brought Brian MacLellan and Barry Trotz on board. Korn had worked under Trotz in Nashville and took on the coaching duties right away in Washington.
After Holtby struggled in 2013-14, Korn came in and turned the tables right away. Just one year later, Holtby completely elevated his game, so much so that he ranked among the best goalies in the NHL just a season later. In 2015-16, Holtby thrived and not only took home the Vezina Trophy but was considered one of the league's elite netminders.
"What sets [Korn] apart is his innovation," Holtby told Bleacher Report. "He's always a step ahead of the game. He's not looking for the late solution to the problem. He's looking for the problem before it occurs. You don't see many people in coaching, and especially in goaltending, be like that. He just really gets into seeing people become their best self. You can see that at his camps and here in the NHL."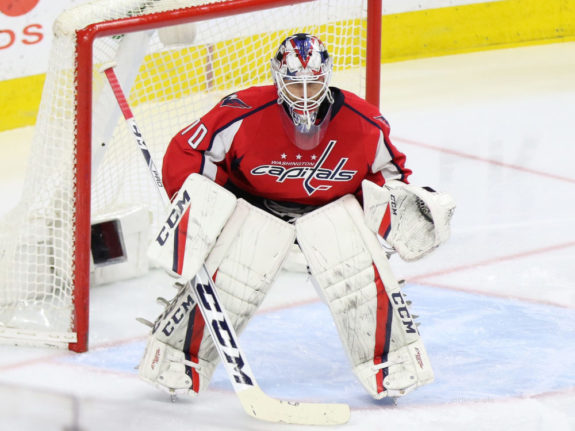 Even Philipp Grubauer is growing thanks to Korn's coaching. He has been with the organization since his ECHL days with the South Carolina Stingrays and is now an up-and-coming starter who packs a lot of promise moving forward.
Thanks to both Grubauer and Holtby's success, Washington is considered a "goalie factory," with Korn acting as the mastermind behind the operation. This coming season, however, Korn will step back from day-to-day operations and take over as the Capitals director of goaltending and turn his goalie coaching duties to current Hershey Bears coach Scott Murray. Still, his impact is unforgettable — the legacy he has made for himself has left a mark, especially at Capitals development camp this past week.
Korn's Impact on Prospects
Carlson, who signed a contract with Washington in March 2016, returned for his second development camp and was joined by three free agents in Shields, Michael Lackey and Colin Delia. Though all four of them entered camp with different goals in mind, they all had one thing in common — each of them went through "the grind" together, but it paid off immensely.
Korn would work the goalies in the mornings through separate on-ice sessions, using ramps, medicine balls and other unique tactics to help focus on different areas. The game-like scenarios and other teaching methods worked the goalies to the point where they were not only sweating but could barely catch their breath.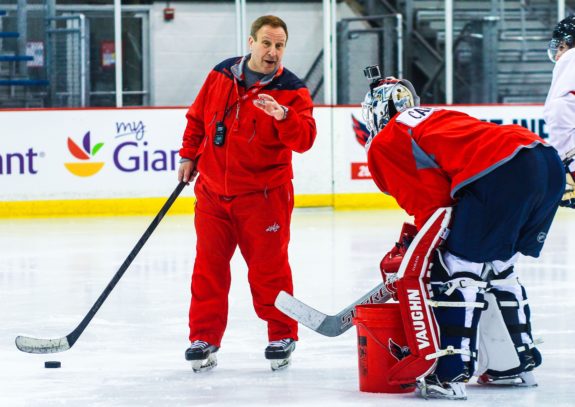 "He's very intense when it comes to it, but he's only intense because he cares so much," Carlson said. "He wants you to succeed. He puts you through the grind. It's unbelievable what he does, and he pushes you to your max. I think I can speak for all the goalies here when I say that he's pushed us to our max and it's only gonna help us."
Lackey agreed, calling Korn's coaching style "high-intensity," but only because "he knows what you can do" and that he expects the goalies to "never give anything less than 100 percent."
"He knows what you can do, in a sense, he's always pushing you and he always wants you to be at your best," Lackey said.
Though the level of intensity can be a lot for a netminder, especially one who has never worked with Korn before, it helps them find a new edge to their game. On the ice, he will talk one-on-one with each of them, adjusting their positions in net and showing them new ways to approach their respective games.
For instance, with Shields, Korn helped him adjust to the situation instead of going to a default save. With Delia, Korn helped him with tightness in the body and hand positioning. As for Lackey, Korn advised him to track the puck and watch the play before reacting to it. Lastly, Carlson worked on conditioning and shifting into pucks, while tracking the play and staying tight.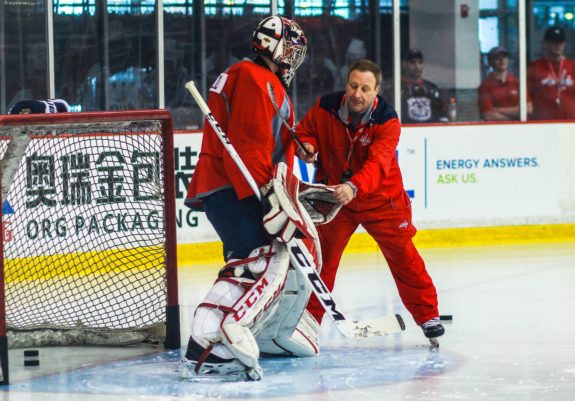 [miptheme_quote author="Capitals goalie prospect Colin Delia" style="text-center"]Mitch is just a wealth of knowledge. Just the way he thinks the game, the way his brain processes the game, how detail-oriented he is, it's unparalleled. The attention to detail he has to the goaltenders and the tempo that we keep in goalie skates and throughout the day is unmatched anywhere else. It's pretty unique.[/miptheme_quote]
In the end, no matter how much work Korn put the netminders through, they all sang his praises and took away a lot out of one week of development camp. And for goalies like Carlson, Korn ranks among the top coaches in the business.
"[Korn's] by far one of the best goalie coaches I've worked with," Carlson said. "One because he cares so much. Two because of the guys he's worked with and three because there's so much passion in what he does. He lives and breathes it and sleeps it, I'm sure. I don't think I've ever heard him talk about anything but hockey. It's what he does, it's what he loves and it's pretty fun to be a part of."
Sammi Silber covers the Capitals beat for The Hockey Writers and is an NHL contributor with Sporting News. She has also contributed to USA TODAY College, Huffington Post, FanSided and the Nation Network. Silber has written four books and recently worked on graphics for the film, The California Golden Seals Movie.