Following their fifth Southeast Division championship in the last six years, the Washington Capitals signed forwards Eric Fehr and Aaron Volpatti to two year contract extensions beginning in the 2013-2014 season. The signings were announced by Washington Capitals General Manager and Vice President George McPhee Wednesday morning.
#Caps have signed RW Eric Fehr (2 yrs, $1.5 mil AAV) and LW Aaron Volpatti (2 yrs, $575,000 AAV) to contract extensions.

— Mike Vogel (@VogsCaps) April 24, 2013
Fehr, 27, earned a two year deal worth three million, with a cap hit of 1.5 million per season. He has 16 points this season while playing on the third forward line for the majority of this season. Fehr leads all Washington skaters in plus-minus with a plus 14, and is fifth in goals (8) for the Capitals.
Fehr has 112 points in 304 career NHL games, playing for the Washington Capitals and Winnipeg Jets. He  was originally selected by Washington with the 18th pick in the 2003 NHL entry draft and worked through their system, winning a Calder Cup with the Hershey Bears in 2006. He's chipped in offensively in big moments this NHL season, including an overtime winning goal against the Boston Bruins earlier this year.
Washington also signed enforcer Aaron Volpatti to a two year deal, worth 1.15 million. He'll hold a spot on the fourth line for the next two seasons, likely with forwards Jay Beagle and Matt Hendricks, if he Hendricks resigns.
Volpatti has contributed one point and seven penalty minutes in 15 games for Washington since he was claimed on waivers from the Vancouver Canucks earlier this season.
Impending Free Agents
Even with Fehr and Volpatti signed, there are some big impending unrestricted and restricted free agents that General George McPhee must re-sign. Second line center Mike Ribeiro is and impending unrestricted free agent and could earn close to six million dollars on the open market. Matt Hendricks is also set to hit the open market, but could return on a low salary.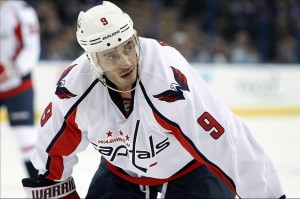 Restricted free agent Marcus Johansson could earn close to two million per season on a multi-year deal and defenseman Karl Alzner could get a raise from his current 1.285 million dollar salary.
Goaltender Michal Neuvirth, who also hasn't played very much due to the impressive play for Braden Holtby is set to become a restricted free agent, but goalie prospect Philipp Grubauer continues to impress at the AHL level. It would be a good idea for McPhee to retain Neuvirth on a one year deal until Grubauer is NHL ready.
You can follow Matthew on twitter @m_speck and email him at mspeck21@yahoo.com with any questions or comments.