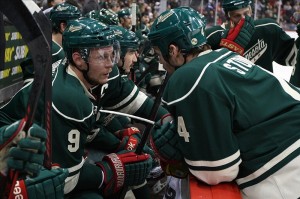 Wednesday night's win over the Los Angeles Kings didn't mathematically lock up an NHL playoff berth for the Minnesota Wild. However, it made it extremely likely that the Wild's year will extend past this Saturday's regular season finale in Denver. This franchise's goal was set out very clearly last summer. It looks like the first part of those ambitions will be realized with Minnesota inches away from a 2013 postseason berth. After four years of frustration and mediocrity, it was very clear on Wednesday that the state of Minnesota is once again rallying around its NHL team. The taste of the NHL playoffs is going to be very sweet indeed for the state of hockey.
That's right! I don't believe in jinxes! I understand that the Wild losing their final two games against Edmonton and Colorado combined with a specific set of successful results from two of Columbus, Detroit and Dallas could still see Minnesota miss out. However, with the Stars facing both the Blue Jackets and Red Wings in their final two games, it is more likely that they will only disrupt each other's chances. Do we really not expect Mike Yeo's team to take wins or at least points from their final two games against two of the West's basement dwellers, and two teams that they have dominated so far in 2013? [See also: Minnesota Wild Kicking Butt In Northwest]. This team is going to make the playoffs.
An end of season slump that had seen Minnesota go 3-7-1 through their first 11 games in April had many wondering whether the 'new direction' for the Wild would stumble at the first hurdle. A 4-1 home defeat, the fifth straight loss at the Xcel Energy Center, against a young Calgary Flames line-up created enormous pressure ahead of a difficult clash against LA last night.
The Kings are the Stanley Cup champions, they are big, physical, play a hard two-way game and usually get pretty good goaltending. Yeo and GM Chuck Fletcher signaled their intentions pretty clearly to their team ahead of the game demoting talented rookies Jason Zucker and Mikael Granlund to the AHL's Houston Aeros, while recalling the more rugged Jake Dowell and Stephane Veilleux. Zenon Konopka returned to the line-up playing his first game since April 11. The message was that the Wild needed to scrap and show more determination if they wanted to make the playoffs for the first time since 2008.
Based on Wednesday's performance that message was received. Minnesota played arguably their toughest and scrappiest game of the year. They got pucks in deep, they initiated contact, they played aggressively in the defensive end and ultimately restricted the number of quality chances for LA. When they did give up chances they got top quality goaltending from Niklas Backstrom including a stunning glove save in the dying seconds against Slava Voynov. The Wild will not only cruise into the postseason if they replicate their Wednesday night performance, but they also showed signs of being a difficult first round opponent.
There's a real feeling of genuine excitement and enthusiasm for this team and this franchise. The Xcel Energy Center looked to be alive and strong against the Kings and it should be rocking assuming Ryan Suter, Zach Parise, Mikko Koivu and co. finish off the job of securing playoff qualification. It hasn't been easy for the Minnesota Wild to ingratiate themselves with the local fan base, but there are signs that this team are gradually doing that. Playoff hockey appears to finally be on its way back to Minnesota and it will taste pretty sweet for the fan base.
Also on The Hockey Writers: Washington Capitals Clinch Division, Ovechkin Stays Hot