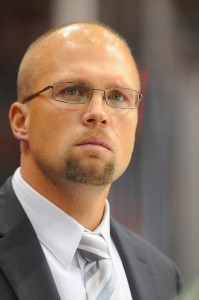 As the shortened 2013 NHL season has advanced, it is beginning to look more and more like the rejuvenated Minnesota Wild do have a legitimate shot at reaching the postseason and potentially even winning their division. A franchise that invested heavily this offseason by signing top free agents Ryan Suter and Zach Parise has been rewarded with a team that really does appear to be coming together nicely. A big reason for that recent success is Minnesota's own recent domination over their Northwest division rivals. That success against the Northwest should ensure that the Wild return to the postseason following a four-year absence.
The past 13 games have seen a significant upturn for Minnesota in terms of results. After a shaky start where they managed just a 6-6-2 .500 record; Mike Yeo's team have really picked things up posting a 9-4-0 mark over the past 13 games and even taking over the lead from the Vancouver Canucks in the Northwest division this weekend. [see also: Minnesota Wild Mid-Term Review]
During that spell of 13 games, the Wild have gone 6-1-0 against division opponents. They are only actually 3-3-0 against non-Northwest foe during their recent run. It should be noted that those statistics are undoubtedly slightly skewed by the fact that two of those three losses came against the Anaheim Ducks and the other was against the Chicago Blackhawks.
The trend is repeated overall though. Minnesota are 8-3-1 against the Northwest, while playing at just .500 (7-7-1) against the rest of the West. There is a clear match-up advantage for the Wild against their divisional opponents and this is a huge advantage in a playoff race where scheduling is skewed towards divisional match-ups. Here's the team-by-team breakdown:
| | |
| --- | --- |
| Opponent | Record |
| Calgary Flames | 2-1-0 |
| Colorado Avalanche | 3-0-1 |
| Edmonton Oilers | 2-0-0 |
| Vancouver Canucks | 1-0-2 |
Three of the four total losses came in the space of a week with Minnesota losing a pair of regulation losses and an overtime defeat against Colorado Feb 7-14. That leaves a regulation time defeat to Calgary at the end of February as the only real odd slip up experienced by Minnesota through 27 games.
Considering that the Wild are just two points clear of ninth place, it may seem a little early to declare them a playoff team already. However, that suggestion isn't based purely upon form and mathematics, but rather upon on-ice observation. It's clear that Yeo's line-up is one of the more talented in the Western conference and it is clear that the success Minnesota has enjoyed in key division match-ups is sustainable. Here's three reasons why:
1) It's no coincidence that Minnesota has done well against these teams, especially Edmonton, Calgary and Colorado. All three of those teams are in the bottom 10 in the NHL in terms of GA/G and all play with an offensive mindset. This is pretty much perfect for Yeo's system, which generally seems to be defensive-minded, but with an emphasis on counter-attacking hockey with speed. It also means that some of the Wild's better offensive players, notably Mikko Koivu, Zach Parise and Dany Heatley, have a little more space to play with and are less tightly-checked.
All three of Edmonton, Colorado and Calgary's blue lines are exploitable. Minnesota's early season anemic offense has used Northwest opposition to come alive. Suddenly this is a team with three lines that look like they can score.
2) 44.4% of the Wild's games so far on their schedule have been against Northwest division opponents. They've played 66.7% of their games against Northwest division opponents with only 28.6% of their remaining games coming against division rivals. On the face of it that may seem like a negative factor, but there is an important piece of redemption.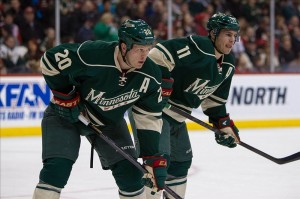 Five of the Wild's final seven games are against their favorite opponents. Two against Calgary, two against Edmonton and one against Colorado. Assuming that Minnesota stay in the playoff race, they should have the perfect opportunity to book their place against preferred opposition.
3) Mike Yeo hailed Saturday's victory as the most complete effort of the season for his team. That may be something of an exagerration considering some of the defensive lapses, but the succinct nature and fluency of Minnesota's play right now is miles ahead of where it was only a month ago.
That is probably true of every team, but it has been particularly beneficial in the case of the Wild after their major offseason revamp. The impressive form of Ryan Suter has been pretty crucial as well. He posted four assists and a -7 rating through the first 10 games of the 2013 season. He has two goals, 19 points and a +4 rating in the past 17 games while leading the team and league in average ice time per game.