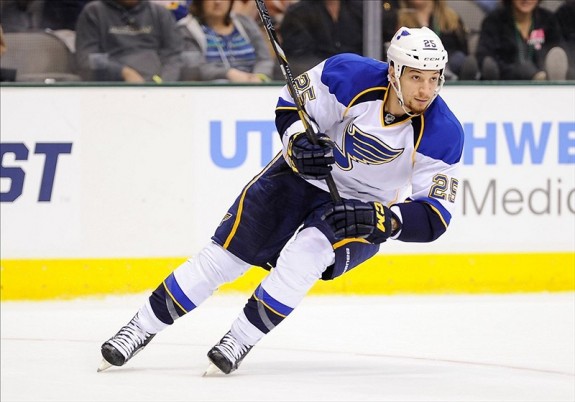 The NHL General Managers will convene in Toronto on Thursday for a shortened version of their annual summit.  With just two weeks remaining until the April 3 trade deadline, the meetings should give GMs a chance to exchange names and discuss trade possibilities.
All has been relatively quiet so far on the trade front.  However, TSN's Darren Dreger reported last week that St. Louis is dangling Chris Stewart to see what he might fetch in a deal.
Stewart, 25, leads the Blues in scoring this season and is in the midst of a torrid tear that's seen him score 15 points in just nine March games.  He's also on the first line alongside Alex Steen and David Backes.
The St. Louis Perspective
So why would the Blues be interested in trading away their leading scorer and most dominant forward as of late?
Stewart has been a bit of an enigma his entire career.  He scored 28 goals in back-to-back seasons with Colorado and St. Louis, but fell out of favor with Blues coach Ken Hitchcock last season.  Stewart was even a healthy scratch at times in last year's playoffs and decided to rededicate himself to training in the offseason.  The extra dedication has him on the best scoring pace of his career.
While the Blues would ideally love to hang onto a blossoming power forward long term, they also have other big decisions to make.
Stewart will be a restricted free agent this summer after signing a one-year, $3 million "prove it" contract.  He'll join a list of players needing new deals that includes Andy McDonald, Patrik Berglund, and stud defensemen Alex Pietrangelo and Kevin Shattenkirk.  Pietrangelo and Shattenkirk are in line to get substantial raises and the Blues have a number of talented forwards working their way into the system if they need to replace Stewart.
A Stewart trade could also help St. Louis fill a void in their roster.  ESPN's Pierre Lebrun recently reported:
Speaking of the Blues, sources around the league say GM Doug Armstrong is on the lookout for a left-handed, top-four type blueliner, a guy who can play with either Alex Pietrangelo or Kevin Shattenkirk on either of the top two pairings.
The Pittsburgh Perspective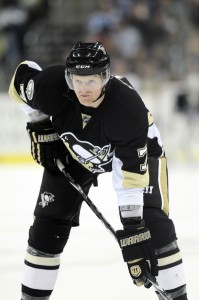 Over the past week, a number of readers have emailed and tweeted asking if there's any chance Pittsburgh can land Stewart, and if so, what the cost would be.
Last June, we suggested that if Penguins GM Ray Shero missed out on free agent Zach Parise, he should turn his attention to acquiring Stewart. [Click here to read THW's in-depth analysis of why Chris Stewart could work in Pittsburgh]
Trying to predict cost without knowledge of Armstrong's true expectations can be a fruitless exercise, but let's examine the potential pieces that could make up a deal.
In the June article we floated the possibility that Paul Martin might fit Armstrong's need for a left-handed top-four defenseman.  Shero approached Martin about a trade out of Pittsburgh in the offseason but Martin said he wanted an opportunity to turn his game around.  The Penguins eventually dealt Zbynek Michalek instead and Martin has seized his second chance.
Martin is playing with supreme confidence and earning every dollar of his $5 million cap hit this season.  His limited no-trade clause makes it tough to still envision a scenario where he'd head to St. Louis in the coming weeks.
Simon Despres' name has been thrown around in trade talks lately.  Despres has developed nicely since making the team out of training camp but we'll save a more in-depth analysis of his situation for later this week.
That leaves two possible names that could fit into a potential Stewart deal: Brooks Orpik and Matt Niskanen.
On one hand, it's wild to even suggest a trade of Orpik.  He's been with the organization his entire career and brings a physical presence that's unmatched by any other regular defenseman on the current roster.
However, he's also 32 and plays a physical brand of hockey that can take a toll on the body.  At times, Orpik is the most dominant defensive player on the ice.  In other games, you can see him battling through the grind of a compact season.
Orpik has one year left on his current contract and isn't on the decline yet…but how much does he have left in the tank?  In the salary cap era, it's better to let a player go a year too early than a year too late.
See Related: Analyzing Brooks Orpik and the Penguins' New Shutdown Pair
The Penguins' recent struggles on the penalty kill have also opened the door for Mark Eaton to grab some of Orpik's shorthanded ice time.  Orpik was always part of the first defensive pairing deployed after a penalty but that hasn't been the case the last few weeks.  Are the Penguins coaches giving Orpik a chance to get his game back on track, or is this something more permanent?
The deciding factor when it comes to Orpik is what he means to the locker room.
Pittsburgh only plays ten games after the trade deadline this season.  If the Penguins were in the midst of a lengthy losing streak, a significant shakeup might be in order.  But they're not.  You can't trade your assistant captain with ten games to go in the season without risking team chemistry that takes months and years to develop.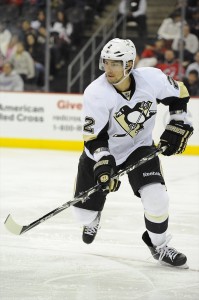 Matt Niskanen, 26, is an underrated feel-good story this season for the Penguins.  He came over from Dallas in the Neal-Goligoski deal two years ago and has turned his career around.  He seems to genuinely love being in Pittsburgh and his $2.3 million cap hit through next season is very favorable.
Niskanen is right-handed, which doesn't fit the wish list of Blues GM Doug Armstrong, but he's the rare defenseman who can excel playing both sides of the ice.  He makes a great breakout pass and his physical game has been more noticeable this season.  He has a big shot and can quarterback a second powerplay unit with ease.
Doesn't sound like a player the Penguins would want to trade, right?
The reason Niskanen might make sense as part of a trade for Chris Stewart is his departure wouldn't leave a gaping hole in the roster.  Pittsburgh has an impressive stockpile of defensemen working their way through the system.  That luxury is what allowed Shero to deal Goligoski for Neal and Niskanen in the first place.  Goligoski was simply worth more to the Dallas Stars than he was to the Penguins as a fifth defenseman.
See Related: Penguins Primed For Major Trade
There are a few long term risks when it comes to Chris Stewart.
Teams don't trade young power forwards with 30 or 40-goal potential very often.  Why was Colorado (and now St. Louis) so anxious to get rid of him?
Shero would also like to know that he has a reasonable chance of retaining Stewart if things work out.
The team generally possesses all leverage in contract negotiations with restricted free agents, but Stewart has arbitration eligibility.   Arbitration cases are built on comparables and basic NHL stats like goals and points.  Based on age and production, Stewart could easily point to James Neal and his $5 million cap hit as a comparable.  Can the Penguins afford another $5 million winger with Evgeni Malkin and Kris Letang owed contract extensions soon?
The asking price for Stewart is rising by the game as a result of his recent performance, but the opportunity to acquire players like Neal and Stewart don't come around very often.
At a fair price, a deal for Chris Stewart may still makes sense.
See Related: Chris Stewart's fit in the Penguins' up-tempo system
___________________________________________