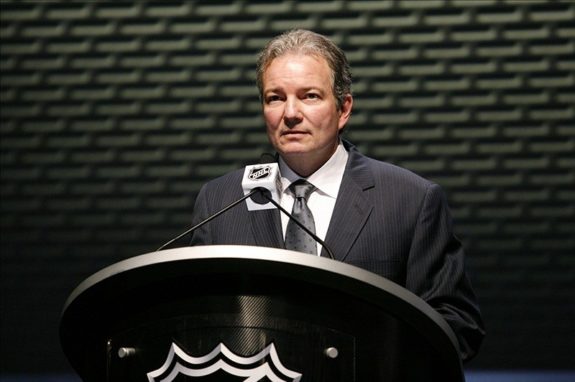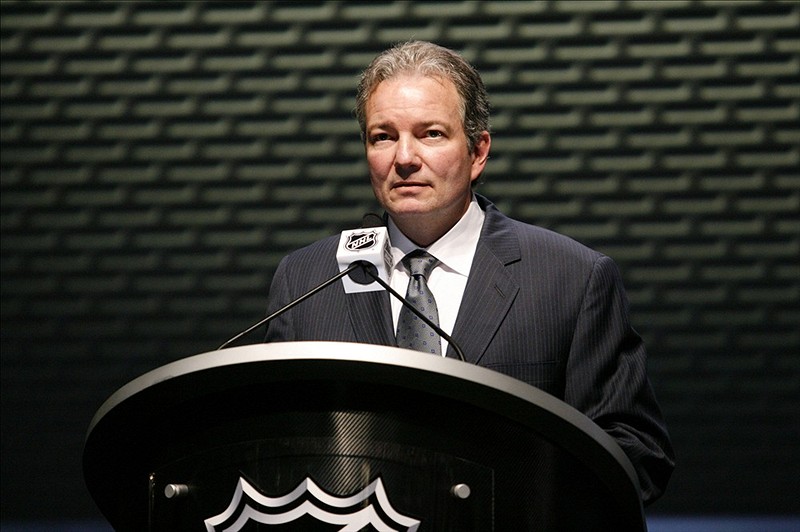 The James Neal trade almost didn't happen.
During the 2011 season, Pittsburgh Penguins General Manager Ray Shero and his staff decided to hunt for a long-term winger for Sidney Crosby.  Their wish list characteristics resembled a hockey personal ad: early to mid-20's, physical, good personality, fast skater, proven goal-scorer.
Of course, what GM wouldn't want a player like that?
The list of candidates was short.  The teams that possess those players don't give them up very often.  Shero had to be prepared with salary cap space and the right trade assets if and when one of the players on his list became available.
In January 2011, Dallas GM Joe Nieuwendyk expressed an interest in the Penguins' abundance of puck-moving defensemen.  Since the 2005 lockout, teams have come to appreciate the value of a smooth-skating defenseman that can create and join the offensive rush.  Shero knew this.  He was receiving calls from a number of GM's asking for the same thing.  But he also knew James Neal, a name on the Winger Wish List, was a member of the Dallas Stars.
Over the weekend of February 19, Shero and Nieuwendyk finally exchanged names.
In addition to their defensive need, the Stars were operating under a tight budget as they worked through bankruptcy.  Any trade Nieuwendyk made would have to include significant salary going back to Pittsburgh because the team was hoping to re-sign Brad Richards before he hit free agency.
Dallas had a logjam of left-handed wingers fighting for playing time on the top two lines.  Jamie Benn was all but untouchable.  James Neal, on the other hand, was available at the right price.
In Pittsburgh, the addition of high-priced free agent defensemen Paul Martin and Zbynek Michalek made Alex Goligoski the best #5 defenseman in the NHL.  He showed flashes of brilliance but would never get the opportunity to reach his potential in 12 minutes of ice time a game with the Penguins.
On February 21, the deal became official:
James Neal and Matt Niskanen to Pittsburgh
Alex Goligoski to Dallas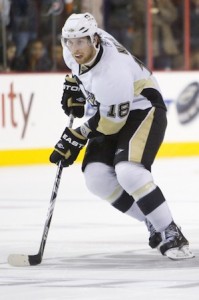 This wasn't a player-for-pick swap, a salary cap dump, or a rental like we often see at trade deadline time.
This was what GM's refer to as a hockey deal: a trade of talented players that fulfill specific needs on both teams.  These so-called hockey deals are few and far between in the NHL's salary cap era, and even less common during the season when teams are restricted by roster limits and cap constraints.
The Penguins, a team that always operates near the salary cap ceiling, were only able to take on an extra $2.5 million in cap hits from the deal because Evgeni Malkin had torn his ACL two weeks prior and was ruled out for the rest of the regular season.
Without the long-term injury exception for Malkin, Shero couldn't have even traded Goligoski for Neal straight across.
Had Shero waited until the offseason to pursue the deal, Neal may have been off the market as Richards later made it clear he wouldn't be returning to Dallas.
Timing is everything.
And maybe throw in patience, preparation, and the willingness to pull the trigger when the window for a significant trade appears.
Consider the 2013 Penguins team.  James Neal was snatched away by Malkin and the two will remain together as long as Malkin still needs to sign a new contract extension in the summer of 2014.  Crosby remains with the same wingers he had in 2011: Pascal Dupuis and Chris Kunitz.
Dupuis and Kunitz are putting together impressive campaigns.  They're also both 33.  If there was an interest in finding Crosby a long-term winger two years ago, isn't it safe to assume that desire quietly still exists today?
The quick fix would be Calgary's Jarome Iginla.
There's nothing long-term about the 35-year-old Iginla, but he's scored over 30 goals in every season since 2000.  He'll fight, crash the net, notch a hat trick, and organize a million-dollar charity event all in a day's work.  The Flames aren't officially shopping their captain, but when they do the price will be big.
The Penguins will — and do — have interest in Jarome Iginla.
What playoff team wouldn't want Jarome Iginla?
Come to think of it, how many organizations can't call themselves possible playoff teams at this point?
Approximately halfway through the season, the last place Florida Panthers are five points out in the East and the Columbus Blue Jackets are six points out in the West.  The shortened season and last year's magical run of the 8-seed Los Angeles Kings gives every team and GM hope that this could still be the year.
Then consider the fact the salary cap will fall from $70.2m to $64.3m next season.  Most teams have plenty of pro-rated cap space to play with right now, but no GM wants to take on salary beyond this year.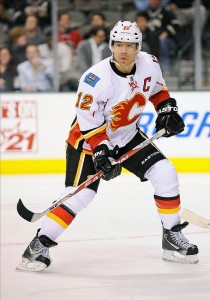 Sounds like quite a market for rentals by the name of Iginla, Sergei Gonchar or Daniel Alfredsson, huh?
The asking prices for each will be through the roof and some desperate playoff team will pay it.
Unless Iginla uses his no-trade clause to limit the number of suitors and drives the price lower, I'm not sure Shero and the Penguins will make the deal.
Iginla is tempting because he'd make Pittsburgh the runaway Cup favorite for this season.  But they were supposedly the runaway favorite last season as well before bowing out to Philadelphia in the first round.  Luck, matchups, and concussions can derail even the best teams in this parity-filled era.
In this climate, doesn't it make more sense to be the GM who's willing to take on salary for multiple years?
Doesn't it make more sense to pursue another 'James Neal hockey deal'?
Shero and his staff have set themselves up perfectly.  They've accumulated an almost laughable amount of those valuable puck-moving defensemen.  They have the ability to add $16m in cap hits as of today and still have $10.6m in space under next year's lower cap (to sign about five depth forwards).  The Penguins have even tried everyone outside of their mascot Iceburgh in the scoring line void this season to make sure the answer wasn't already in the organization.
Unfortunately for anxious Penguins fans, the elusive hockey deal may not appear until the offseason.
That doesn't mean Shero will stand pat at the deadline.  But it doesn't mean he'll surrender multiple top picks and prospects for an Iginla rental either.
Like James Neal on the powerplay, Shero is just waiting, watching, ready to pull the trigger.
___________________________________________