The Washington Capitals entered Saturday's matchup with the Devils one point behind New Jersey for the Metropolitan Division lead. Though the stakes were high, goaltender Braden Holtby said the team treated it like they did any other game.
"A game like this is no more important than a game against Colorado or someone in another conference," Holtby said. "Two points is two points. We're not trying to fight against other teams. We're fighting to get as many points as we possibly can. That's a mindset that we want to have to be consistent."
Prior to Thursday's 4-3 shootout win over the Boston Bruins, the Capitals were in the midst of a three-game losing streak and hit a wall around the Christmas break. Eager to put the past behind them and build on the comeback win over Boston, the Capitals got off to a fast start against the Devils, who also played Friday, and dominated with a 5-2 win Saturday.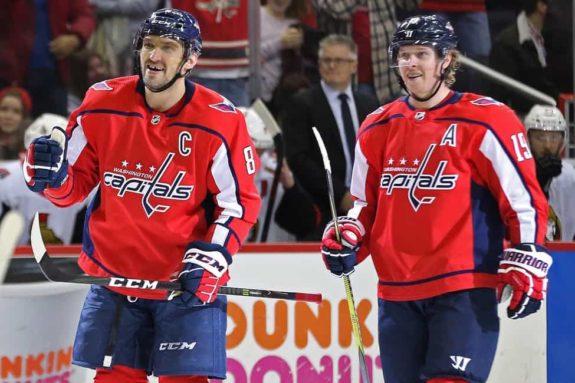 "We were also beneficiaries of the schedule," defenseman Matt Niskanen pointed out following the victory. "I think they had a little bit of heavy legs and we were fresh, so took of advantage of that. We've been on the other end of two of those, so no mercy."
Djoos Leads Surging Blue Line
The Capitals blue line combined for six points in Washington's victory over New Jersey, and though John Carlson finished with three points, it was rookie defender Christian Djoos who stole the show. Not only did he finish with a goal and assist, but the 23-year-old also drew a penalty that led to a power-play goal for Washington and registered four shots on goal.
"We talked about getting a better start and keeping tempo and getting pucks deep, and I think we got it," Djoos said. "John played a really good game and kind of carried me too, so a lot of thanks to him."
According to Niskanen, he believes Djoos has continued to adjust well to the NHL level and is progressing quickly, thanks in part to quick learning and most importantly, confidence.
"He's getting better and better learning how to defend and using his positioning and his stick work to defend, and he's kept his confidence up with the puck," Djoos said. "I think you can see his ability, and he's got the guts to make a play and it's to see him contribute. He's got a lot of skills."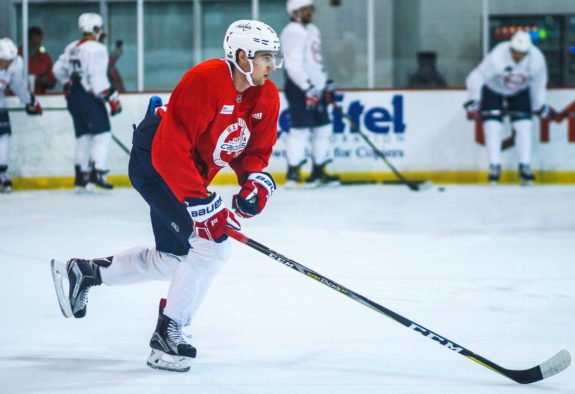 In addition to Carlson and Djoos, Niskanen also scored, and Brooks Orpik also saw a few good scoring chances Saturday. According to Carlson, who led all Capitals skaters yet again with over 25 minutes of ice time and registered three blocks and four shots on goal, he was impressed with the blueliner's efforts to step up and generate some offense.
"I think it's great. I think, that's kind of our goal all the time, to be involved, and when you make a difference like that, I think it's a big spark for our team."
After the game, head coach Barry Trotz said that Djoos and Carlson were "fantastic," but had high praise for how Djoos was evolving, especially when it comes to his patience and care with the puck.
"He got it from his dad a little bit, his dad was very, very patient and had an understand of what he would want to do," Trotz said. "I like his poise under pressure. Things happen fast for some guys and others they can play quick, pressure is not a big deal for them, it's a field for them, and he's a natural player like that."
Capital Gains
In addition to standout performances from the defensemen, Nicklas Backstrom and Alex Ovechkin also finished with multi-point nights Saturday. Backstrom had an empty-net goal and two assists, and Ovechkin finished with three helpers.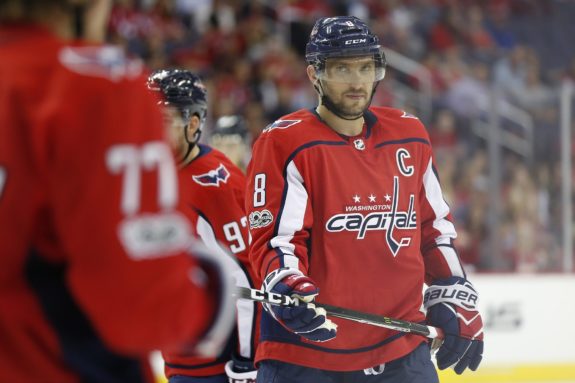 "Ovi's an underrated passer," Trotz said. "I thought he was just a pure shooter from afar, and then you start to see some of the plays he can make. He's got a real good ability to make plays. Obviously, the shot is undeniably one fo the btter ones that you'll ever see, but he sees the ice well. He makes good plays."
Trotz also earned his 737th career win Saturday, passing Lindy Ruff as the fifth winningest coach in NHL history. In his tenure with the Capitals, he has led the team to 180 wins and back-to-back President's Trophies.
"I've been blessed to be in this game a long time," Trotz said. "To be in this game a long time, you have to have someone who trusts you to lead the charge, to build a culture, you have to have good players and you gotta have a good staff and I've been very blessed to have all the above and some longevity, and when you've had long longevity as long as I've had, you end up with more wins."
Sammi Silber covers the Capitals beat for The Hockey Writers and is an NHL contributor with Sporting News. She has also contributed to USA TODAY College, Huffington Post, FanSided and the Nation Network. Silber has written four books and recently worked on graphics for the film, The California Golden Seals Movie.