The fantasy hockey season is a long and grinding year filled with many ups and downs. Although it's only been one extended fantasy week I wanted to give out the first week's Fantasy Hockey Awards much like the NHL does at the end of their year with the three main awards: the fantasy Hart Trophy, fantasy James Norris Trophy, and lastly the fantasy Vezina Trophy for the first week – from October 12th to the 23rd.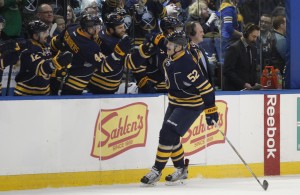 Here are my major NHL awards for the first week of fantasy hockey:
Most people look way too much into the first week of fantasy hockey, and with that being said, I will be doing the same thing. Although this is a reminder that this, of course, is only one week of a 20+ week-long fantasy hockey season. For those who roster the players mentioned below, they have gotten the most out of their products so far. But for fantasy owners whose players have underperformed, remember there is no need to panic, those same players could be easily deserving of these awards at the end of next week or future weeks to come.
Fantasy Hart Trophy – Richard Panik
GP:6 G:6 A:2 Pts:8 +/-:+4 PPG:2 GWG:1
The first week's Fantasy Hart Trophy is awarded to the week's most valuable player. This week there was no player more valuable and effective than waiver wire pick-up Richard Panik of the Chicago Blackhawks. There were many other players with widely impressive opening weeks who others may feel deserve this award, but none of them supplied the goal production or surprise value that Panik did. Added to his impressive underlying stats were his two power play goals making him a multi-category stud for the opening fantasy week.
Richard Panik (@NHLBlackhawks) has scored 6 times in 6 GP this season (6-2—8), matching his goal/point totals from 2015-16 (6-2—8 in 30 GP). pic.twitter.com/Hm21bjBzrT

— NHL Public Relations (@PR_NHL) October 23, 2016
Panik's six goals through the first fantasy week ranked him tops among all skaters. As well, his eight points have him tied for fourth in league scoring. Panik also shot a ridiculous 66.7% through the opening week, meaning there is plenty of room for regression going forward.
Panik is off to an incredibly hot and unexpected start. Due to his current situation as a top line winger alongside Jonathan Toews, his fantasy value will certainly stay in place for the time being. With that, do not expect Panik to have many more fantasy Hart-like weeks, but owners can continue to enjoy the benefits of the scoring winger occupying their lineups as long as he stays on Chicago's effective top pair as well as their power play unit.
Panik is by no means a superstar, but in the right situation makes a very intriguing and valuable fantasy asset who can help out many fantasy teams in the goal scoring category.
Honourable Mention – Connor McDavid, Brad Marchand
Fantasy James Norris Trophy – Brent Burns
GP:6 G:3 A:6 Pts:9 +/-:+2 Pim:4 Shots:29
The fantasy James Norris Trophy is awarded to the week's most valuable fantasy defenceman. After an absolutely massive season in 2015-16 which saw Brent Burns accumulate 27 goals and 75 points, it was assumed Burns was in for some fantasy regression in this, his age 31 season with the Sharks.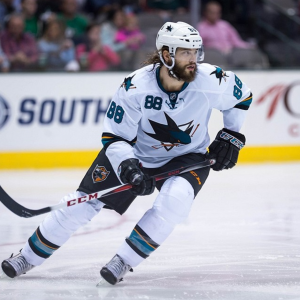 Burns quickly proved to everyone that was not going to be the case with an outstanding first fantasy week which saw him score three goals and nine points in six games. Burns started this year off in style with a game-winning goal in the Sharks' first game of the season against the Los Angeles Kings. He followed his strong opening night by accumulating multiple points in three of his next four games, all from the back end. Burns' nine total points through the first week are tied with only Connor McDavid and Brad Marchand for tops in the league making him an extremely valuable asset occupying anyone's defensive slot in their fantasy lineup.
Burns' incredible 29 shots were second in the league only to Vladimir Tarasenko and put him on pace for 396 total shots on the season. This likely means Burns will once again be a valuable contributor in both the shots and goal categories as this season plays out.
Any defenceman who can lead your team across a variety of categories for a week is more than deserving of the award as most valuable fantasy defenceman. Weeks like this may happen more often than not for Burns as the season progresses and he continues to remind owners that he is, in fact, one of the games most superior fantasy hockey defenceman.
Honourable Mention – Mike Green, Erik Karlsson
Fantasy Vezina Trophy – Cory Schneider
GS: 5 W:2 L:2 OTL:1 GAA:1.80 SV%: .943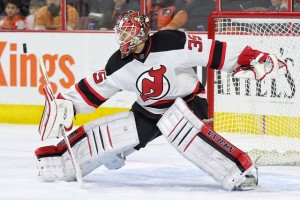 The fantasy Vezina Trophy is awarded to the week's top goaltender. Cory Schneider has been a model of consistency for nine seasons since joining the NHL. After the first week of fantasy hockey, Schneider is providing his owners with the same consistency we've come to know and then some. After starting all five of the Devils' week one games, Schneider ranked fifth in the league in save percentage with an impressive .943 Sv%. His 1.80 goals against ranks him fifth in the league and second among all starters. His two wins on the week had him tied for ninth among all goaltenders for wins and topped off his impressive underlying stats.
Can we all just appreciate that Cory Schneider has the best GAA and Save% of any goalie currently with 4+ games played in the entire NHL?

— Amanda (@nhljackhughes) October 24, 2016
Schneider's ability to perform among multiple big fantasy categories puts him a few notches above the rest of the league's goaltending competition for the first week. With his high volume of starts mixed with an extremely impressive save percentage and goals against average, owners received a nice abundance of top end stats every time Schneider was between the pipes.
Schneider has always been an elite goaltender on a weak team so that limits his full fantasy potential. Regardless if he can continue to have weeks like his original one, expect him to become one of the most valuable goaltending assets in most fantasy leagues.
Honourable Mention – Cam Talbot, Al Montoya