This is the seventh edition of weekly roundup. In this article we take a look at the last seven days of hockey in the NHL. The article will focus on players who have been putting up solid numbers and are likely still available in fantasy pools. We also look at the stars of the game who aren't getting on the score sheet for their team.
Worth a look
Tyler Bozak – Owned in 13% of Yahoo Leagues
Tyler Bozak put the #Leafs on the board with this goal. #TMLtalk pic.twitter.com/rXDqoeNwo4

— Toronto Maple Leafs (@MapleLeafs) December 16, 2015
This is the first time since the inception of Weekly Roundup we have had a Toronto Maple Leaf on the list and what a sight for sore eyes it is. Bozak has four goals and three assists in his last five games putting him at a respectable 23 points in 29 games this season. Many hockey fans expected the Leafs to be near the bottom this year. Fans were especially curious to see how Bozak would do without long time friend and former teammate Phil Kessel on his side, but Bozak's play as of late has been pretty strong.
Centering the first line and first power play unit makes him a pretty safe bet to continue to produce decent numbers. One thing to be cautious of if you are considering Bozak as a pick up is his plus minus. Bozak is currently sitting at a plus two. However, the Leafs are currently sitting at 11th in the NHL for goals against per game at 2.69 and averaging nearly 18:00 minutes of ice time a game means that Bozak could be on for a lot of goals against. The Leafs are a streaky team and tend to score a lot but also get scored on a lot, keep an eye on Bozak as he is on a great streak for now, but it is unclear how long this pace will last.
Ryan Spooner – Owned in 27% of Yahoo Leagues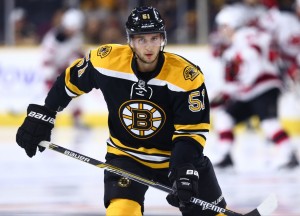 The 23-year-old Boston Bruins forward has been on fire lately putting up eight points in his last six games. Spooner has spent time playing for both Boston in the NHL and their AHL affiliate Providence over the past five years, but it looks like he is here to stay this year. Spooner has 22 points in 33 games this year for the Bruins and has been playing on the first power play unit.
Three of the eight points he has put up in his last six have been on the man advantage, an added bonus for poolies who have a power play points category in their league. Another added bonus is the grit that Spooner brings to his game. The forward has 23 PIM this year. Spooner is likely not worth a pick up in keeper leagues yet, but may be an overlooked option in weekly pools, especially playing on that first power play unit.
Leo Komarov – Owned in 35% of Yahoo Leagues
Saturday's Right Guard Canada #ForTheWin Game Winner is Leo Komarov's first period marker: https://t.co/INtPRoaBKU #TMLtalk

— Toronto Maple Leafs (@MapleLeafs) December 20, 2015
Who would have thought there would be another Maple Leaf in the good books this week? Call it holiday cheer, call it whatever you like, Komarov's play has warranted him a spot in this week's pickup list. Uncle Leo has eight points in his last five games. He has also been spending time on the power play lately, scoring two goals with the man advantage in Monday night's win. Komarov leads the Leafs with 15 goals on the year and is on pace for nearly 40 goals this season. It is unlikely that Komarov, whose previous personal best NHL goal totals in a single season was eight, will maintain this astounding pace, but he has already set a personal best and has a very good shot at reaching 30 goals. Komarov is worth a pick up in all league formats.
Poor Performances
Alex Pietrangelo
Other than Kevin Shattenkirk, Alex Pietrangelo is the best defenceman on the St. Louis Blues, however his play this year has not been living up to the reputation he has built for himself in the NHL. Pietrangelo has only two assists in his last 10 games and is a minus one over that span. He has 13 points in 36 games this year and is on pace for 30 points, which would be his lowest season totals since 2010, excluding the 2012/2013 season where he played 47 games and had 24 points.
A big reason why Pietrangelo has been lacking points lately can be attributed in part to St. Louis' power play. The second unit, which Pietrangelo plays on, has not scored a goal since November 12th. Pietrangelo is still among the best defencemen in the league and with the talent he possesses along with the talent surrounding him in St. Louis, it is likely he will pick up his play.
Max Pacioretty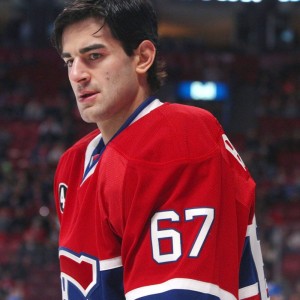 Pacioretty and the rest of the Montreal Canadiens have been struggling lately. They only have one win in their last nine games. Over that nine game span, Pacioretty has only two points and is a minus 11. Despite his lack of performance as of late, Pacioretty has still put up good numbers on the season with 27 in 36 games. When the Habs are good, they are extremely good, but it seems that without recent Lou Marsh Trophy winner Carey Price in the line up, they are not the same team. Pacioretty is still the best player on a talented Montreal squad and his numbers will pick up soon enough, although the wait will continue to be agonizing for fantasy owners.
Jiri Hudler
The often-underrated Calgary Flames forward has had a streaky season this year. He has only two points in his last six games. Hudler who is coming off his best NHL year last year with 76 points in 78 games has only 19 points in 31 games this year. As mentioned before however, Hudler is a streaky player and tends to go off at a moments notice. Keep an eye on Hudler as he could very well put up some good numbers soon.
Happy holidays to all you poolies out there and tune in next week for another edition of weekly roundup.