For most of the season the San Jose Sharks have been without Logan Couture. The stud second-line center missed over six weeks with a broken leg from mid-October through early December. In just his second game back, a freak injury (arterial bleed in his thigh) put him back on the shelf. Thus far this season the Sharks have played 34 games. Couture has only appeared in five of those games. 
While no team would ever complain about having a relatively injury-free season, the Sharks are a team that may benefit from their injuries, particularly this second one to Couture. While Logan was out with the broken leg, we heard plenty of post-game press conferences where head coach Peter DeBoer brought up not being healthy. Certainly Couture out of the lineup is far from ideal but every team goes through injuries. For the first part of the season though it felt like the Sharks were too eagerly awaiting his return. As if No. 39 could fix all their problems himself.
However, the Sharks losing those two games that Couture dressed for earlier this month could be a key learning experience. Every club talks about the cliche "next man up" attitude when players are out of the lineup but the Sharks never really embodied that mentality on the ice until recently. San Jose is no doubt a better team with Couture in the lineup but had Couture instantly turned things around, then that excuse of having been injured earlier in the season would still be available to use later on. With this freak injury taking Couture back out of the lineup, the Sharks seem much more focused on winning without him rather than waiting for him to save their ship.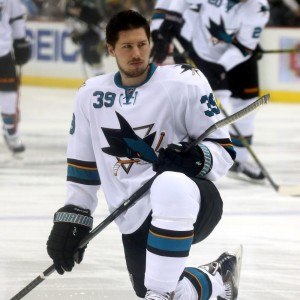 Road Warriors
To their credit, the Sharks did complete a franchise record setting 6-0 road trip earlier this season without Couture, but a lot of that was Martin Jones bailing them out. When the subsequent 1-4 stretch followed leading into Couture's return, there was too much excitement that Couture was back. The Sharks would still lose each of their next three games to see their losing streak reach an abysmal 1-6-1 mark. That 6-0 trip may have set a record, but were the Sharks really playing great hockey during that trip? In hindsight, perhaps they were more lucky than good. In fact, one could make the case their recently concluded 3-1-1 trip was more impressive.
On this latest road trip the Sharks nearly beat three of the best teams in hockey in the Montreal Canadiens, Chicago Blackhawks and Los Angeles Kings. San Jose held third period leads in all three games and took five out of a possible six points against these top teams. The trip ended with an overtime loss in Chicago followed up by a third period come from behind win over the Kings. San Jose trailed 2-0 and 3-1 against LA but came away with a 5-3 win. The Sharks now head into the break with loads of confidence, probably more than after that 6-0 trip when you consider a couple of key points.
Out-played Chicago & LA Without Couture & Ward
Not only did the Sharks finish off an excellent road trip with a solid 3-1-1 mark, but the last two games showed they could compete with the top teams in the league despite key injuries to more than just Couture. In the 4-3 overtime loss against Chicago the Sharks were essentially missing an entire top-six forward line as Joel Ward and Melker Karlsson were also out of the lineup. In what was a one-goal or even score throughout the contest, the Sharks out-shot the defending champion Blackhawks 36-29 during regulation. Yes Marian Hossa missed the game for Chicago, but the Sharks were clearly the more short-handed squad playing with 11 forwards and not using their seventh defenseman. Out-playing the Blackhawks in such a manner was extremely impressive.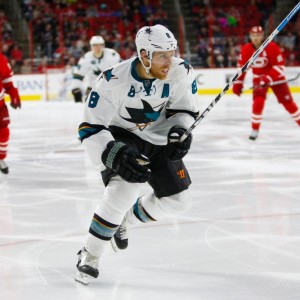 The Sharks got Karlsson back against the Kings on Tuesday, but Ward remained out of the lineup and San Jose still managed the comeback victory. San Jose was heavily out-shot in the first period 21-6, but they were much better the second half of the opening frame. Over the final two periods the shots were essentially even and the Sharks were the dominant execution team. They out-scored LA 3-1 with both goalies between the pipes. San Jose's power play came to life after looking awful to start the game. Captain Joe Pavelski scored two power-play tallies back-to-back to tie the game and take the 4-3 lead. The Sharks ended the previous road trip with a huge comeback over Columbus, but that pales in comparison to this latest comeback. Los Angeles is one of the toughest teams in hockey and are known for clamping down with a lead. The Sharks were even more banged up than they were against Columbus, yet were able to come from behind again against a better opponent.
Big win. 3/4 points vs 2 of the best teams in hockey, winners of 5 of last 6 cups on road without couture, ward. #sjsharks quality stuff

— Andrew Bensch (@BenchWarmerView) December 23, 2015
Confidence Is Everything
San Jose heads into the Christmas break feeling extremely confident about its game. The organization as a whole now seems far less concerned with when their injured players will return. There really is no higher confidence level then when your team proves they can win big games against Stanley Cup contenders despite having multiple key injuries. That confidence could very much catapult the Sharks into a terrific second half of the season.