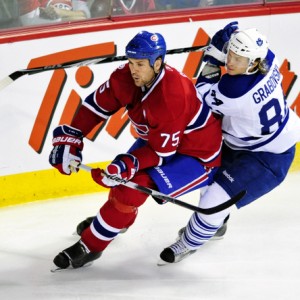 As of Tuesday morning, just 34 days remained until the National Hockey League's February 27 trade deadline. Every team has already begun to go deep into their roster and make some decisions on what needs to be done in order to improve their club.
While you may say that the Toronto Maple Leafs shouldn't have as much trouble when it comes to re-signing players during the 2012 off-season as it appeared they would at this point last year for the 2011 off-season, there are a few names that jump out at you. One of those is Mikhail Grabovski.
Grabovski is an interesting player, not just because of his crafty playing style on the ice, but also for the way he acts off of it and how his team must manage him. In terms of managing him, we're talking about how the Maple Leafs must decide on what they should do with the 27-year-old.
Unlike other Maple Leafs who will see their current contracts expire at season's end, such as John-Michael Liles, Cody Franson and Jonas Gustavsson, no one is entirely sure what the Leafs will do with Grabovski. The main reason for this, of course, is inconsistency and the fact that there isn't one person on this planet who really knows what kind of player Grabovski is.
During his time with the Maple Leafs, Grabovski has really grown into a solid player. A 29-goal campaign in 2010-2011 just about gave the Leafs three 30-goal scorers, while his 15 in 42 games so far this season puts him on pace for a year-end total of 27. Combine that with his speed, improved faceoff ability and creativity on the ice, and many teams should be knocking on the door looking for Grabovski's services.
But does that mean he is the perfect fit for the Maple Leafs? Certainly not. On a team that has more recently seen its top players go dry and that has struggled to receive much secondary scoring at all this season, it's difficult to keep just another inconsistent player on the roster. That's exactly what Grabovski is.
Perhaps feeling the pressure of last season, Grabovski managed just one point and went minus-1 in the first five games of the season. He later went on four-game point streak in which he tallied two goals and four assists, followed by a six-game pointless streak, during which he went minus-6.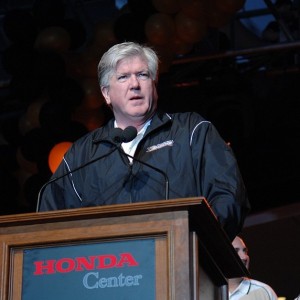 Such streaks have not only arose just this season, but over his entire career. Look back to the career-year that he had last season, for example, when it took Grabovski 13 games to notch his first goal. He also saw point streaks of four games, six games and five games, but went on multiple three- and four-game, as well as a five-game pointless streak.
Sure, this may be common in hockey players, but it can only make us wonder if it's worth paying out an extra $2.9 million in cap space and likely more than that next season for a player who no one knows what to expect from.
With that, we weigh the three largest options that the Maple Leafs will consider.
No. 1 – Keep him and see what happens during the remainder of the season
The first option always has to be the same with any player and team in almost any situation: Don't trade them right away, but hang on to them and wait to see what goes down between the trade deadline and the end of the season.
For the Maple Leafs, that just may be the best option. It's always tough for any general manager to trade away their team's fourth leading scorer when the team is in the midst of a battle for the final playoff spot.
By keeping the player on their roster for the rest of the regular season and playoffs, the team can continue on without running the risk of disturbing chemistry, but it also leaves them open to move the player following the season.
Grabovski is someone who the Leafs may need when or if it comes right down to the wire near the end of the season. His talent and sometimes second to none and as everyone knows, that is more than useful.
No. 2 – Re-sign Grabovski
This is one that has many Leaf fans concerned. While many would like to see Grabovski remain a Maple Leaf, just about everyone understands that it may be tough to do.
Grabovski currently earns $3.1 million and comes with a cap hit of $2.9 million. There is absolutely no doubt in anyone's mind that as long as Grabovski can continue on his current pace, he will ask for a hefty raise. This could potentially put him in the ballpark of an average annual salary of $3.5 million.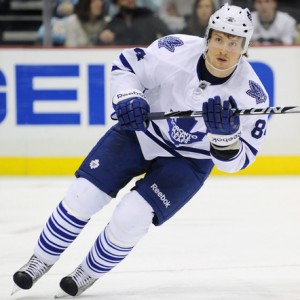 Sure, that seems like a lot of money to dish out on a rather inconsistent player, and it is. However, let's take into consideration what Grabovski provides to this team: Strong offensive abilities, a great player to have on the power play, a half-decent faceoff guy and based on his history in the NHL, a few leadership qualities that not many others have.
Can you really just let this type of player walk from a budding team?
No.3 – Trade him
Let's get back to the point about trading away draft picks and prospects for an impact player.
The problem for the Maple Leafs is that they have a few prospects (Joe Colborne and Nazem Kadri to name a couple) that appear to be on the cusp of NHL success. Outside of that, there aren't a whole lot of options aside from those who are still playing junior hockey.
So what about draft picks? Well, based on the Leafs' recent success─or lack there of─when it comes to trading away draft picks, is it really worth moving some for a player who could end up not making any difference whatsoever? It would certainly be tough to do.
With that, perhaps it would be an ideal scenario for the Leafs to move Grabovski along with someone or something else for that one guy who can come in and provide some consistent offensive production. That way, they are not taking the risk of losing potentially high draft picks and they won't lose out on solid young players.
Salary information provided by Cap Geek.
Twitter: @LukasHardonk | Email: lukas.hardonk@gmail.com | Lukas' archive
For every Leafs article on THW, follow @THW_MapleLeafs on Twitter.
Lukas, a student at the University of Ottawa, covers the Toronto Maple Leafs on a part-time basis for The Hockey Writers. Contact Lukas at lukas.hardonk@gmail.com or follow him on Twitter, @LukasHardonk.