In a matter of months, it is pretty clear what the ethos of Brian MacLellan is as a general manager. Whatever he wants, he'll tell it to you and then grab it. In the summer of 2014, he wanted to improve the overall depth along Washington's group of defenseman. MacLellan got it with Brooks Orpik and Matt Niskanen. In the summer of 2015, he wanted high-caliber secondary scoring. MacLellan got that with T.J. Oshie and Justin Williams. Now, he wants to improve the talent within the bottom six forward lines to make sure they is not a complete drop off from the rest of the forwards on the team. After many rumors throughout social media, MacLellan proved that they were true by acquiring 30-year old Mike Richards.
There were definite fears that in order to get such an asset that Washington would have to free plenty of cap space by trading away Marcus Johansson. That is not ideal as the 25-year old Swede is having a tremendous season with 26 points in 39 games and, lately, has maximized the talents of Tom Wilson and Jason Chimera on the team's third forward line. After receiving a one-year, $3.75 million deal after going through arbitration last offseason, it is understandable that Capitals management would find it hard to give Johansson an appropriate contract next summer when he goes into his last year of eligibility as a restricted free agent. This takes into account that the Capitals' roster is sitting right up against the current $71.4 salary cap and fellow RFAs Dmitry Orlov, Wilson and Michael Latta are all due for significant pay increases.
Even with Chimera coming off the books this offseason, Washington lacks any true replacements within the organization to don a Capitals sweater and guarantee a place on the team's 12 best forwards for a full 82 games beyond this season. Jakub Vrana might get his chance in the long term, but until he recovers from his broken wrist and  receives more experience at the AHL level, he will have to wait his turn. Thus, it made the most sense to find a suitable bottom six forward in the free agent market as of January 2016.
In that case, that bottom six forward became Richards, who will be on a $1 million deal that will last until the end of this season, but will be pro-rated to slightly more than $500,000 on Washington's salary cap. There has been no secret, however, that the former Philadelphia Flyer and Los Angeles King has been quite poor at even strength puck possession since coming to Los Angeles in a trade in the summer of 2011. In fact, Richards' career relative shot attempt percentages were only +0.3% while he was with Philadelphia and -4.5% while he was with Los Angeles.
That all being said, Richards was considered one of the best two-way forwards of his era and handled some of the toughest assignments while at the prime of his career. Of the 112 forwards that skated 7,500 minutes of even strength hockey since the 2005-06 season, he has the 14th toughest relative zone start percentage at -5.07%. Only Patrice Bergeron and David Backes have scored more even strength points per 60 minutes than Richards' 1.64 while handling tougher assignments. What has made Richards a top-ten vote-getter for the Selke Trophy four times has been the fact that he was, arguably, the best penalty killing forward of his era.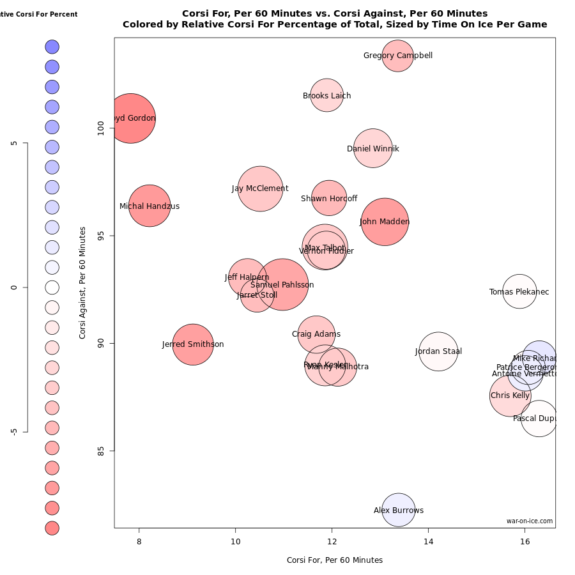 With 28 shorthanded goals, only Marian Hossa's 30 has more than any active player in the NHL. Unlike Hossa, Richards was one of 25 forwards that skated over 1,500 penalty killing minutes and while doing so, saw the most shot attempts for per 60 minutes while he was on the ice at 16.30. Of those same 25 forwards, only Alex Burrows and Antoine Vermette had positive relative shot attempt percentages while on the penalty kill (see chart above). The biggest example of his penalty killing prowess was his goal in game five against Montreal in the 2010 Stanley Cup playoffs.
There have been other forwards, like Hossa, that have been able to generate more offense while on the ice in shorthanded situations. In fact, names like Jonathan Toews, Martin St. Louis and Rick Nash are names you would least suspect being averaging over a minute per game shorthanded in the last eleven years, but there you are. That being said, you would never suspect those names to be ones to get in a way of a hard slap shot from a top power play unit. Instead, their skills are used more to cherry pick and create odd man rushes and shorthanded attempts while their teammates can do the dirty work. So it is not so much that Richards was a guaranteed MVP candidate in the peak of his NHL career (his four-year peak from 2007-2011 tied Christian Ehrhoff for 29th amongst all skaters in hockey-reference.com's point shares with 33.2). It is more that Richards earned his reputation as one of the hardest working forwards in the game.
At only 5'10" and 196 pounds, having such a skillset would be understandably brutal for a player like Richards. He may have only missed 47 games due to injury, but after most playoff runs, Richards has needed offseason surgery; whether it is to the wrists, hands or shoulders. Add 124 career playoff games and you could see how a player that should still be in the latter stages of his prime years would look so worn out so fast.
Certainly at even strength, Richards has dwindled in that department and even if his on-ice production has been consistent on the penalty kill, his individual shot attempt rates have been dipping too. Amongst all forwards with 1,000 penalty killing minutes, Richards has the best individual shot attempt rate at 7.40. Since his move to the Kings, that rate has only been able to exceed to six per 60 minutes once in four seasons. As you saw from the previous link though, not many forwards can create offense off of the penalty kill and even getting off four per 60 minutes is good enough to be in the 50th percentile.
That's why it is important for Richards to join a Caps penalty killing unit that, despite having sixth best success rate in the NHL at 84.8%, is due for a regression. Their current shot suppression while shorthanded sits at 17th with 99.4 attempts per 60 minutes. With Jay Beagle injured, Washington is missing one of it's top suppressors and the Capitals sit just 21st in shorthanded shot generation at only 9.9 per 60 minutes.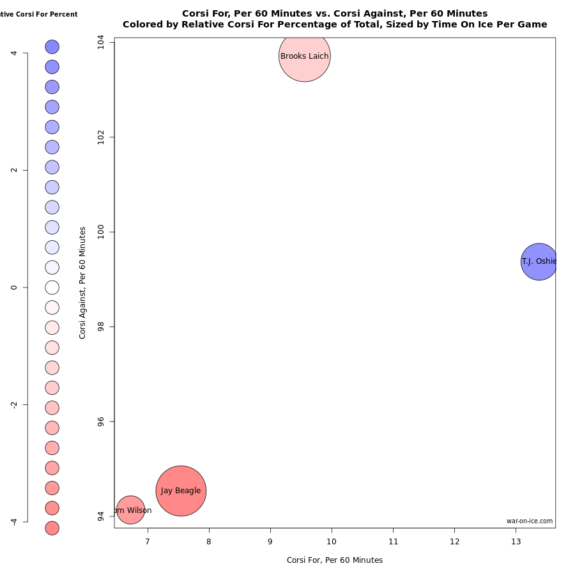 If Richards were to see limited minutes as the team's fourth line center and be among the teams top penalty killers than this could end up being the bargain McLellan needs to get the Capitals over the hump to win a Stanley Cup.