For the second time in three years Finland has captured World Juniors gold by way of the overtime golden goal. First it was Buffalo Sabres defenseman Rasmus Ristolainen knocking off the home country of Sweden in Malmö, and most recently, Toronto Maple Leafs prospect Kasperi Kapanen secured the gold against Russia in front of a home crowd in Helsinki. Since scoring his championship-clinching goal, Ristolainen's career has been on a steady upswing. Can we expect the same from Kapanen?
Risto's Ride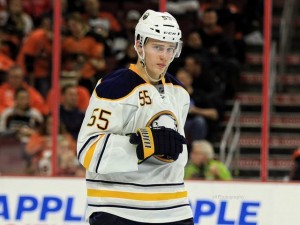 Rasmus Ristolainen was born in Turku and began playing professionally at the age of 16 for his hometown team TPS of the Finland SM-liiga. His play in Finland captured the attention of the Sabres who drafted him eighth overall in 2013 because of his composed play, NHL-ready body and his ability to move the puck up the ice.
He spent the following season between Buffalo and AHL affiliate Rochester, where he grew accustomed to the North American game. In what turned out to be an excellent decision for all parties involved, the Sabres organization allowed Ristolainen to play in the 2014 World Junior Championship, loaning him out to Team Finland.
During the WJC, Ristolainen got off to a slow start, as he battled illness. However, soon his previous experience shone through in the biggest moment. He scored three goals in five games, including this piece of Finnish hockey history. This goal is a great example of Ristolainen's skating and stick handling ability, as he drives to slot and buries the puck.
To say that feather-in-a-cap moment, would be a confidence builder, would be a severe understatement. From that moment forward, Ristolainen found another level to his game and has steadily improved to become a full-time NHL defenseman. The 6'3″ Finn has been having his best season to date this year and finds himself playing on the Sabres top defensive pairing and is still far from reaching his ceiling. This is a prime example of how the world juniors is a great experience and developmental stage for young hockey players.
Kapanen's Crusade
When we look at Kapanen's journey, we find a lot of parallels with Ristolainen's. The biggest difference is that Kapanen comes from an NHL blood line, as his father Sami Kapanen was a stalwart in the League for over a decade.
As a matter of fact, Sami Kapanen began his pro career by playing alongside his father for KalPa of the SM-liiga. Like Ristolainen, Kapanen began playing professionally for his hometown club at the age of 16, perfecting his craft against grown men instead of against other teenagers.
Kapanen impressed the Pittsburgh Penguins with his quick feet, slick hands and play making ability, as they selected him 22nd overall in 2014. After a year in the Pittsburgh organization, Kapanen was dealt to the Maple Leafs as part of the Phil Kessel deal.
After getting his feet wet in North America playing for the Toronto Marlies, the Maple Leafs organization loaned out Kapanen to Team Finland for the World Juniors. Kapanen got off to a slow start, while the team was carried by the top line of Sebastian Aho, Jesse Puljujärvi and Patrik Laine.
Once Team Finland reached the medal rounds, Kapanen seemed to find an extra gear and picked his game up, which of course culminated with this beautiful wrap around that illustrates Kapanen's ability to generate offense with his skates and stick.
With Kapanen riding an all-time high and joining Ristolainen as a national hero, we'll see if he can parlay this experience into a successful NHL career. As Ristolainen is showing us, these are the confidence building moments that can create a solid foundation to build a career on. As the old sports adage goes, you have to learn to win.
It will be very entertaining watching the careers of Ristolainen and Kapanen develop. Best part is, these two are Atlantic Division rivals, so hopefully we'll have the privilege of watching these young talents go head to head for many years.