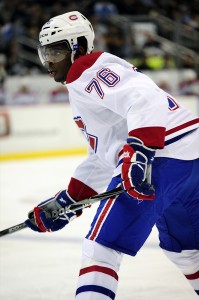 Follow @DavidOConnor95

While many of the National Hockey League's young stars spent the summer working on new contracts, P.K. Subban had his mind on something more important.
The Montreal Canadiens' star teamed up with Hyundai Auto Canada and became a program ambassador for a new initiative called Hyundai Hockey Helpers. It's a program that seeks to help under-resourced children play hockey by providing financial assistance.
As many hockey families are already more than aware, hockey isn't exactly a cheap sport for children to participate in.
Each year, young hockey players across Canada lace up the skates in cramped dressing rooms, all for the love of the game. For the kids, it's a thrill; for the parents, it can often be a financial burden.
That's where Hyundai Hockey Helpers comes in. The program has already assisted 1,000 kids and their families, and many more are still to come. For the Subbans, this is exactly the kind of program they can come to cherish.
Growing up, the Subban's were certainly not the richest family around. P.K.'s father, Karl, worked multiple jobs to support his son's hockey endeavours. Registration and equipment fees can be extremely high in many cities. Add to that the fact that all three of the Subban boys were playing triple-A, and the expenses can really start to mount.
By starting this program, the hope is that fewer families will have to experience financial difficulties due to hockey.
The oldest of the three Subban brothers, P.K.'s name has been thrown around in trade-talk by the media all summer. He's also a restricted free-agent at the moment, which only adds to the rumors.
"I haven't been worried about it [negotiations] all summer," said Subban in a Backhand Shelf post. "I've been focusing on this program launching and I'm just happy that it's here now. We can talk about the lockout all we want, but this program really is about the kids that are being locked out of opportunities to participate in hockey because of their financial situation."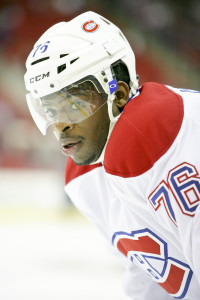 Recent reports have suggested that Subban might be on his way out of town sooner than people think. Most of the talk has had him going to the Philadelphia Flyers, who a report this past week confirmed were discussing his name with the Canadiens.
"I wish a program like Hyundai Hockey Helpers was around when we were young," Subban says on the HHH website. It's something we could have definitely benefited from. My father always taught us that sacrifice and practice make us better. Continued positive reinforcement has made my brothers and me the players we are today and we're eager to pass on that message to those that may follow in our footsteps."
Now, just to be clear, the odds of Subban being moved are extremely slim. With all due respect to Carey Price, Subban is viewed by many as the face of the franchise. Shipping him south would surely put Canadiens fans in a frenzy. It just wouldn't be worth it for a team that finished dead-last in the East this past season.
Seriously though, the guy's got over 170,000 followers on Twitter. He's a marketing-machine. If you run a business that wants attention, you stick Subban in your next television commercial. Doesn't matter if it's for Under Armour or some little-known company called Weezy's Car Insurance; you get his face behind your product or service, and people will know and recognize the brand everywhere.
Subban's one of the NHL's young studs, and Hyundai recognized that. Bringing him on as an ambassador for Hyundai Hockey Helpers instantly brought recognition.
"As a kid growing up, if there were any programs like this, I didn't know about them," said Subban. "So to see kids have an opportunity to be a part of this program is amazing."
Check out the video below, where Subban describes how his family will work to provide funding for today's young hockey players.
While the 2012-2013 NHL season is currently locked out, Subban was preparing all summer to have a strong year. He's added ten pounds of muscle since last season, meaning he's now about 220 pounds.
He's had his attention both on the game and on the community. Considering how much attention Subban receives everywhere he goes, it takes a good mind to balance his on-ice career with his off-ice life. So far, he's doing a terrific job.
"It's going to help thousands of kids get into hockey and play the game," P.K. said of Hyundai Hockey Helpers in a Sportsnet article. "My only thinking is 10-15 years down the road (seeing) one of these kids playing in the national league and thinking I was a part of that program. Like, P.K. helped me get to the national league. What a good feeling that would be."
________________________________________________
Follow me on Twitter: @DavidOConnor95    "Like" my page on Facebook: David O'Connor