Earlier this week, the Leafs acquired Michael Grabner from the Islanders for Tom Nilsson, Carter Verhaeghe, Taylor Beck, Chris Gibson and Matt Finn. While many expressed concern over the point of the deal, it is yet another value-laden, intelligent move the team's management is quickly becoming known for.
Whether it's moving players before they become free-agents, signing veterans they can parlay into picks later or dropping back in the draft to get more tickets in the lottery, the Leafs have spent the early part of their rebuilding process making moves that might look minor – even pointless – but which have the potential to payoff down the road.
The Grabner move is another such transaction. The Leafs – as I am sure you've heard – remove four contracts from their limit of 50 and give themselves some needed flexibility, but that isn't the only good thing about this trade.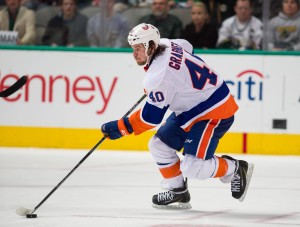 But People Seem Really Confused About It
I have seen all sorts of theories: Grabner was acquired to replace the offense lost by trading Phil Kessel; the Leafs are trying to win now and make the playoffs; that Lamoriello must have seen something in Grabner when he was with New Jersey and constantly facing the Islanders; that the Leafs needed a penalty killer etc.
The fact is, Lamoriello has repeatedly said that he doesn't know the players on the Leafs yet. One assumes that that includes the farm system and that he had very little to do with this trade. Hey, maybe he does have a soft spot for Grabner, but I think the reality is far more likely to be that the Leafs were aware the Islanders had a formerly successful player (34 goals, 2010-11), on the right side of 30, that wasn't part of the team's plans but that could reasonably find success on a team with room to give him a ton of ice time and eventually parlay him into a draft pick when he becomes a UFA at season's end.
The Leafs lose four contracts and the Islanders almost double their cap-space, so it's a win-win for both teams, regardless of particular players. The fact that Grabner might help offset the loss of Kessel's offense or help on the PK are irrelevant because the Leafs do not care where they finish this year. They certainly are not, as some have attested, attempting to ice a good team this year.
If that is the by-product of their plan, then O.K, fine. But, the plan is to acquire as many assets that might pan out down the line as possible. (And we know this by observing their moves since the firing of Dave Nonis). And what of Grabner? What kind of asset is he?
Grabner is Actually Pretty Good
As I said, he's only 27, so he has some hockey left in him. Besides that, Grabner is one of the fastest skaters in the NHL, which makes him good on the PK and just generally a versatile and valuable player. He is generally a positive possession player and he scores at a good rate when he's healthy.
If you look at the above chart, you see that Grabner out-performs his ice-time pretty consistently. The fact that he's putting up first-line level goal production while getting fourth-line minutes must be one of the things (along with his skating ability, obviously) the Leafs saw that made them think he could be converted later into a decent asset.
If they give Grabner a first-line role and he runs with it and has 25 goals by March, the return they get on five players who didn't even rank among the club's top 10 prospects could be astronomical. But even if he nets them just a third or fifth-rounder, or nothing at all, the flexibility in having less contracts will still help the Leafs add  assets at a later date.
And that is the best part of the trade: High reward possible, some reward guaranteed, virtually no risk.
Thanks for reading.