If it's not one thing, it's another, or so it may seem for this season's crop of Flyers defensemen. On Sunday, the team announced they'd be without the services of their seven-year veteran for two weeks after suffering an upper-body injury in the first period of Saturday's game against Colorado. But what does this mean for Philadelphia? Will life without Luke disrupt their three-game win streak? Or will Craig Berube's squad continue to fill the gaps?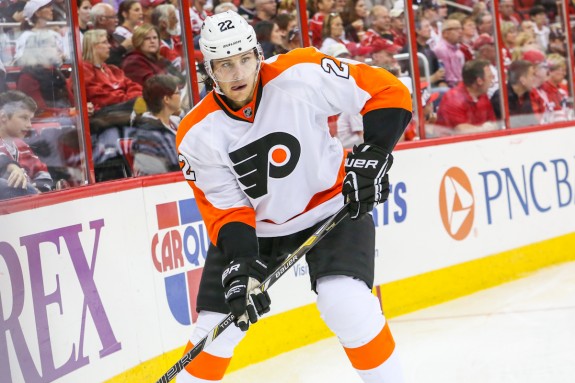 Schenn's Value
In regard to standard statistics, Luke Schenn's two points through 14 registered games makes it easy to overlook the value he's brought to a team that ranks third in the league with 3.21 goals per game. Add in Philadelphia's four goals each in six of their last eight games, and it would appear the Flyers aren't really missing very much.
Schenn's light scoring is nothing out of the ordinary, though, for a defenseman not known for his offensive prowess. And his vacancy in point totals are even more understandable when seeing his name on the third pairing on Philadelphia's depth chart.
Mirroring the Flyers' start to the season, Schenn stumbled out of the gate to a minus-six rating in Philadelphia's first two games of the season – losses to Boston and New Jersey – and snowballed into a minus-eight rating by the end of Oct. 28th's game against the Los Angeles Kings. So where's the value?
For starters, these unimpressive statistical measurements were amassed while being paired with an array of partners on the blue line due to the injuries to Braydon Coburn and Andrew MacDonald. Up until suffering the injury that will sideline him for two weeks, Schenn has been asked to find chemistry with Michael Del Zotto, Shayne Gostisbehere, Brandon Manning, and Braydon Coburn.
Coburn's return to the lineup, of course, didn't do much for Schenn in finding stability. Despite being the Flyers' undisputed minute-eater, Coburn found himself with Schenn on the third pairing on Saturday night in an attempt to ease their 6-5, 220-pound defender back into form. Obviously, that changed after the Flyers were forced to finish the game with five defensemen, but you get the point.
But even with Coburn's return, and an average time on ice of 16:55 – seventh among Flyers defensemen – Schenn's presence on the ice will clearly be missed. Especially with injuries not discriminating within levels of the organization.
Whoever has put the horns on the Flyers' defensemen this season…hope you're enjoying yourself.

— Anthony Mingioni (@AnthonyMingioni) November 9, 2014
Shortly after being sent back down to Lehigh Valley, Shayne Gostisbehere joined Sam Morin on the injury list. And with Schenn now squeezed onto that list, the Flyers are growing quite thin on the defensive side of the ice.
"It has been nonstop, but what are you going to do?" said Flyers GM Ron Hextall. "No one is going to feel sorry for us. We are just going to carry on."
Someway, somehow, though, the Flyers have the pieces to do just that – carry on. But we'll get to that later. In the meantime, the Flyers won't necessarily miss the offense Schenn was credited for on the stat sheet, but the offense he was responsible for generating from the big picture perspective.
Bob Roberts of Pattison Ave. evaluated Schenn's contributions to generating scoring opportunities through Philadelphia's first 11 games. Keep in mind, this was before Brayden's older brother found the back of the net against Edmonton on Nov. 4th. And based on the flack that's been hurled at Schenn throughout much of his tenure with the Flyers, Roberts' findings may be surprising.
Looking at how Schenn has impacted the team's even strength shot attempts through eleven games, he has a Corsi% (on-ice team shots on goal + shots missed + shots blocked) of 48.7%, which is 2.8% higher than the 45.9% number the team has had with him on the bench, so he is positively impacting team shot attempts so far. Also, his offensive zone start% is 47.2%, meaning he has started more of his shifts in the defensive zone than the offensive zone, yet his offensive zone finish% is 52.6%, which suggests he is helping the team get up ice and on the attack. Some of this may be related to the strong play of Michael Del Zotto, who has been his partner for much of the early season, but it's too early for there to be enough data to determine such with any certainty. — Bob Roberts, Pattison Ave.
Although Schenn's two points on the stat sheet appear to be irrelevant for a team that's scored 45 goals in 14 games, his presence on the ice is anything but. Especially when it comes to generating offense in five-on-five situations – echoing the statements from above and below.

The improvement in Schenn's game in 13 games and a period, at least from last season, make his $3.6 million cap hit seem less burdensome. Especially with the Flyers winning hockey games like they have been. But with two weeks standing between Schenn and his return, can the Flyers survive life without Luke?
Options for Life without Luke
Now that it's been established that the loss of Schenn is somewhat significant, the question goes from, "so what?" to "now what?" That question, of course, is hardly anything new for the team's defensive unit this year. And because of this ongoing obstacle, it's a blessing or a curse, depending on which way you look at it.
The optimists will point to the action taken to counterbalance the Murphy's Law experience. Even before it was announced that Kimmo Timonen would be out indefinitely, the signing of Nick Schultz has turned out to be a lifesaver, providing every inch of depth he was signed for.
When it was revealed the Flyers would be without Timonen, however, Hextall worked his magic once more, agreeing to terms with Michael Del Zotto later on in the free agency period. Those same optimists will spin the injuries to Braydon Coburn and Andrew MacDonald as an opportunity for others, shining the spotlight on Schultz and Del Zotto.
The Flyers signed Del Zotto out of desperation on Aug. 5 — the day they announced Kimmo Timonen would be sidelined indefinitely due to blood clots — and they got the 24-year-old blueliner cheap at $1.3 million for one year. So far, Del Zotto has been the bargain signing of the year. He was shaky early on with no points and a minus-5 in his first two games, but since he's a plus-6 with seven points in 12 games. He's been eating a lot of minutes, too, with a 21:01 average.

After Del Zotto, Schultz has been the Flyers' find of the season. His signing on July 1 for one year at $1.25 million was received to yawns because he was brought in to be the seventh defenseman. Braydon Coburn's foot injury in the season opener created an opportunity, and Schultz has taken advantage far better than most everyone would have predicted, especially since he was paired with Del Zotto seven games ago. This pairing arguably has been the Flyers' best every game. Schultz was pretty solid in his first five games despite being a minus-4. Since, he's been better running up a plus-10 over his last eight games. — Randy Miller, nj.com
Del Zotto has since added his first goal as a Flyer, as well as five shots on goal to go along with a plus-one rating. Schultz has been equally dependable since as well, dishing out an assist with four shots and a plus-one rating to match Del Zotto's.
https://twitter.com/ChrisMastro87/status/531284366891450368
That's not to exclude the Flyers' most recent addition in veteran defenseman Carlo Colaiacovo. The 31-year-old defender exceeded expectations in two games in an orange and black sweater by carving out an assist to go along with a plus-two rating on an average time on ice of just under 17:00.
But despite exhibiting worthiness of cracking the lineup, Colaiacovo may still find himself representing the extra bullet in the chamber. And if you're an optimist, scratching Colaiacovo on Friday night against Columbus gives you piece of mind in security.
With Andrew MacDonald (right knee) returning to practice on Tuesday, that could be a good indication he will play on Friday. At the moment, there is no reason to recall another defenseman from the Phantoms.

Carlo Colaiacovo sat out Saturday's game once Braydon Coburn returned. Luke Schenn (left shoulder) will miss two weeks but if MacDonald comes back, then Colaiacovo again remains the man out. — Tim Panaccio, CSN Philly
https://twitter.com/BarstoolJordie/status/530715023417819136
Naturally, the pessimists will declare that the Flyers should have never have found themselves in this predicament in the first place. As if hindsight is a gift given to anyone on this planet. They'll snarl at the thought of Andrew MacDonald's $5 million cap hit upon his return like it didn't exist while he was away, and they'll charismatically go on about Nicklas Grossmann's limitations.
Throughout all of the negative chatter, Luke Schenn may find refuge in being away. After all, he's much more valuable than most of us initially thought. And while most of us would like to classify ourselves as an optimist, we've more than likely been a mixture of both – if we're being honest, that is. I know I have. What say you?