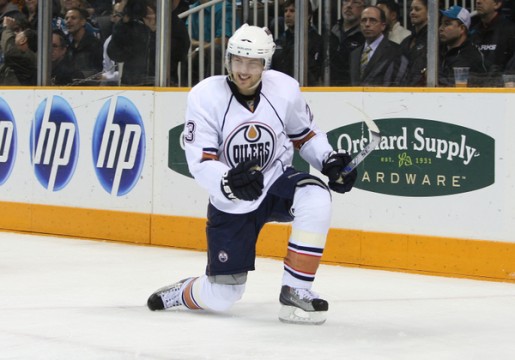 Last season many predicted Linus Omark would be a breakout player with the Edmonton Oilers.  He was on sleeper lists in many fantasy leagues and many experts were predicting a 40-50 point season for the young Swede was not out of reach.
In the span of a year he went from being a potential breakout player and a part of the Oilers' future to out of the organization and playing overseas.
So what happened?
The 2007 fourth round pick came over to North America with a lot of hype.  Not that he was a great overall player or would re-write record books in Edmonton, but he was a YouTube sensation, a wizard with the puck and many fans wanted to see him live.  His YouTube goals (below) are some of the most viewed around the world.
He also had impressive credentials to back it up.  He was offensive star for a weak Lulea HF team in the Swedish Elitserien from 2006-2009 and for Sweden at both the 2007 World Junior Championships and 2009 and 2010 World Championships.  He was also the third leading scorer for second place Dynamo Moscow of the KHL in 2009-10, before making the jump to North America the following year.
Omark did nothing to dispel the notion he was an offensive dynamo. He started in 2010-11 in the AHL with Oklahoma City and put up 31 points in the first 28 games to lead the team.  With the Oilers struggling and Taylor Hall and Jordan Eberle a couple of fresh faced rookies, fans called for the team to bring up Omark to help out the young stars and bring some flash to Oil Country.
On December 10, 2010 fans got their wish and Omark debuted as an Oiler. He registered an assist against the Tampa Bay Lightning and went on to put up 27 points in 51 games, not looking out of place.
The problem for Omark going forward was that as a somewhat one dimensional player, to put him in the lineup he had to be in a top-six offensive role.  He was unable to play that role in 2010-2011 due to injury and going into the 2011-12 season he found himself behind wingers Hall, Eberle, Smyth, Hemsky and Paarjarvi and a potential victim of the numbers game.
Based on what he showed the year earlier, Omark did start the year with the Oilers but lasted only five games without a point before he was sent down.  He was recalled again in March and managed three points in nine games.
Coming into this season, lockout or not, the writing was on the wall for Omark.  With the re-signing of Smyth and Hemsky, the drafting of Nail Yakupov and players like Paajarvi and Teemu Hartikainen knocking on the door, playing time for yet another offensive forward would be at a premium.
Despite Omark's previously much-publicized Twitter plea to be dealt to another team, the Oilers couldn't or wouldn't find a deal to their liking.  A restricted free agent following this past season, Omark was faced with accepting the Oilers' qualifying offer or bolting overseas.  He chose the latter and has signed a one-year deal with EV Zug of the Swiss league.
According to Oilers broadcaster Dan Tencer, Omark and his agent felt that Zug gave him the best chance of getting back to the NHL.
Linus Omark's agent Patrik Aronsson tells me that they turned down multiple KHL offers and felt Zug was the best fit to get back to the NHL.

— Dan Tencer (@dantencer) August 29, 2012
The fact is that Omark is a supremely talented player with the puck and could definitely help an NHL club, especially on the power play.  The downside is that you will get very little defensively and for a player who likes to hold onto the puck as much as Omark does, he doesn't possess the size or strength to shield bigger NHL defenders off.
The hope is that with a good year in Switzerland, the opportunity will be there for Omark and his agent to choose a situation to their liking.  Assuming there are multiple suitors in need of offensive help that want his services.
The bottom line for the case of Omark and the Oilers is that he showed skill and played well in stretches, but just not enough to vault over any of the other young top-six forwards.
When you have names like Hall, Eberle, Yakupov and Nugent-Hopkins, that's very hard to do.