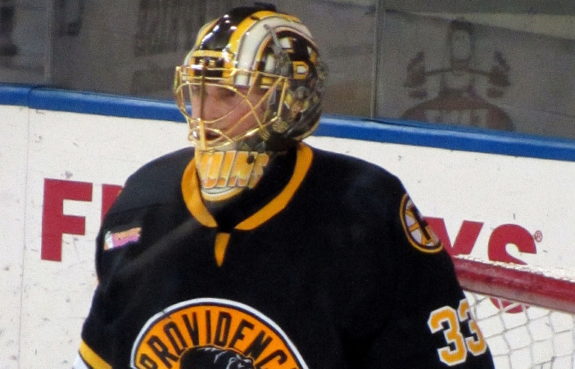 Despite falling to the Manchester Monarchs 3-1 on opening-night, Providence Bruins' goalie Michael Hutchinson is looking forward to a hopefully breakthrough campaign at the Dunk.
After the game Providence Head Coach Bruce Cassidy said of Hutchinson (who allowed three goals on twenty-one shots): "He was good, I can't fault him on any of the goals. I guess [I'll] get together with the goalie coach and find out if the last one was a good rebound or not. But if we're doing our job, that rebound gets outta harm's way… I thought he was solid for us… I got no beef with his game."
For the fourth time in four years, the Providence Bruins will see a different goaltender earn the bulk of the starts than during the previous campaign. Since Tuukka Rask's graduation in the summer of '09, Dany Sabourin, Nolan Schaefer and Anton Khudobin each earned the lion's share of opportunities in successive years. This year, Hutchinson hopes to build on a resoundingly successful 2011-12 season (during which he even saw time – albeit on the bench – in Boston) and earn the P-Bruins' definitive starting nod.
While the opening evening loss wasn't how he envisioned an ideal start to the season, Hutchinson knows that the season is "… a marathon, not a sprint."
Hutchinson was the B's earliest-selected netminder (under the current management regime) until they tabbed Macolm Subban in the first-round this year. Selected from the OHL's Barrie Colts in the third-round of 2008 (77th overall), 'Hutch' went on to a successful junior career – a career that ended alongside current teammate Jared Knight with the London Knights.
Over the past two seasons, Hutchinson's game has elevated. During a rookie year plagued by inconsistency, Hutchinson spent time with the Bruins' former ECHL partners, the Reading Royals. Last season, his efforts saw him finish the year with the AHL's fourth-best save percentage (a lofty .927) – even higher than P-Bruins' starter Anton Khudobin. With Khudobin headed to Russia during the lockout, the starting reins were Hutchinson's to take.
On the subject of earning the starting-role, Hutchinson said, "There's a little bit more pressure, obviously. You want to play well when you get the chance and help the team win games. It's nice to know that I put in my time for two years and I'm going to get a bit of an opportunity. At the same time, you have to play well and perform and win games in order to keep your job."
He continued, "[Nicklas] Svedberg and even [Adam] Morrison both had good camps, and they're waiting for their opportunities, too… so I just have to make the most of mine."
There's a developing camaraderie and friendship between Providence's two competing netminders, "It's great – he's a really nice guy," said Hutchinson. "We get along well. It's always nice when you have that little bit of competition – we're similar in age… last year, [Khudobin] was older and I assumed he was going to get the bulk of the load, so I just tried to work hard. Now there's a little bit of a competition in practice, and we'll be fighting for playing time all year."
The road to the starting job hasn't been easy. Hutchinson dealt with significant hip-problems last season, leading to offseason surgery that kept him inactive throughout much of the summer. Luckily for Hutchinson, "The recovery went much better than I thought it would."
"It started to really affect me last year in training-camp. It's just one of those things that happen – wear and tear – over the years, and I ended up getting it 'manageable' so I could finish the season last year. A couple days after the season ended I went in and got 'em fixed … and just recovered all summer. I've been feeling better each and every day in camp. Right now my hips are feeling better than in junior – they're not 100% yet but getting there."
"I already have more 'range of motion' than I did at the end of last year… something that will help me in the long-run," he said. The improved mobility was evident on day one of the season – despite allowing several goals that he'd want back, his push-offs seemed excellent and his overall mobility looked sound.
"I made a couple little equipment changes of the offseason. I felt like I was moving pretty well out there… I'm working hard with our training-staff to get back into it."
In addition to the hopefully-improved mobility, Hutchinson's glove was very active on Friday night, something he attributes to working with B's goaltending coach Bob Essensa: "During training camp I was just working on getting my timing back with my hands [with Essensa]… tonight I just had a couple shots glove-side that I was able to see all the way and make the easy save."
The Monarchs' Andrei Loktionov beat him glove-side for their first goal of the night:
"He's a good player. I was reading the two-on-one coming back and [Chris] Bourque slid and took away the pass and [Loktionov] just stopped right-up. I was patient and tried to wait-him and he basically clipped my shoulder [with the shot] and went bar-down. It was one of those ones that I'd like to have back – a breakaway situation where you want to get the best of the player. He got me on that one, I just have to remember that for next time: He likes to go high-glove."
Still, Hutch knows there are things still to improve. While Loktionov's goal was hardly his fault, he recognizes the need to cut down on some of the rebounds. "Off the start [I think] I was a little bit too anxious," he said. "I was reacting to the puck before it hit me and I popped a couple off. As the game went on, I started to calm down a bit and I felt better."
This season's start feels different for Michael Hutchinson. With no NHL training camp to split the would-be P-Bruins for much of the late summer, he feels the team's communication has been excellent. "I think there's a lot more talk this year and we feel a little more comfortable out-there," he said "… it's going to take a couple games… But, right now, we're in a better spot than we were at the beginning of last year."
Follow Bob Mand on Twitter at @HockeyMand