Trades have been a popular topic throughout the league lately, especially with the trade deadline almost a month away. A popular question that has been floating among Rangers fans is: what is the fate of defenseman Keith Yandle?
Yandle enters free agency at the end of the season and whether or not he will find himself staying in New York by then is still up in the air. Yandle is considered to be one of the best offensive defensemen in the league and is a pretty valuable asset to any team.
It is still unclear as to what the Rangers' intentions are when it comes to dealing Yandle. General manager Jeff Gorton has only made vague comments about the possible trade and left only the idea that anything is possible.
The conversation surrounding this possible trade could go back and forth, but depends mostly upon what the Rangers think of his impact, how essential they believe he is, and whether or not the money will allow.
Yandle's On-Ice Impact
It doesn't take much to notice that Yandle has been the team's best and most consistent defenseman this season. Even from an offensive standpoint Yandle has been playing extremely well; he is currently fourth on the team in points, ahead of the other defensemen, with 24 points, two of which are goals.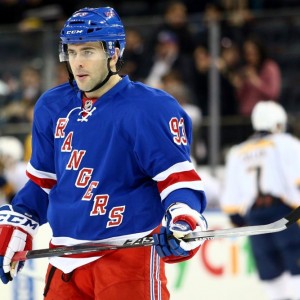 Yandle's offensive play has been increasing, especially as he gets more time on the ice. The more time the defenseman spends on the ice, the more offensive help he provides his forwards. While Yandle doesn't have more goals than his fellow defensemen, he has the most assists and has proved he is a great help to his forwards while on the ice.
Recently, in the Ranger's win against the Vancouver Canucks on home ice in Madison Square Garden, Yandle provided a vital assist when he mediated a pass between forwards Rick Nash and Mats Zuccarello, which led to the Zucc goal that tied up the game. The game would later end in OT with a goal from J.T Miller.
https://twitter.com/BlueSeatBlogs/status/689633492209106945
Yandle has been demonstrating his skill even more lately, proving that he is a strong dual-ended player, playing both defensively and offensively very sufficiently. He has assisted the most goals on the team and has been receiving more ice time as of late, in recent games a few more minutes than fellow defenseman Marc Staal.
While keeping Yandle a blueshirt would be beneficial to the team not only as a strong defenseman but as a sufficient offensive component, it might prove to be a difficult situation as far as money is involved.
Looking at the Salary Situation
A defenseman like Yandle would be looking to play for a higher pay-grade. Currently, as per the trade agreement, the Arizona Coyotes has paid half of Yandle's salary allowing the Rangers to keep him for just $2.625 million. With free agency approaching it is likely that Yandle will be looking for more than his current $5.25 million salary.
While defenseman Dan Boyle's $4.5 million salary will free up the Rangers will be faced with negotiating with other free agents, like Chris Kreider, Kevin Hayes, Dylan McIlrath, Miller, and so on. Putting together a sufficient amount of money to resign the necessary players will be quite the mission for the Rangers.
There are a number of players that will be in free agency at the end of this season and depending on which players will remain in New York, a salary cap problem is likely. Finding a sufficient salary for each player could turn into a problem for the team.
A Tough Decision
The whole situation surrounding Yandle has caught some attention. There are comments to be made on both ends regarding whether or not should stay in New York.  Even coach Alain Vigneault has expressed his praise of Yandle's play and his desire that the defenseman stay in New York with the team.
A player like Yandle who is strong both defensively and offensively is a player that wouldn't be easy to let go. Many teams would be interested in a player like him especially after his successes and powerful play. Yandle's play wouldn't be very debatable in the situation but the surrounding factors might be, it boils down to how much the team is willing to work to keep him despite salary pressures.
Keith Yandle has on-ice vision like a top-tier point guard. Few defensemen in the league can match his arsenal of offensive weapons.

— Sean Hartnett (@HartnettHockey) January 15, 2016
The problem is that the desire to keep Yandle in New York might not be one easily solved, despite how much the fans and the team want him to stay. Gorton certainly has some work ahead of him as he decides how he wants to handle the situation.
If Yandle is traded now an exchange will happen but if Yandle reaches free agency the team will risk losing him for nothing. The coming free agency makes the possible trade situation a difficult one, because it makes the team anticipate end of the season negotiations for other players before they might be necessary.
Only time will tell whether or not Yandle will be traded or not, but as the trade deadline approaches it becomes more of a priority to figure the situation out. Many are hopeful to see that Yandle will remain a blueshirt as the season ends, but still, there is not definitive answer as to what choice the organization will make, but it will certainly be a difficult one.