The Jonathan Drouin saga continues to play itself out in the Tampa Bay Lightning organization. The show that originally opened in Tampa in October, went on the road to Syracuse about three weeks ago and has now been put on the shelf. As a result of Drouin being a no-show for a scheduled Syracuse Crunch game on Wednesday night in Toronto, the Lightning have suspended Drouin without pay indefinitely.
On Thursday morning, Lightning general manager Steve Yzerman addressed the media on the Drouin issue. To bring everyone up to speed on the unfolding drama, let's go back to Jan. 2. On that Saturday morning, Yzerman informed Drouin, who was coming back from an undisclosed injury, that he was being assigned to Syracuse to get back into playing shape and show that the injury was completely behind him.
While packing for his unexpected and certainly unwanted trip to the AHL, Drouin and his agent, Allan Walsh, decided to release to the media the details of a trade request that they made in November of last year. To make it clear, when told of his re-assignment to Syracuse, the reaction from Team Drouin is to let everyone know that he had previously asked out of the Lightning organization.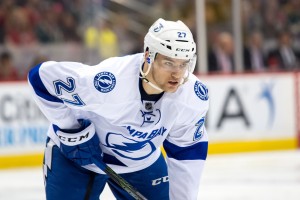 Did Walsh really believe that this was the best response for his client, knowing that the kid is only in his second year of his entry level contract? Assume for a minute that Drouin cannot stand being in the organization that drafted him No. 3 in 2013. Is the best response to this re-assignment telling the world that you demanded a trade two months prior the best way to facilitate a trade?
Instead of talking his client off the ledge, instead of informing his client that at this point in his contract, he has very little, if any leverage in this situation? Nope, what Walsh decides to do is release details of the prior trade request. All this petulant act accomplished is drive Drouin's value down throughout the league. Sure, there are still NHL teams that will take a chance on Drouin because of his skills as a player, but how many GMs would risk their own job security on a potential locker room cancer?
The fact that a Walsh client is in this type of situation is not new. Minnesota Wild fans should remember the Martin Havlat situation back in 2010. Havlat and Walsh were not happy with his playing time. How did Team Havlat respond? Walsh emailed a member of the Minnesota media complaining about the lack of playing time. Sound familiar, Lightning fans? For those keeping track, less than a year after Walsh emailed that sports writer, Havlat was traded from the Wild.
Can this situation work itself out for all involved? Sure it can, but the onus is on Drouin and Walsh. As I wrote last week, Yzerman is holding all the cards. His team has Drouin signed through next year. Drouin and his sulking are not infecting the Lightning locker room, hell, it isn't even infecting the locker room in Syracuse now that he is MIA.
The longer Drouin sits out, the less valuable he becomes. Walsh must know this. So, what is their end game? Obviously, it is to get Drouin as far from the Lightning organization as is possible. What is the best way to accomplish that? It would seem that keeping your nose clean, playing the games on the schedule and refrain from responding in the media would be a start. Keep in mind that you are a professional hockey player who signed a contract and you should do your best to live up to your part of that deal. Then, and only then, will things begin to work themselves out for you and your agent.
Playing up to the potential that you showed when you were a fresh faced 18-year old will get you the deal you want, which is a top-four forward spot in the NHL. Until then, enjoy your self-imposed exile.