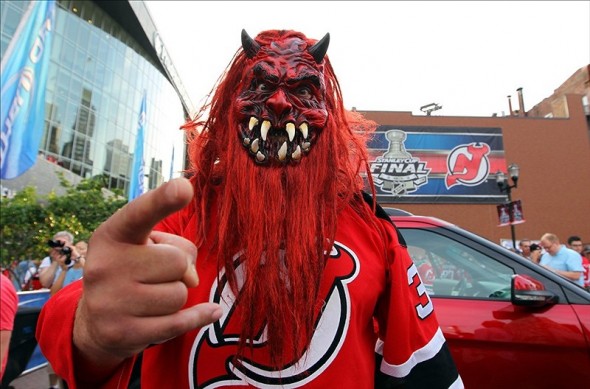 The New Jersey Devils made the Stanley Cup Finals with timely scoring, a consistent forecheck, and solid puck possession. Sadly none of those things happened in Game 1 as they fell 2-1 in overtime to the Los Angeles Kings. Everything seemed right up until the drop of the puck. Warmups went without a hitch. The national anthem was a rousing version by Arlette. Then like I said, the game started except one team showed up and one forgot that Game 1 began.
Shots on goal were tied at five after the first period but three of the Devils shots came on a late period man advantage situation. There was a theme on this night and it was simply "and the pass was missed". It was heard so much that a fan would scream murder. The first 20 minutes were bad enough for the average Devils fan then there was the realization that the team was down one on a Colin Fraser goal. With all due respect to a guy like Colin Fraser, that is a player no one expects to score the first goal of the championship round.
The intermission let most fans breathe and the common consensus was hey its only one goal and it could have been much worse. There was only one problem. Then the second period started. I think it went something like this.
New Jersey went without a shot for more than three quarters of the second period. There were chances too that the Devils flubbed time and time again. Everything was at least two steps off in this game for New Jersey and not even the Anton Volchenkov goal off Slava Voynov really did little other than tie the game. There was a little bit of a push from the Devils but fans just felt sicker and sicker to their stomachs as the third period trudged onward.
It came to a time in the third period where we thought there was hope, our Captain had a wide open net and then this happened. When one has a wide open net, you better expletive expletive BURY THAT! It was all I heard from section 213 for the next half hour straight. It was all talk from that one play. Rightfully it was called no goal but Zach Parise had a bad Game 1 and an awful one by his standards. The same went for Ilya Kovalchuk in all honesty. There was a feeling in this fan that Game 1 just was not going to end well. When the buzzer sounded ending regulation tied at one. The prevailing thought was it was only a matter of time and not for the good guys.
Overtime started and the feeling of malaise or "non-kosher" food spread like wildfire. Do not order the "Buffalo Chicken Sandwich" from the Kosher section by the way. Sadly, not even Martin Brodeur could stop Anze Kopitar on his 365 I mean triple move overtime goal. Cue the picture up please…..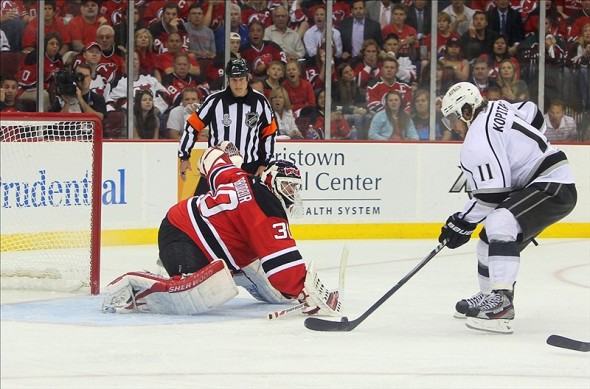 The problem with this game was it just had no sustained periods of brilliance. Every fan I talked to seemed to echo that sentiment. There was not the usual anger after a home loss either for the most part. Generally if your goalie gives up only one goal in regulation, that should be good enough to win but the Devils missed chance after chance which even the fans vowed will not happen again in Game 2. The players agreed as much.
Frankly if I could have burned my Stanley Cup Finals towel, I would have. The tape of this game however should be drilled into every Devils' player until they go blind from it. Yes Game 1 literally was on their stick and every fan knew it. The players did too.
Los Angeles puts the hammer down in Game 2's. Just ask St. Louis and Vancouver in particular, what happened. As usual, 99% of the media forgets that New Jersey beat both Philadelphia and New York on the road in Game 2 also. Then again, Los Angeles has everyone in its trance. Last night, their best had every Devils' fan in very much the same state.
The best quote I heard all night. "We may look like zombies but zombies do not die easily". It may have sounded crazy at the time but New Jersey cannot afford to sulk now.
================================================
It will be interesting to see what happens in Game 2. As promised, the weekend edition will incorporate some tweets from the game as well. Hopefully the extra day off recharges both of these teams honestly.