The Detroit Red Wings come into Friday night's game against the New York Islanders on a four-game losing streak, three of which have been in a shootout.
During these four games, they have scored just four goals. It's a far cry from the last half of November and early part of December, when the team went 9-2 and scored 42 goals, or an average of 3.8 goals per game.
Confidence is lacking in Detroit right now, and the Red Wings need to get back to their winning ways, or they'll start sliding in the standings.
Here are three ways the Red Wings can snap their losing streak against the Islanders.
More Shots Inside
Against the Columbus Blue Jackets on Tuesday, the Red Wings had plenty of shots — 30 to be exact. However, a good chunk of those were from the faceoff circle or further out. It's a lot harder to score from 20-plus feet out than it is to score from within 20 feet.
Look at these shot charts from the Columbus game thanks to War-on-ice.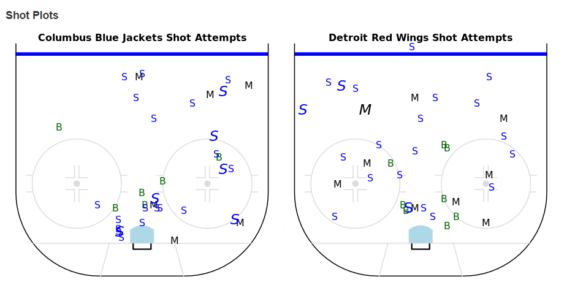 Notice how most of Columbus' shots are grouped right around the net and below the faceoff circles, whereas Detroit's are mostly above the faceoff circles and near the blue line. Columbus did a good job of keeping shots to the outside, which made it easy for Sergei Bobrovsky to get the shutout.
Of course, the fact the Red Wings only had one power-play opportunity didn't help Detroit's chances of more shot attempts inside, but it's not as if they didn't have the opportunities five on five.
Be Aggressive
The Red Wings looked lackadaisical in their game against the Blue Jackets. It looked more as if they were trying not to lose rather than trying to win. It's natural to be extra cautious when on a losing streak or when confidence is low, but Detroit needs to do the opposite and speed things up.
The Red Wings have a tendency to play down to their opponents who are struggling and play the tougher opponents as if it were a Game 7.
With the Islanders sporting a 21-10 record, I expect the Red Wings will play them with the same intensity they play the Boston Bruins or Chicago Blackhawks with.
They need to be more aggressive and get the puck on net as much as possible. For a team that has had trouble scoring, more shots on goal is the only way to break that drought. They may end up getting a flukey goal or a nice rebound to get their confidence going again.
The Islanders are allowing 2.9 goals per game, which is 24th in the league. The best thing you can do against a team that allows a ton of goals is get a lot of pucks on net.
Aggressive play, especially in the offensive zone, tends to lead to more penalties called against the opposing team. If the Red Wings continue to move their feet and cycle the puck well in the offensive zone, it will lead to more power-play opportunities and more chances inside.
The Islanders have the league's worst penalty-kill percentage at 71.1 percent, so it's key the Red Wings draw penalties in order to get scoring opportunities on the power play.
Get Franzen Going
Johan Franzen returns to the lineup tonight after missing Tuesday's game with an illness — and no, it wasn't the mumps.
Franzen had a fairly good November with 10 points in 14 games, but in December, he has just four assists in seven games and hasn't scored a goal since Nov. 20.
He has to contribute more on the offensive side. Henrik Zetterberg, Pavel Datsyuk and the rest of the team is in a slump and what better way to snap them out of it than with secondary scoring from Franzen?
Power play units: Datsyuk-Zetterberg-Franzen, Abdelkader (net front), Kronwall And Tatar-Nyquist-Jurco, Helm (net front), DeKeyser

— Ansar Khan (@AnsarKhanMLive) December 19, 2014
According to MLive.com's Ansar Khan, Franzen will be on the top power-play unit with Datsyuk, Zetterberg, Justin Abdelkader and Niklas Kronwall, so he should have plenty of opportunities with the man advantage.
Subscribe to our Red Wings stories to get email updates every time a new story is published.
Tom Mitsos is a Detroit Red Wings and Grand Rapids Griffins staff writer for The Hockey Writers. You can follow him on Twitter @tom_mitsos.
Tom Mitsos is a writer from Michigan who covers the Red Wings and the Red Wings' AHL affiliate, the Grand Rapids Griffins, for The Hockey Writers.