The St. Louis Blues have built a top-six forward unit the past few seasons that is mostly comprised of Americans and Canadians. David Backes, Brad Boyes, Paul Kariya and T.J. Oshie are just some of the names that have been the core of the team's offense for the better part of a decade. However, the Blues are now seeing Europeans leading the team's offense.
As Bob Dylan once said, The Times They Are A-Changin'.
Vladimir Tarasenko and Jori Lehtera have joined Canadian Jaden Schwartz on the team's most productive line of recent memory (referred to as The STL Line). Tarasenko is of Russian descent and Lehtera hails from Finland.
Before the Soviet Invasion in 1989, which included the likes of Sergei Makarov and Slava Fetisov, the NHL mostly consisted of North American skaters. Although it wasn't uncommon to see a few Swedes, Finns, Czechs or others skating in the NHL prior to this changing of the guard, the League quickly became home to the world's best skaters as teams finally began seeing more and more foreign players on their rosters. The Blues were no different.
The names of Dave Christian and Gino Cavallini were being replaced by Russian identities Vitali Prokhorov and Vitali Karamnov on the NHL roster. The Blues took a Soviet center named Igor Korolev in the second round of the 1992 NHL Entry Draft. In 1999, management decided a young Czech goalie named Roman Turek would be the team's new starter in lieu of Canadian Grant Fuhr.
Although the names on the backs of jerseys became much more difficult to read, the play on the ice improved. Velocity through the neutral zone picked up as being a crisp passer became a much more vital attribute than before. Checking was still important, but team speed was a much more common phrase in NHL media.
The Blues were lucky enough to employ some impressive Europeans over the years, but some shined brighter than the rest. Without further ado, we take a look at the Top 5 Europeans to play in the Blues' lineup.
Michal Handzus (Slovakia)
Handzus centered one of the most prolific lines in Blues history.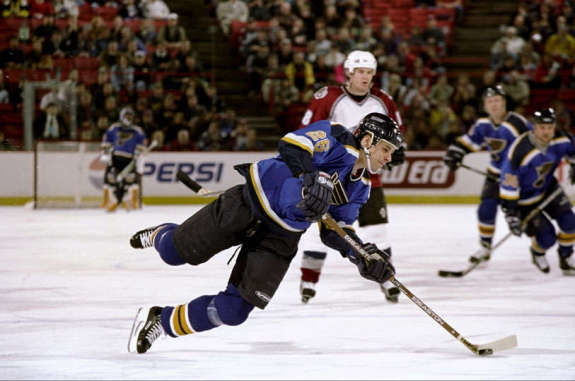 Drafted by the Blues in the fourth round, 101st overall, of the 1995 NHL Entry Draft, Handzus made his NHL debut on Oct. 10, 1998. The 6-foot-5-inch center would only post four goals and 16 points in his rookie season, but was used almost instantly as a penalty killer and defensive stalwart in close-game situations. This was high praise coming from head coach Joel Quenneville, who had a plethora of defensive forwards at his disposal, which included Craig Conroy, Mike Eastwood and Scott Pellerin.
Handzus' second NHL season was one of the most memorable of his career, though. Not only was the Slovak still used as a top penalty killer, he was inserted on the team's second line with right-winger and fellow countryman Pavol Demitra, who amassed 37 goals and 89 points in the season prior. The two were joined by rookie Lubos Bartecko, forming one of the most dynamic lines in team history, fondly titled "The Slovak Pack."
Handzus posted 28 assists and 53 points centering the line, which also saw Demitra record 28 goals and Bartecko reach 39 points. This trio of forwards was a major factor in the St. Louis team achieving the President's Trophy as the NHL's regular season points leader in 1999-2000.
Handzus played most of the following season with the Blues, but was a key ingredient in the March 2001 trade that sent power forward Keith Tkachuk to the Blues.
Vladimir Tarasenko (Russia)
Tarasenko led the Blues with four goals in the 2014 postseason.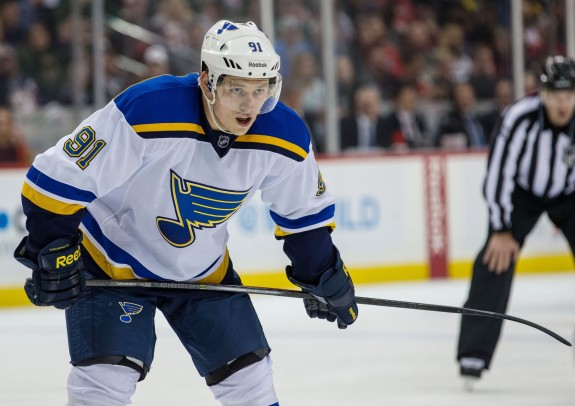 After being drafted in the first round, 16th overall, in 2010, Tarasenko instantly became a topic of conversation for Blues fans and media. However, it wasn't until the 2012-13 season that he made his NHL debut.
On Jan. 19, Tarasenko helped the Blues open the lockout-shortened campaign with a 6-0 rout of the rival Detroit Red Wings, notching two memorable goals in front of 20,035 fans at Scottrade Center. He would also score in three of his next six games.
Injuries mounted for the rookie midseason, but he returned for the Blues' playoff run in mid-March. He struggled to find the same stride to his game and appeared in just one of the Blues' six playoff contests that Spring.
Tarasenko continued his climb to stardom in 2013-14, scoring 21 goals and 37 points in 64 contests. It wasn't until the 2014 postseason, however, that he truly reached another level in his game. He scored four times for the Blues, including a two-goal performance in Game 4 of the team's Western Conference quarterfinal series with the Chicago Blackhawks. Despite a Blues loss in six games of the opening round, Tarasenko stood out as a bright spot for the future of the organization.
[See related: 5 Predictions for the St. Louis Blues]
The native of Yaroslavl, Russia, is quickly achieving greatness this season. He scored his first NHL hat trick on Oct. 28 against the Stars (including the overtime winner) and added his second on Dec. 16 against the Kings. Through the team's first 32 games, Tarasenko already potted 20 tallies and found his name listed among the NHL goal leaders.
Most believe that Tarasenko will become the franchise's greatest European player by the time he decides to end his career.
Jaroslav Halak (Slovakia)
Halak has the most shutouts all-time for the Blues (20).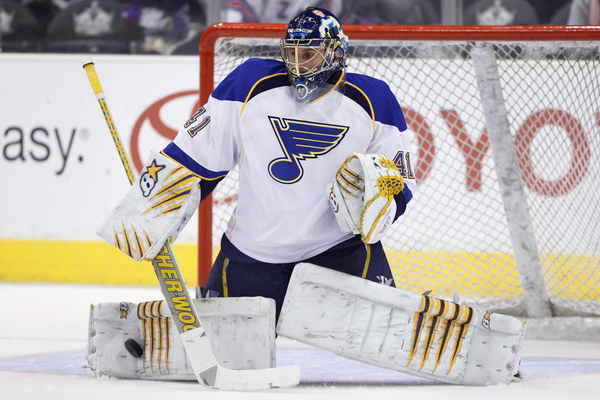 After the Slovakian netminder helped the Montreal Canadiens reach the 2010 Eastern Conference Finals, Halak was dealt to the Blues on June 17, 2010, with forwards Ian Schultz and Lars Eller headed the other way.
His first season in blue and yellow had its ups and downs. He posted a 27-21-7 record, to go along with a 2.48 GAA, .910 save percentage and seven shutouts. It was Halak's first full season as a genuine starter, though, so the coaching staff, fans and players were excited to see what he could do in his second season in St. Louis.
Playing in 46 games, Halak was outstanding. Along with backup Brian Elliott, who was a major surprise and appeared in his first NHL All-Star Game, Halak received the William M. Jennings Trophy, which is awarded to the team that allowed the fewest amount of goals against (155). His stats were impeccable, as he glimmered with a 26-12-7 record, 1.97 GAA, .926 save percentage and six shutouts. Unfortunately, Halak suffered an injury in the playoffs and appeared in just parts of the first two games.
The 2003 ninth-round draft pick continued to struggle through injuries in 2012-13. He appeared in just 16 games, recording a 6-5-1 mark with a 2.14 GAA and a forgettable .899 save percentage. He saw three of his six wins come via shutout.
The  following season, his last with the Blues, saw Halak return to greatness. In 40 appearances, the netminder posted a 24-9-4 record with a 2.23 GAA and a .917 save percentage. On Oct. 5, just the second game of that season, Halak made 19 saves against the Florida Panthers to record his 17th shutout as a Blue, surpassing Glenn Hall as the team's all-time shutout leader. He added three more blankings to extend his lead among Blues goalies, but he would not receive a chance to add any more. Halak was traded in late February amidst a five-player, six-draft pick deal that sent him to Buffalo in exchange for Ryan Miller and Steve Ott.
Despite multiple setbacks with injuries in his career, Halak was a top goaltender for the Blues. He will likely stay atop the team's all-time lists for years to come.
Jorgen Pettersson (Sweden)
Pettersson recorded two 73-point seasons for the Blues.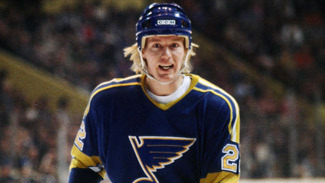 A standout with Vastra Frolunda of the Swedish Elite League, Pettersson was approached by Blues general manager Emile Francis to join his NHL club to open the 1980-81 season. He began his NHL career on a line with Blake Dunlop and Joe Mullen, which paid immediate dividends. The left winger, who was only the second Swede to suit up for the Blues, scored 73 points in 62 games, ultimately helping Dunlop reach a career-high 87 points.
Pettersson developed into an above-average penalty killer and defensive forward during his five seasons with the Blues. He amassed 161 goals and 332 points in 365 games for St. Louis, before finishing his final NHL season in 1985-86 with the Hartford Whalers and Washington Capitals.
Pavol Demitra (Slovakia)
Demitra ranks fifth all-time among Blues points leaders (493).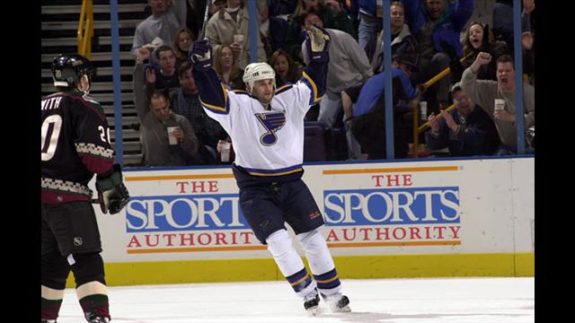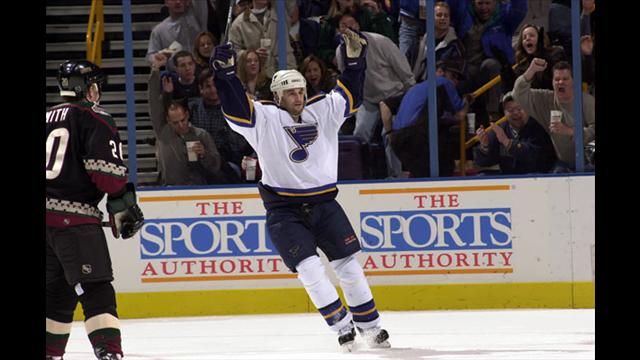 Demitra was involved in one of the most lopsided trades in NHL history. After spending three seasons with the Ottawa Senators organization, he was dealt to the Blues on Nov. 27, 1996, in exchange for defenseman Christer Olsson. Demitra spent 13 additional seasons in the NHL while Olsson appeared in 25 games for the Senators before never seeing NHL ice again.
Playing in his first full NHL season, 1997-98, Demitra scored 22 goals and 52 points for the Blues. This was a major factor in management's decision to allow Brett Hull to move on with his career and allow Demitra to fill his role in a top right-wing position.
Demitra answered adamantly, scoring 37 goals and 89 points in 1998-99 as a powerful complement to top-line center Pierre Turgeon. The following season, the Slovakian forward joined his countrymen on the aforementioned "Slovak Pack" line, consisting of center Handzus and left-winger Bartecko. The three combined for 69 goals and 167 points, helping the club capture the President's Trophy.
The following season, Handzus was sent away in a trade that brought in Demitra's linemate for multiple future seasons, fan-favorite Tkachuk. The two were paired with young center Marty Reasoner for the Blues' most successful playoff run in 15 years — a five-game loss in the 2001 Western Conference Final to the eventual Stanley Cup champion Colorado Avalanche.
The Blues made some moves in the team's top-six forward unit, allowing Demitra to move from the wing to the center position. He would then help manufacture another prolific Blues line, pivoting Tkachuk and feisty forward Scott Mellanby.
Demitra's best NHL season came in 2002-03, when he amassed 57 assists and 93 points. He'd play one more season with the Blues before the 2004-05 lockout. He signed with the Los Angeles Kings to open the 2005-06 season.
Sadly, Demitra passed away in the tragic 2011 Lokomotiv plane crash. He scored the sixth most goals (204), fifth most assists (289) and fifth most points (493) in franchise history.He finished his career with 768 points in 16 NHL seasons.
—————
Honorable mentions: Jochen Hecht (Germany), Roman Polak (Czech Republic), Vladimir Sobotka (Czech Republic), Esa Tikkanen (Finland).
I am a former NHL media member and reporter for the St. Louis Blues, working for various media outlets. Currently, I am an NHL News Writer and Editor for The Hockey Writers. I live in St. Louis and work as a freelance copywriter in numerous industries.