The Boston Bruins had a very bittersweet end to a very successful regular season. They were ousted by their bitter rivals, the Montreal Canadiens, in a tough seven game series and could not defend their Eastern Conference crown. Peter Chiarelli and the Bruins still have some questions to answer, most notably on whether they can re-sign Jarome Iginla or not, but first they must go into the draft. The Boston Bruins will make their selection 25th overall and they could really go a few different ways with this pick.
Defensive Help
The Boston Bruins already have quite a few NHL ready defensemen, but it would strike me as odd with Peter Chiarelli goes and selects another one. The Bruins will most likely have to move a defenseman before the start of next season, but if the right player is out there, you really can't pass them up. I take a look at a few players like John Glover, Markus Pettersson, or Jack Dougherty, all of whom or projected to be a late 1st or 2nd round pick, but out of the three, there is a player I'm really high on.
Jack Glover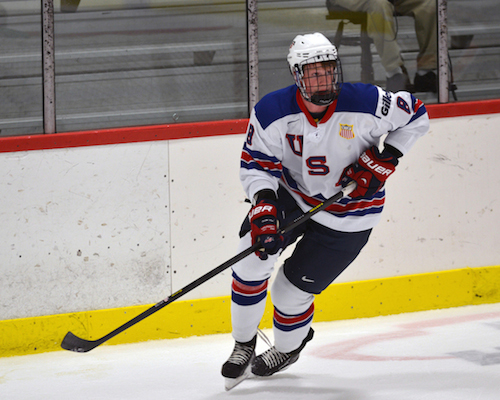 I really like this kid, Jack Glover. He is a tall, lanky defenseman, much like Dougie Hamilton. Our own Shawn Reznik compiled a great scouting report on him and, from what I see in him, he could be a steal for the Bruins at 25.
Glover may be a little on the thin side, but he can easily rectify that by adding some muscle onto that frame. Glover will thrive in Claude Julien's defensive minded strategy. He is a smart player and has great positioning, something the younger Bruin blue liners struggled with during the Canadiens' series which led to stupid goals. Another thing to love about Glover is his skating ability. In a new NHL world where speed is everything, Glover can keep up with the rest of them. The Bruins looked slow compared to Montreal throughout the playoffs and Glover, I believe, could have kept up with them and make some smart plays.
Jack Glover will be a very serviceable blue liner in the NHL and he would look great wearing the black and gold of the Boston Bruins.
Forwards
The Boston Bruins, like any other NHL team, could always benefit by picking up another scorer. With the uncertainty of Jarome Iginla and the down year of Brad Marchand, its likely that the Bruins will most likely go with a forward rather than a defenseman.
I like a player like Josh HoSang, but I don't think he'll fall that far, so, I look towards players like Nikita Scherbak, Conner Bleackley, and Nick Schmaltz. Out of the three mentioned, I really like Conner Bleackley of the WHL's Red Deer Rebels.
Conner Bleackley models his game off of another Boston Bruin, David Krejci, and has a very high hockey IQ. Bleackley has a big body, but he knows how to use it to his advantage. He knows how to find the lanes and is aggressive at the net trying to punch in rebounds, something Claude Julien will love. His hands are also something marvel as they are skillful of someone much older and experienced than an 18 year old.
What I like most about Bleackley though is his leadership. He is a natural born leader and became the captain of the Red Deer Rebels in just his second season and was an alternate captain for Team Canada at the U-18 World Championships, where Canada brought home a bronze medal. His leadership will be great for the Bruins and fits in well with captain Zdeno Chara and another captain of sorts Patrice Bergeron.
As I mentioned above, Bleackley models his game off of David Krejci, but he reminds me of a cross between Patrice Bergeron and Milan Lucic. Bleackley has all of the leadership skills that Patrice Bergeron possesses and he can drop the gloves quickly when he needs to, much like Milan Lucic. Bruins fans will absolutely love this kid when he plays at the Garden.
Bleackley is a guy who can be a top ten talent, but why exactly is he falling to the end of the first round and, in some mock drafts, not even in the first round at all? Well, he isn't the strongest or fastest of skaters and, while he has a good, strong shot, he needs to work on his release time, but Bleackley is a very hard worker with a great work ethic and will work to improve his game. Bleackley's selection at number 25 is well worth the risk.
Bleackley will be a steal in the late first round or early second round. If the Bruins are smart, they will select the High River, Albeerta native at number 25.
Goaltending
Yeah, right. With Tuukka Rask at the helm and with Niklas Svedberg and Malcolm Subban waiting in the wings, it's highly unlikely that the Bruins will select a goaltender in the first round, if they do at all.
What do you think the Bruins should do with the 25th pick in the 2014 NHL Draft? Comment below or send me a Tweet, @MarkWGraham