Following Josh Leivo's situation has been an interesting background story for the Toronto Maple Leafs, and now it's come to the forefront. He looked ready to join the Leafs after having a great season last year, but his season was halted with an injury before it even began.
Leivo looked ready to finally join the Leafs after recovering from his injury, but now he's said to still be injured. This is a weird situation in which there is definitely something going on behind the scenes. So just what is going on with Leivo?
Injured or Not Injured; That is the Question
Leivo started the season with a lower-body injury and was put on injured reserve. He finally came off of the injured reserve and was sent down to the Toronto Marlies for a long-term conditioning stint in the AHL. The conditioning stint gave him five games with the Marlies to get his game back after spending so much time away from the ice.
In five games, Leivo came away with just six penalty minutes and 11 shots in his time in the AHL. That's not a great showing for a player that finally has his chance to play in the NHL. Last season Leivo had 48 points in 51 games with the Marlies, which showed that he was ready for the NHL after spending three seasons in the AHL.
Being sent down for conditioning is generally used on players coming off of a long injury, so dominating the AHL isn't often expected from the player. The focus for the player is mainly about getting back to the standard of fitness that's expected from their NHL coach.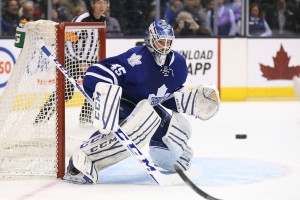 Last year the Leafs sent Jonathan Bernier down to the AHL on a conditioning stint. For him it was about regaining his confidence in net and he came back to the Leafs playing his best hockey of the season. So for conditioning assignments it's not about playing amazingly, but about coming back to the NHL ready to play at the level that's expected.
And so Leivo was ready to rejoin the NHL after his conditioning stint.
Josh Leivo is still injured, per Mike Babcock.

— Chris Johnston (@reporterchris) November 21, 2016
Well, apparently not. This is where it gets confusing. If Leivo was or is still injured, then how was he cleared to play in the AHL? A player still needs to be healthy to play even if it's just a few games in the AHL for conditioning. So the possible explanations are that Leivo re-injured himself after playing for the Marlies or the Leafs (for whatever reason) let Leivo play in the AHL despite still being injured.
There is also another possibility, one that gets a bit iffy on the rules. There are no sources to back this theory up, so it's up to you if you believe there's any merit in it or truth.
Leivo returns, Leafs with 24 players at practice. Clarification on all later this morning. #tmltalk

— Paul Hendrick (@HennyTweets) November 21, 2016
The Leafs are at their maximum amount of roster players at 23. If Leivo comes back from injury it would put them over the maximum at 24 players and would force them to send a player down to the AHL. Now they could easily send Nikita Soshnikov down and he wouldn't need to pass through waivers, but Mike Babcock seems to want him on the team.
This would then mean sending someone else through waivers, which means the Leafs could potentially lose said player. So what if the Leafs are keeping Leivo on injured reserve to give themselves more time to make a trade and bring their roster down to 23 players without losing anyone?
Trade Brewing?
There is speculation that the Leafs are trying to make a trade involving Peter Holland.
https://twitter.com/NicholsOnHockey/status/801206760262381568
Trading Holland makes the most sense. A lot of people would rather see him in the lineup instead of Ben Smith, but Babcock has shown that he favors Smith on the fourth line. Now if the Leafs trade Holland for a draft pick or an unsigned prospect, then there will be room for Leivo on the Leafs' roster.
https://twitter.com/NicholsOnHockey/status/801206982568919040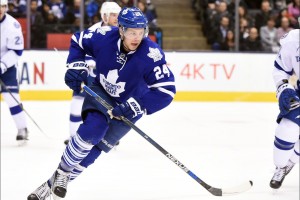 According to TSN's Darren Dreger, the Leafs are specifically looking for a shutdown defenseman. With eight defensemen on the roster it would be reasonable to assume that if the Leafs acquired a defenseman it would mean one of their eight would be sent the other way. This would also allow Leivo room on the roster if the Leafs packaged Holland and one of their defensemen in a trade for a defenseman.
So ultimately this is a situation of just waiting and seeing what happens in the next few days. If the Leafs make a trade it could mean that Leivo will finally get his chance in the NHL.