With the NHL season finally over, the focus of every team now shifts to the offseason. For the Boston Bruins and new general manager Don Sweeney, that focus has been in place for a while as he looks get Boston back into Stanley Cup contention.
But what is that plan to revise this Bruins team, exactly?
It's been almost a month since Sweeney was named Bruins General Manager, two months since the organization fired Peter Chiarelli, and about 10 weeks since the team last stepped onto the ice. That's a lot of waiting around, looking at the stale 2014-15 NHL season and a roster that wildly underperformed. You'd think the Bruins would want to be aggressive and go into the offical beginning of the NHL offseason prepped and ready to improve their team, especially with a new GM at the helm. It makes sense, but the Bruins are again in a familiar scenario that makes them a cap-strapped team with free agents who need to be signed and bad contracts that can't be moved.
Players will be moved, though. Not just in Boston, but around the NHL. An incredibly strong draft class paired with an exceptionally weak group of unrestricted free agents will create an active trade market for teams looking to improve their clubs. The Bruins are one of many. Luckily for them, the biggest move in the Bruins offseason comes from within.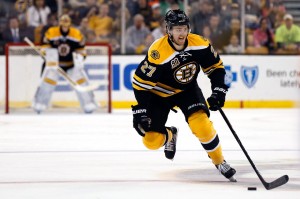 Signing Dougie Hamilton to a long-term deal is a must. The plan starts there. Even though this is one transaction that could have been done for awhile, here we are. News suggests that Hamilton wants a big pay day and will fetch numbers similar to those of Drew Doughty's and Alex Pietrangelo's. Fine. Pay him. Long term, even. Secure your the future cornerstone of the Bruins' blue line and build around him. Teams aren't going to submit an offer sheet to Hamilton with the kind of salary that he's requesting for fear of losing compensation that could include up to four 1st-round picks at the highest compensation level (an average-annual value of $9,131,645 or higher).
Regardless of when a contract gets done (and it will get done), the offseason should be designed around Hamilton. This means the offseason is going to get pricey. That means the Bruins are going to have to move some contracts.
But it shouldn't be Milan Lucic. Yet.
The Bruins should hang on to Lucic for as long as they can this offseason and find ways to shed other salaries. Here's why.
A player like Reilly Smith has a decent contract – it's just not a good contract for the situation the Bruins are in. There are plenty of teams who would take a player like Smith; a young scorer who can hit 20-25 goals, contribute or be productive on a second line, and play on the power play. The catch is finding a trading partner that matches the Bruins' needs.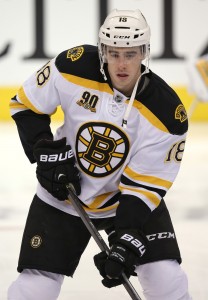 For Smith, the Bruins should look for teams with good, young, defensive depth who need a strong, secondary scorer. Think of the Devils or Coyotes, for example. Smith can be replaced on the the Bruins' top line with someone like Loui Eriksson (who should have been there in the first place). The Bruins need to address their lack of defensive depth and set up a lineage for future development with a player who is either still in his entry-level deal, or signed for cheap. They won't find this type of player in free agency and if they do, they won't be able to compete with another team for them.
Dennis Seidenberg is another contract that the team should look to move. The defenseman is making $4 million annually for the next three seasons and has been declining in play since returning from injury this past season. The Bruins aren't going to get much more than cap relief if they decide to trade Seidenberg. GMs around the NHL are well aware of the situation the Bruins are in which will put them back in the same spot they were last season when trying to deal Johnny Boychuk. This time, the return won't be anything near that. If the Bruins do decide to trade Seidenberg, it'd be for very little.
Of course, there's still the matter of coming to terms with key, restricted free agents such as Ryan Spooner and Brett Connolly. Here is where the bridge deals should be handed out. Give Spooner and Connolly the opportunity to prove themselves a bit more and develop as solid secondary scoring options for the team. Next season, the Bruins will have the opportunity to revisit situations with guys like Lucic and Eriksson, presumably coming off of the books.
Oh, and about that.
Lucic probably shouldn't be resigned by the Bruins when his contract expires after next season. But maybe something happens this season with Lucic. He knows he's playing for his next contract and maybe that's the type of motivation he needs to be better. It's possible, perhaps, for Lucic to regain his status as a true power forward and become a legitimate threat for the Bruins again. If there's no change in his game, then move him near the trade deadline.
The Bruins shouldn't spend a ton of time on free agency, though. If it's possible to sign a low-risk, high-reward player, then sure. Otherwise, it's not worth an already cap-strapped team to get into a bidding war for a player they'll probably overpay for anyway. There are some players that could fit into the Bruins' system. Christian Ehrhoff makes sense on the Bruins' blue line and someone like a Sean Bergenheim or Eric Fehr would thrive in a bottom-six role.
Still, the Bruins offseason plans are going to revolve around what they do internally, with the players already on their roster. From there, Sweeney is tasked to build a team that should be anything but last season's.
Follow Mike on Twitter for more Bruins news, updates, and commentary.