Nail Yakupov scored 31 goals and 38 assists in his draft year, playing 42 games in an injury shortened season. He had 101 points his rookie season in the OHL. He was rated the top-prospect by central scouting in 2012, and according to Hockey's Future, was slated to be a real contributor for the Oilers on their second line. Not a generational talent or a franchise player, but he was the best that draft could offer, at least at the time. Damian Cox noted that Yakupov's draft position has been a detriment to his professional career thus far, and there is some truth to that. Whether or not he will ever be a superstar doesn't change the fact that he was a first overall pick, a very prestigious position in hockey.
By being the No. 1 pick in his draft year, Yakupov is now perceived as a massive underachiever, a one-dimensional forward unable to play an effective 200-foot game or cement himself as a rock solid piece of Edmonton's foundation. (Dylan) Larkin has 19 goals on a good Detroit team, while Sam Reinhart, who was the second pick after Ekblad (in 2014), has 18 goals on a weak Buffalo team. But Larkin is seen as the star-in-waiting, while Reinhart's effective season hasn't attracted anywhere close to the same attention. That's what the draft does to the perception of young players. [Sportsnet]
Cox makes some valid observations. The expectations on high draft picks are always going to affect how we view those players, especially when they struggle. But unfortunately for Yakupov, we can't go back in time and change the draft. And he's had his share of hard times in the NHL, evidenced by these quotes from a year ago.
There were times in the last 18 months when Nail Yakupov didn't even want to come to the rink. His numbers had dwindled to nothing, his confidence was shot, his game was deteriorating, (and) Yakupov felt powerless to stop the negative spiral as his reputation sunk to that of a busted pick, an untradable mistake. Playing for the Oilers, playing hockey in general, wasn't fun anymore. "It was kind of a hard time for me," said the 21-year-old winger. "It was my bad, too, to not get the points that I should have, but I worked hard and it's not that easy to break in. I was pushing 100% every day. "Some days it was pretty tough, hard for me mentally, but I never gave up." [The Observer]
His numbers improved playing alongside Derek Roy that year, with whom he felt very comfortable. One thing about Yakupov is clear: he needs to play with a good centerman, specifically one he has chemistry with. Yakupov has the natural finish of a pure goal scorer, but he isn't able to create that offence on his own. His production went up, as did his confidence under head coach Todd Nelson. Now, without Roy on the team and a new head coach, it's been another difficult year for Yakupov. As frustrating as it is to watch for the fans, it's got to be even worse for the kid himself, who clearly cares a great deal, but can't seem to find his footing in the NHL.
The majority of Yakupov's points this season have come playing alongside Connor McDavid. The two seemed to have started to form chemistry but McDavid's early season injury derailed that. And once McDavid came back, Yakupov wasn't immediately put back on his line. Is it concerning to fathom that Yak needs to play with certain players in order to produce? It certainly is, especially as the Oilers consider what he future is with their organization. And after minimal interest at the trade deadline, Yak's value is perceived as being very low around the league. Even if he's paired with McDavid for the rest of the season and puts up good numbers, the truth on him is out. His skill is overrided by inconsistency and an inability to create his own chances.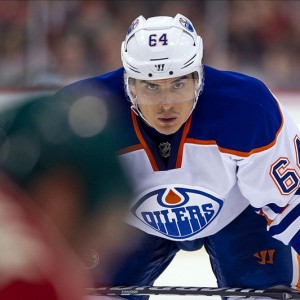 Was Yakupov's confidence taken from him?
On January 24th, 2013, when Yakupov was a rookie, he scored a huge goal in the dying seconds vs. the Kings, tying the game. He proceeded to celebrate about as enthusiastically as he could. And the emotional display was met with predictable backlash.
"If any time you want to make our highlights, just act like an idiot like this. I am telling you, they, LA, is going to remember this. They will remember this to the dying day. You don't do stuff like that. When you do that, all you do is turn guys against you. Don't act like that, kids. Not only did he hurt himself, he hurt Edmonton, too". – Don Cherry
"Part of me wondered why he wasn't celebrating with his teammates. I'm old school, I suppose. I like that basketball tradition where once you score a bucket, the first thing you do is point a finger at the guy who passed you the ball, acknowledging him. Same goes for hockey. That's what we teach on my team". – David Staples
"It wasn't something that was looked in a positive light in our dressing room but so be it he made a good play on the goal". – Jarrett Stoll
We all know that hockey demands respect, especially from rookies. Respect for your fellow players, respect for the history of the game, respect for the culture itself. You know the old mantra "act like you've been there before". But Yakupov didn't plan that celebration, like Alex Ovechkin and his silly hot stick routine in 2009. Yakupov simply displayed the unbridled enthusiasm of a young player who had just scored a big goal for his team. He wasn't trying to show anyone up. Was it over the top? Sure, but blasting him wasn't the answer. If anything, it was something to be addressed in the room, privately, by veteran players.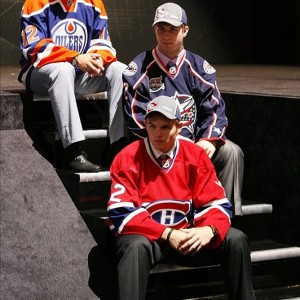 Yakupov knew what people were saying about him, and he certainly hasn't celebrated like that since. It's already a challenge to be a first overall pick, and Yakupov had a lot going against him. He's of Russian decent, and like it or not, that comes with a negative connotation. He's enigmatic, he's selfish, he cares more about playing for Russia than winning the cup. We've heard all that and more about Russian players. It's unfair in the case of Yakupov. He wants to be in the NHL and he wants to succeed. His confidence was at all time high when he scored that goal against the Kings, and he came back down to earth in a big way.
Yakupov has battled injury, he hasn't had consistent linemates, and there has been so much change in Edmonton during his short career, he hasn't been able to feel comfortable. A constantly changing coach, especially after finding a good one in Nelson, hasn't helped his development. Ultimately, the onus is on the player to perform, and Yak knows what's expected of him. But confidence is crucial for an athlete, and he's severely lacking in that department. And fairly or not, he lives under the negative stigma of the Oilers, a team that boasts numerous first overall picks, yet continues to be terrible. So how do his numbers stack up in comparison to other notable forwards in his draft year?
Nail Yakupov (1st overall) 238 gp, 48 goals, 104 points
Alex Galchenyuk (3rd overall) 259 gp, 63 goals, 145 points
Filip Forsberg (11th overall) 166 gp, 55 goals, 120 points
Tomas Hertl (17th overall) 182 gp, 44 goals, 91 points
Tanner Pearson (30th overall) 129 gp, 27 goals, 51 points
(Other forwards taken in round one: Mikhail Grigorenko, Zemgus Girgensons, Tom Wilson)
2012 was certainly the year of the defenceman, with 13 being selected in the first round alone. If the Oilers could go back, would they have chosen a blueliner instead? Perhaps traded down to get one? The likes of Morgan Rielly, Hampus Lindholm, Derrick Pouliot, Jacob Trouba, Mathew Dumba, Cody Ceci and Olli Maatta were all on the board. But hindsight is 20/20. Yakupov was rated as the top prospect, and the Oilers chose him. Is a solution to make him a mainstay on Connor McDavid's line for the rest of the season, to hopefully boost his confidence? Or is a change of scenery the only answer?
On a team with the likes of McDavid, Taylor Hall, Ryan Nugent-Hopkins and Jordan Eberle up front, Yak doesn't have to be "the guy". He doesn't have to carry the offence. But can he be a real contributor on this team for the long haul? Because like it or not, he's offensive player first, and if he isn't scoring, he doesn't provide much else. (Unless he continues to develop a physical game). I don't think I'm alone in hoping that Yakupov succeeds in the NHL whether it be in Edmonton or somewhere else, because he's a good kid and he works hard. Is this situation salvageable for the Oilers? Or is Yakupov likely on his way out this summer? Have your say in the comment section below.