It has been a busy summer for NHL teams signing many European free agents. Especially tough is the situation for the KHL, which already lost several star players to the NHL. Sergei Plotnikov, Yevgeni Medvedev, Steve Moses and more will head to the NHL and there are more free agents who could leave the KHL in the near future. Furthermore Joonas Donskoi and Joonas Kemppainen, two Finns, have signed with NHL teams this summer.
All of them have one thing in common, they played strong Worlds in the past years. This seems to be the key factor and obviously the easiest way for European players who are interested in a contract in North America to attract the attention to NHL teams. THW looks at more European free agents who could potentially sign with NHL teams soon and introduces them to you.
Alexander Radulov (F, CSKA Moscow, RUS)
There are reports which say that Alexander Radulov considers a return to the NHL for the season 16/17. The report also says that Colorado Avalanche coach Patrick Roy, his former boss with the Quebec Remparts, called Radulov to let him know the Avalanche will wait for him for next season. Radulov's agent, Yuri Nikolaev, confirmed that Radulov is eligible to return to the NHL for the 16/17 season. Radulov left the NHL twice, once in 2008 and then again in 2012, because it got messy with his contract in Nashville leading to a suspension handed out by the IIHF.
Alexander Radulov told @GazetaBOsport he considers return to the #NHL after next season when he's slated to become an UFA #KHL

— Igor Eronko (@IgorEronko) July 6, 2015
However, this seems to be in the past and the fact is that Radulov would bring a lot of excitement to the NHL. He is a treat to watch, whether you love or hate him but for sure he is always going to entertain you! Not only is he an entertaining person, he is also a very skilled and talented kid, who is often described as one the best player outside of the NHL. He would have an impact with any NHL team he signs. Last year he scored incredible 71 points in 46 regular season games and was voted MVP of the KHL, an award he has won already four times. And let's not forget he is only 29 years old.
He probably would have preferred to be available for this year's free agency as the next free agent summer will contain a lot of big names and he will get lots of concurrence from other available free agents. However, he doesn't need to hide from someone and if you know Radulov a bit then you know that he won't be scared by any big names out there. Radulov lately added that it will be nice to have options for the first time in his career. He for sure will have options, in any league.
Andrei Kostitsyn (F, Traktor Chelyabinsk, RUS)
Andrei Kostitsyn is ready to return to the NHL. At least that is what he said according to a report. He is eager to return to the NHL but that might not be as easy as it looks. Although he put up good numbers at the Worlds for Belarus, NHL teams didn't forget the way he left the league back in 2012. He missed curfew during the playoff run of the Nashville Predators and was suspended. However, Kostitsyn really wants to come back to North America and isn't afraid to accept a cap-friendly deal. Dave Lewis, his coach with the national team, believes that he still possesses the skillset to play in the NHL: Aren't the Habs still looking to add a forward?
Vadim Shipachev (F, SKA St. Petersburg, RUS)
The 28-year-old from Cherepovets had a great last season winning the championship with SKA St. Petersburg scoring 54 regular season points and 21 playoff points. He won the gold and silver medal at the Worlds in Belarus and Czech Republic. He showed good numbers in both tournaments and consistently puts up good number in the KHL. He is a typical Russian forward who owns very good offensive instincts and likes to get involved offensively. Shipachev likes to create scoring chances and is very pro-active in each of his shifts. He has two years left on his contract with SKA.
Juhamatti Aaltonen (F, Jokerit Helsinki, FIN)
The 30-year-old Finnish forward was drafted in the ninth round by the St. Louis Blues back in 2003. He never made it to North America and spent his whole career in the Finnish Liiga and KHL. He has one year remaining with Jokerit Helsinki, the team that lately joined the KHL. He scored 34 points last season and is a regular participant for Finland at the Worlds with four tournament appearances and taking home the gold medal in 2011. His most productive World Championship tournament was in 2013 when he finished as the sixth best scorer. He was part of the Finnish team in Sochi which won the bronze medal.
I would offer a contract to Juhamatti Aaltonen anytime. He's really good. Impress me a lot since 1-2 years.#NHL

— Félix Perreault (@Perreault_Felix) May 14, 2015
Aaltonen is an offensive winger with average size and strength, who gets physically involved if needed. He consistently puts up decent number over the past years and has some offensive upside. According to a Finnish report back in 2013, the Dallas Stars and two other NHL organizations were interested to sign Aaltonen. It seems like he stays with Jokerit Helsinki for now but if he has another good Worlds next year he would definitely draw attention to more NHL teams.
Jan Kovar (F, Metallurg Magnitogorsk, RUS)
The 25-year-old Czech center has put up great numbers since he joined Metallurg Magnitogorsk from the KHL in 2013. He has won the award for the best non-Russian scorer twice in a row while scoring 68 points in both of his KHL seasons and participated three times for the Czech Republic in the Worlds. He was never drafted by an NHL team, which might be because of his smallish size. He is listed at only 5'11" and 207 lbs but shows decent balance on his skates. He is a dangerous offensive weapon but he needs to show more consistence in international tournaments to draw more attention to NHL teams.
Yevgeni Dadonov (F, SKA St. Petersburg, RUS)
Florida's third round pick from 2007 has left the NHL in 2012 to join the KHL. Yevgeni Dadonov never really made it in Florida as he played in only 55 games over three years and spent a fair amount of time in the AHL. Things didn't improve for the Russian forward when he got traded to the Carolina Hurricanes. He only played with their AHL affiliates in Charlotte before leaving North America.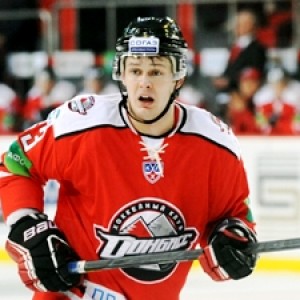 His best season since returning to Russia was the previous one where he played a good season with SKA St. Petersburg, winning the championship and later the silver medal at the Worlds. Dadonov had a strong tournament in which he finished among the top ten most productive players. The undersized Dadonov is an excellent puckhandler with good speed and a decent shot, but he lacks size, strength and a good defensive game, which might be the reason why he didn't make the NHL in his first try.
Roman Cervenka (F, SKA St. Petersburg, RUS)
Roman Cervenka played 39 games for the Calgary Flames in the season 12/13 and scored 17 points. He is a smart two-way center and an excellent playmaker and had good numbers in his only season with the Flames. Probably he could have gotten another shot with the Flames or another organization but he chose to return to the KHL. However, since he left the Flames to sign a contract in the KHL, he slightly struggled and never matched his good numbers from earlier years. Nevertheless, he remains an interesting player and his 17 NHL points in 39 games showed that he has the skillset to be an NHL player.
Simon Hjalmarsson (F, CSKA Moscow, RUS)
The St. Louis Blues have drafted Simon Hjalmarsson in the second round back in 2007. At that time, current Blue Jackets General Manager Jarmo Kekalainen was part of the Blues scouting team. Hjalmarsson never came to play for the Blues but Kekalainen signed him before the season 14/15 and invited Hjalmarsson to the Blue Jackets trainings camp.
Simon Hjalmarsson walked away from the #CBJ and a huge opportunity that would have undoubtedly come his way. #Hubris

— Daneel (@0hioan) February 16, 2015
However, he failed to make an impression and when Columbus sent him down to the AHL, he didn't show interest in playing for their AHL-affiliates. Therefore the team put him on unconditional waivers to terminate the contract, and the Swede signed with CSKA Moscow. Hjalmarsson's hope to ever play in the NHL might have ended when he decided to not play in the AHL, although his playing style would fit the North American game. He plays with a lot of grit and isn't afraid to get involved physically. He is a good forechecker and shows good work ethic but it remains to be seen if another NHL team will give him another chance.
There are several other notables which earns to be mentioned in this article. They are:
Oscar Möller (AK Bars Kazan, RUS)
Ondrej Nemec (Severstal Cherepovets, RUS)
Anton Belov (SKA St. Petersburg, RUS)
Daniel Pietta (Krefeld Pinguine, GER)
Kirill Kabanov (Skelleftea, SWE)
Kaspars Daugavins (Dynamo Moscow, RUS)
Stephane Da Costa (CSKA Moscow, RUS)
Sergei Shirokov (Avangard Omsk, RUS)
Sakari Salminen (Fribourg, CHE)
Vladimir Sobotka (Avangard Omsk, RUS)
Petri Kontiola (Lokomotiv Yaroslavl, RUS)
Independent Scout covering European Hockey and Prospects for TheHockeyWriters. Located in Switzerland and blogging on www.scouting-factory.blogspot.com. Opinions on blog are my own