There has been recent speculation that former Montreal Canadien and Nashville Predator Andrei Kostitsyn is looking to make a return to the NHL after three seasons in the KHL. Kostitsyn was traded from Montreal to Nashville during his last NHL season in exchange for a 2013 second round pick (which later became Jacob de la Rose) but was suspended during the Predators' playoff run along with teammate Alexander Radulov for breaking curfew. Kostitsyn was let go after that season where he eventually fled to the KHL. Despite his faults, Kostitsyn is a talented player but would it be worth it for the Habs to bring him back?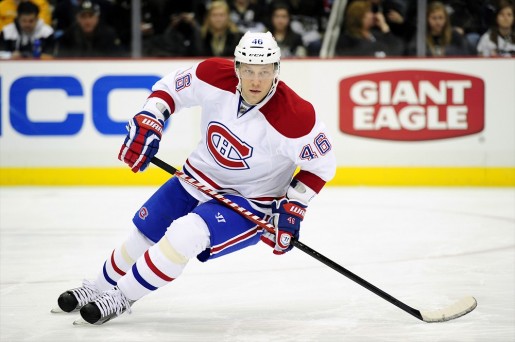 What Andrei Kostitsyn can bring
Kostitsyn was a frustrating player for fans during his NHL career. He was a top ten pick in the infamous 2003 draft year that produced many stars and had a ton of talent. But Kostitsyn was maddeningly inconsistent and accused of laziness at times. But he was still a productive player as he would average 40-50 points in a full season.
Kostitsyn has always had the tools to be an effective player when he wanted to be. With decent size and an overall good skill set to work with, he was at his best when playing with other talented players. He looked good when playing with Alexei Kovalev, one of the most naturally talented players in NHL history but didn't possess the drive to be one of the best. Kostitsyn also seemed to mesh decently with current Hab Lars Eller during his last season in Montreal.
Does he have what it takes?
Montreal doesn't score a lot due in part to the system they play but the bottom six doesn't score enough. In terms of points alone among bottom six wingers, Kostitsyn would be an upgrade on Dale Weise, Brandon Prust, Devante Smith-Pelly and Jacob de la Rose. Kostitsyn may not have the grit that these players have, which makes them favourites with management, but eventually Montreal is going to need to address the lack of scoring and Kostitsyn could be a cheap option.
What could work against Kostitsyn becoming a Hab again is whether or not he is a Marc Bergevin kind of player. Since the start of his tenure as GM of the Habs, Bergevin has preached about the importance of character in relation to the team and its prospects. Kostitsyn has past baggage such as he and his brother Sergei having ties to a drug trafficker back in 2009 and of course the suspension for breaking curfew with Nashville.
Unless a prospect impresses in camp, Montreal will likely be looking for more depth up front. In terms of prospects looking to make the jump, Sven Andrighetto and Charles Hudon will be looking to compete for a spot in next season's training camp. Nikita Scherbak is Montreal's most talented prospect forward but could probably use some seasoning in the AHL. Michael McCarron has impressed so far during the OHL playoffs and the Memorial Cup but he needs to work on his skating and further develop as a player.
Try out
If Montreal decides to pursue Kostitsyn, the best course of action would be a try out deal. That way there is no commitment and it gives Kostitsyn a chance to prove himself worthy of an NHL deal. If he performs well, you can sign him for cheap. If he doesn't perform to expectations, you cut ties and that's the end of it. As frustrating as Kostitsyn can be, Montreal's bottom six could use some more talent which he has in spades.