The San Jose Sharks are back in win-now mode and with many of their young forwards also chomping at the NHL bit, Team Teal must move on from "energy man" Mike Brown. This offseason has seen the Sharks move on from fellow "energy men" fighting-types like Adam Burish and John Scott. If general manager Doug Wilson were smart, he will do the same thing with Brown.
Enforcer's Extinction
Like Scott and Burish, Brown simply brings the Sharks no tangible value. Fighting is on a big time decline in the NHL as teams are learning that fights don't protect anybody and that actual hockey players are needed at all 20 lineup spots. Brown's best asset, his fists, are becoming irrelevant. While he may have better speed and forechecking ability than Scott and Burish, that value is negated by multiple factors. He has poor balance on his skates, often falling down with little contact, and he can't possess the puck on his stick long enough to actually do anything with it.
So outside of fighting, a dying portion of our great game, Brown offers next to nothing to an NHL team on the ice. There is no offensive nor defensive benefit to his game. He can't take faceoffs, he doesn't kill penalties, he is a seven-minute player and teams don't win with these types of guys anymore. They just don't. Kings head coach Darryl Sutter echoed these thoughts after last year's Stadium Series game.
Despite Brown being one of the worst players in the NHL, Wilson gave up a fourth-round pick for him in 2013-14. He then re-signed him a year ago to a two-year deal worth $1.2 million each season. Brown isn't even half of the player that former Shark and current Blackhawk forward Andrew Desjardins is, and yet the Stanley Cup winner made just $750,000 last season.
The Sharks have been one of the worst offenders in terms of having a dinosaur like attitude toward the role of fighting. All fighting truly is, is a temporary distraction from the actual game. Strong physical play can pump up a team but two bad fourth-line players pounding their faces to a pulp does not affect outcomes of games.
Hockey is thankfully trending towards advanced data on what really makes teams successful. Not the subjective guessing of which team "got more out of a fight" between two seven-minute players. No fight ever makes a difference in the outcome of a game. I mean, what? Are all losing teams blindfolded during fights so they couldn't watch and also get pumped full of energy? Please.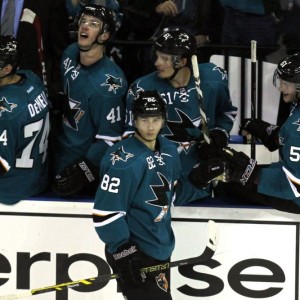 16 Better Forwards
San Jose is looking to compete for the Stanley Cup, and if no trade takers are found, Brown should be suiting up in the minors. His cap hit would then be reduced from $1.2 million to $250,000 if he is buried in the AHL. This is something that must happen. The Sharks simply have far too many forwards who bring more to the table than Brown.
Not only does San Jose have 12 projected NHL forwards already better than Brown, but minor league forwards like Nikolay Goldobin, Joonas Donskoi, and Nikita Jevpalovs are all superior players. Not just better, but superior. It doesn't even matter that they haven't played in the NHL yet. You can see it in the way they skate, stick-handle and see the ice. Not to mention if Raffi Torres is healthy, that is 16 forwards better than Brown in the organization.
The Sharks need to utilize every dime the best they can and a cap "penalty" of $250,000 for burying Brown in the minors is a far better utilization of funds than having his entire cap hit on the books. If they continue to use him even in 30 regular season games this year, it will be a worthless amount of ice time. Seven minutes of Brown on the ice not scoring, not playing defense and not penalty killing over say 10-12 solid minutes (including penalty kill time) from Barclay Goodrow? Give me a break.
Andrew has been credentialed to cover the Sharks since 2010 and the 49ers since 2012. He graduated with his BA in Broadcast Electronic Communication Arts in 2013 from San Francisco State University.