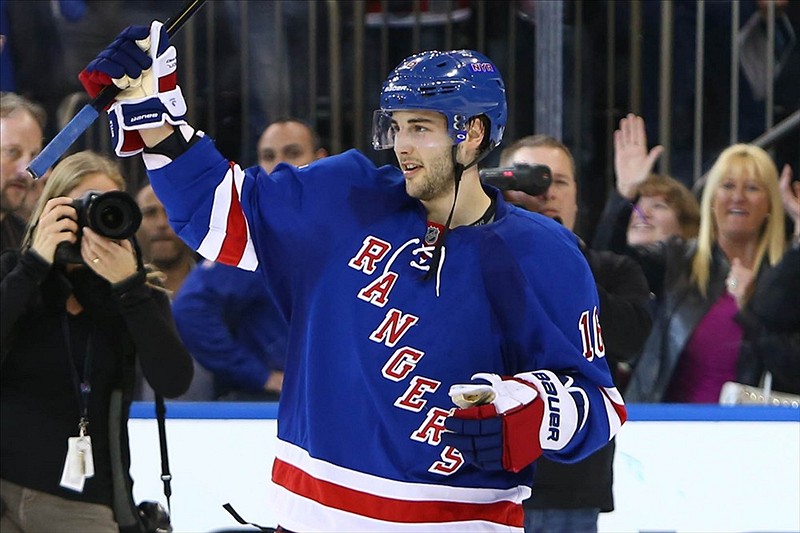 The New York Rangers will look to get back to the Stanley Cup Final next year with essentially a very similar team that won the Presidents' Trophy this past season. The Rangers strength of their team is their elite defense and goaltending.
The Rangers will have arguably the deepest top six defense group in the NHL in 2015-2016 with a healthy and rested Henrik Lundqvist. The Rangers made a few changes up front in the offseason with the retirement of Martin St. Louis, the trading of Carl Hagelin to the Anaheim Ducks and the departure of James Sheppard who is currently a free agent.
The team will still be among the best in the NHL, however it will be a lot more difficult to get back to the Eastern Conference Final and Stanley Cup Final. That is a result of the Penguins, Capitals and Blue Jackets significantly improving their teams. The Metropolitan Early Power Rankings will be looked at another day, however for this article I want to feature my early predictions for the players that will take the ice for the New York Rangers the first night of the regular season.
Forwards: The Top 6
The Top Line will feature Derick Brassard centering Rick Nash on his left and, if healthy, Mats Zuccarello on his right. The line was great last year and was the Rangers most consistent offensive line during the regular season. The second line will feature a pair of young American players who excelled last season and displayed tremendous chemistry.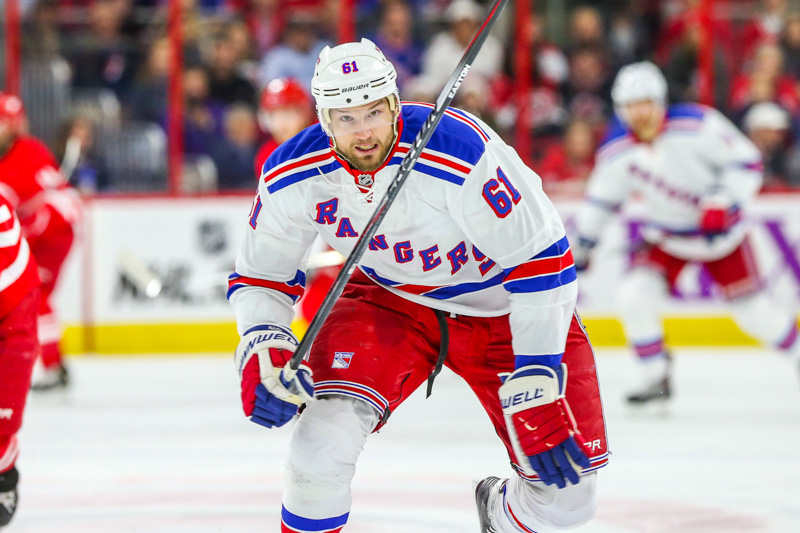 Derek Stepan will be a New York Ranger next year and will center Chris Kreider and second year pro Jesper Fast. The young Swede, Fast, really started to find his game in the Stanley Cup Playoffs and made an impact most nights. Kreider is developing into one of the best power forwards in hockey and is one of the best skaters in the league as well. The 24-year-old from Massachusetts should net 25-30 goals while Stepan is capable of 60-70 points and is one of the best underrated defensive centers in the National Hockey League. I look for this line to be a very nice compliment to the Brassard line and even carry the team at times during the season.
The Bottom 6
The Rangers will be a deep team again next season. Some of these forwards on the 3rd and 4th line will push guys on the second and even first line for top 6 minutes. That is a very good problem to have. One of these players will be sophomore Kevin Hayes who had a very good rookie campaign in the NHL.
The 6'5 wing scored 17 goals, 28 assists, 45 points and was a plus 15 in 79 games played. In his first playoffs, Hayes scored 7 points in 19 games and scored his first overtime-game winner in the playoffs against Pittsburgh in Round 1. I am going to look at JT Miller to center the 3rd line on opening night.
Miller is a player that really seemed to start finding his game at the NHL level this past season. Miller has been a player that has shown flashes of promise for years and has not lived up to the hype of being a 1st round (15th overall) pick in 2011.
It should be kept in mind that JT Miller is only 22 years old and is actually younger than Kevin Hayes, 23. Miller had his best season last year and scored 23 points in 58 games. It appears that 'MillerTime' has arrived on Broadway and  if JT figures things out at the NHL level this season, he would give New York a legit 3rd line that can put the puck in the net. Who would be the other winger on the 3rd line?
I would slot in none other than recently acquired Viktor Stalberg from the Nashville Predators. Stalberg is a 29-year-old Swede that is a very fast skater and will fit in well with the up-tempo style of Alain Vigneaut's team. The Rangers are a top 5 team in the NHL in terms of speed and Stalberg will be able to keep up as a result of his great skating ability.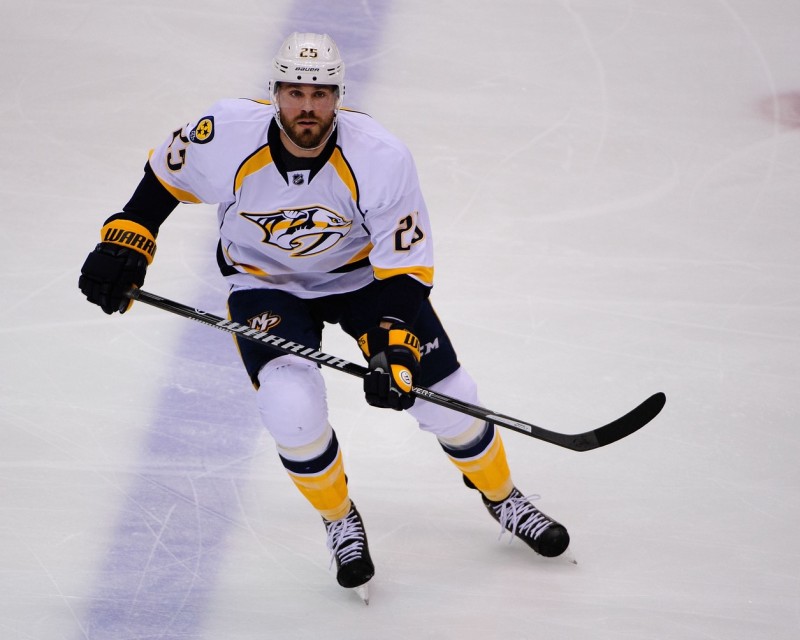 He will also add size to the wing position at 6'3, 210 pounds. Stalberg split his season between the NHL and AHL last year. However, he did appear in Nashville's 1st round playoff series against the Chicago Blackhawks and scored 3 points in 6 games against his former club.
It is always good to bring in veterans that have playoff experience and that have won in the NHL. Stalberg was a 2013 Stanley Cup Champion with the Chicago Blackhawks. The 4th line should feature Dominic Moore at center with Tanner Glass on his left and newly acquired Emerson Etem on his right.
I know how Rangers fans feel about Glass, however he does have the trust of Alain Vigneault and should see ice time on the 4th line whether it is a popular decision or not. This is Vigneault's team and he knows what his players are capable of and which type of role they need to be in with the club. Emerson Etem is a player that could be used in a few different roles this season and should start the season on the 4th line. Etem is another great addition to the team. The former 2010 1st round pick was acquired from the Anaheim Ducks for Carl Hagelin. Etem is another player with great skating ability, all four lines for New York should play fast next year and the Rangers will continue to be a deep offensive four line team. Etem is a player that could be poised for a breakout campaign with the change of scenery.
The Defense
The defense is the core of the team and will feature the captain Ryan McDoangh with his long time defense partner Dan Girardi. McDonagh will continue to grow as a player even more and dominate next year. He is a great shutdown defenseman and is still adding more offense to his game.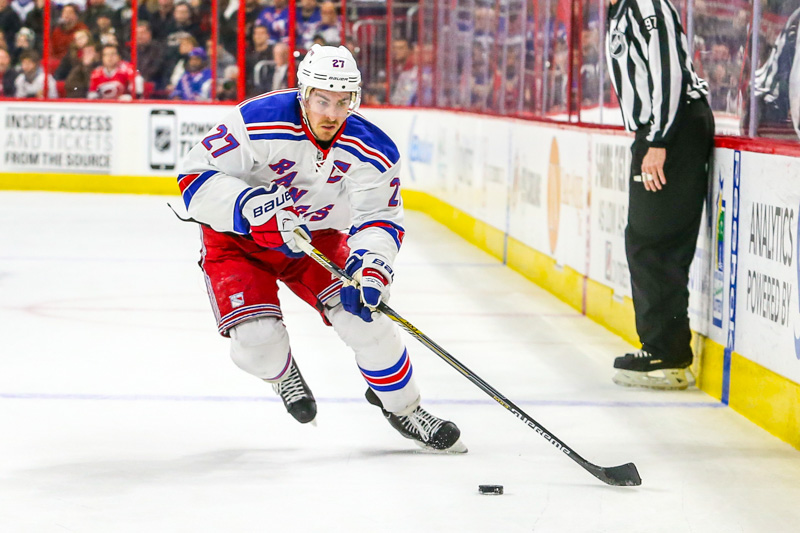 Girardi will continue to block shots and make quiet sound plays. The 2nd pair should be another shutdown defenseman in Marc Staal playing with right handed shot Kevin Klein. Klein had arguably his best year last season until an upper-body (left-arm) injury in March from an Alex Ovechkin slapshot.
Klein was not the same player after his return to the lineup in Round 2 against Ovechkin's Washington Capitals. Hopefully he comes back strong next year after some much needed rest and training over the summer. The 3rd defense pair should feature Dan Boyle along with puck-moving offensive-defenseman Keith Yandle. Now that Yandle has an understanding of the Rangers system and will have a full training camp with the team, he will be expected to elevate his game even more next year. Yandle should be a player to watch next year for sure and should significantly improve the Rangers overall power play.
Goaltending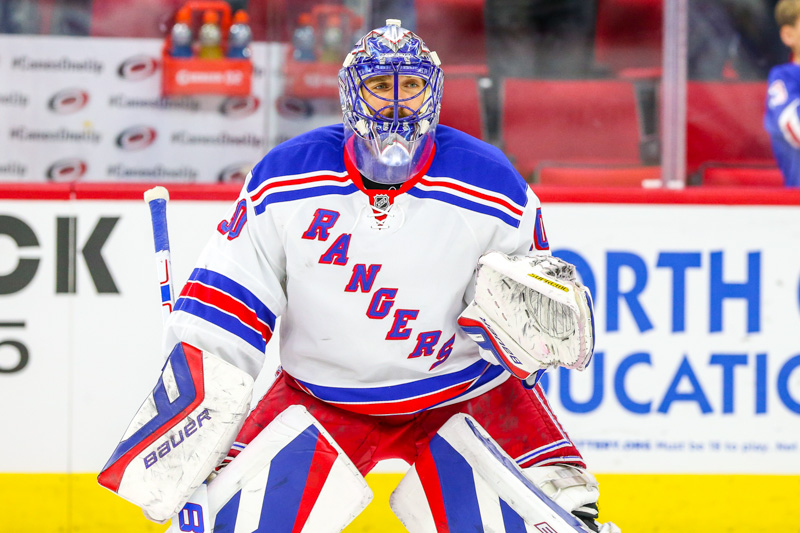 Henrik Lundqvist is another player looking for a fresh start next year. Lundqvist will be refreshed after his summer in Sweden and will be ready to yet again chase the last thing he has yet to accomplish in his tremendous hockey career, winning the Stanley Cup. This year he will be backed up by newly acquired Antti Raanta.
The Window
The Rangers 'window of opportunity' to win a championship is still going to be open for the next 3-5 seasons with a young core in place at forward along with elite defense and goaltending. Here you have it folks. My early July predictions for the Rangers lineup on opening night:
Line 1- Nash, Brassard, Zuccarello
Line 2-Kreider, Stepan, Fast
Line 3-Stalberg, Miller, Hayes
Line 4- Glass, Moore, Etem
Defense Pairing 1-McDonagh, Girardi
Defense Pairing 2-Staal, Klein
Defense Pairing 3-Yandle, Boyle
Starting Goalie-Lundqvist
Backup Goalie-Raanta