After an inspiring 2016-17 season for the Toronto Maple Leafs, which saw upwards of six rookies in the lineup each night, it is time to look forward to the 2017-18 campaign.
With so many of their top prospects making the jump to the NHL last year, it's natural that the Leafs are now lacking NHL-ready prospects. In what is already a very young roster, can Toronto afford to promote any more prospects into their everyday lineup for '17-18 with hopes of further success?
The reality is that the Leafs don't have a ton of openings for next year's lineup. They could add about two forwards, one defenceman, and maybe a backup goaltender. Then, the next question is if those holes are filed via trades, free agency, or inner promotions.
As a result, there are very limited opportunities for any Leafs prospects to make the jump into the opening night lineup come October.
Here are a few prospects with the best and most realistic chances of cracking the Leafs 2017-18 lineup, taking into consideration how many spots are likely to be available.
Kasperi Kapanen – RW – Toronto Marlies (AHL)
As a 20-year-old, Kasperi Kapanen had an incredible season in the AHL, warranting our selection as the Leafs Prospect of the Year. Statistically, Kapanen totalled 18 goals and 43 points in 43 games, holding the fourth-best points per game rate in the AHL among players under 24 years of age. He then earned eight games with the Leafs and a spot in their playoff lineup for the first round. Over those 14 games, he added three goals and fit in to the team's system well, playing a strong two-way game with speed and skill.
The aspect that Leafs' management may be most pleased about is Kapanen's improvements in his two-way game and attention to detail in the defensive zone. What used to be a flaw in his game is slowly becoming a strength, and that is a trait that head coach, Mike Babcock, requests from his forwards.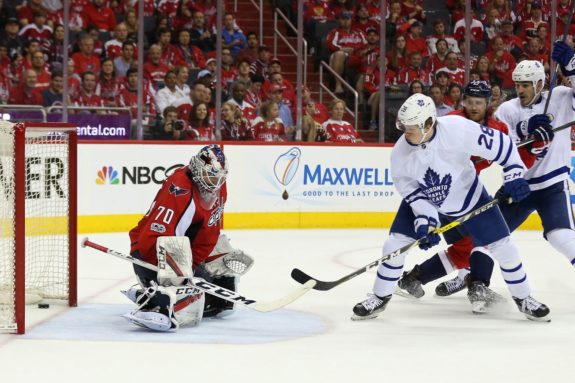 After a successful stint in the NHL, Kapanen was able to prove that he is ready to make the leap to the big leagues. That experience will benefit him when it comes down to the final choices for the top-12 forwards, come October.
By the time the 2017-18 season begins, Kapanen will have recently turned 21 years old. So, although he has had two strong years of AHL experience, he is still a young kid in the professional world and another AHL season may not be the worst idea.
As of this moment, Kapanen is likely the favourite among internal prospects to have earned a promotion to the Leafs for 2017-18.
Miro Aaltonen – C/LW – Vityaz Podolsk (KHL)
Signed as a free agent on March 17th, 2017, Miro Aaltonen was a quiet, but smart acquisition. The 23-year-old spent five seasons playing in Liiga, Finland's top professional league, before moving on to the KHL for 2016-17. He had a very successful first year, adjusting to a stronger league almost instantly. Aaltonen would go on to lead all players under the age of 24 with 44 points in 59 games, including 19 goals.
A former 2013 NHL Draft pick of the Anaheim Ducks (6th round, 177th overall), Aaltonen made impressive strides in his all around game this year, making NHL teams take notice. Standing at 5'11" and 172 pounds, Aaltonen isn't the biggest body, but competes hard each shift regardless.
Aaltonen can score with decent consistency, or play as a playmaker with good stick handling skills and vision of the ice. Where he may have an edge over Kapanen is through his experience in the KHL, finding success in a strong professional league.
As a relatively young player still, the Leafs may be looking to incorporate more experience in their lineup. Some time in the AHL surely could go a long way for Aaltonen to adapt to the North American game, while proving his abilities to Leafs management.
As per usual, those decisions will likely come down to performance in training camp, where Aaltonen, Kapanen, and about 30 others will do their best to earn a spot in the lineup.
Calle Rosén – D – Växjö Lakers HC (SHL)
Another wise free agent signing from Europe by the Leafs this spring was Calle Rosen, who spent the last two seasons in the SHL, Sweden's top professional league. Rosen has improved exponentially in the last few years, and ranked second among defencemen under the age of 24 in the SHL this year with 19 points, including six goals, in 41 games.
Rosen, a 23-year-old, is a solid two-way defender who skates with a smooth, effortless stride. He showcases great hockey sense, namely through his transition game, as he breaks the puck out with confidence and joins the rush when safe. Rosen boasts a strong shot from the blue line as well, using opponents as a screen.
While fellow free agent signee, Andreas Borgman, 20, may admittedly have better long-term potential, Rosen's game is likely further developed as they head into 2017-18. With both Matt Hunwick and Roman Polak pending unrestricted free agency, there could be as many as two spots to fight for in October.
Rosen also seems like the more likely choice over Marlies' defencemen, Travis Dermott and Andrew Nielsen, who are coming off of their first AHL season as 20 year olds.
Garret Sparks – G – Toronto Marlies (AHL)
Originally a seventh round pick by the Leafs (190th overall, 2011), Sparks has slowly worked his way up the depth chart. In his fourth year post major junior hockey, Sparks continued to boast very solid numbers. While he has spent time in the ECHL, AHL, and NHL since 2013-14, Sparks seems to finally be on the brink of cracking the NHL permanently.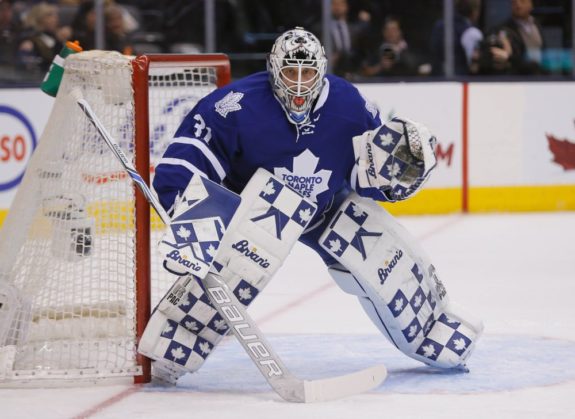 While Sparks and Antoine Bibeau split the majority of starts for the Marlies this season, Sparks' stats were far superior, posting a 2.16 GAA and .922 SV%, opposed to Bibeau's 3.08 GAA and .894 SV%. Sparks' save percentage was the third best among AHL goaltenders under the age of 24.
At 6'3″ and 210 pounds, Sparks bring good size in the crease and uses it to his advantage by cutting down on shooting angles. Labeled as a hybrid goaltender, Sparks is very solid in the butterfly, featuring quick lateral movements and solid rebound control. He also has the confidence and ability to play the puck often. He could work on position recovery and play a more calm, relaxed style to improve his NHL potential.
With Curtis McElhinney pending unrestricted free agency on July 1st, there is a potential opening for a backup role with the Leafs for 2017-18. Based on last season's results, Sparks would appear to have the upper-hand over Bibeau for now. Keep in mind that Sparks has 17 games of NHL experience from 2015-16, and he looks like the obvious choice for a promotion to be Toronto's backup.