The Minnesota Wild now have another need that has to be addressed this summer. According to Michael Russo of the Star Tribune, assistant coach Scott Stevens has resigned. Stevens pulled head coach Bruce Boudreau aside recently, telling him his intentions to step down. Boudreau stated that Stevens will be "very difficult to replace" and that he expects there to be plenty of applicants.
Stevens left due to family reasons. His wife and family live in New Jersey and Stevens was ready to be close again with his family. As of right now, he has no plans to return to the NHL to coach, but I wouldn't rule out that possibility.
Stevens: "My family is here (in NJ/NY) and I just want to be closer. I need them and they need me." #mnwild

— Michael Russo (@Russostrib) May 30, 2017
Big Shoes to Fill
Finding a quality replacement for Stevens will be no easy task. He took a quality group of players and made them one of the best defensive teams in the NHL. The Wild went from the 27th-best penalty kill (77.9 percent) in 2015-16 to the eighth-best penalty kill (82.1 percent) this past season. The Wild also were seventh best in goals against per game this season (2.51) under Stevens' coaching.
John Anderson
The Wild have some options to fill the shoes Stevens leaves. John Anderson, who ran the Wild's power play, could be promoted to Boudreau's assistant. He was a quality head coach in the AHL, where he lead the Chicago Wolves to two Calder Cup championships. He coached for the Wolves for a total of 14 seasons before coming to the Wild last year.
Dan Bylsma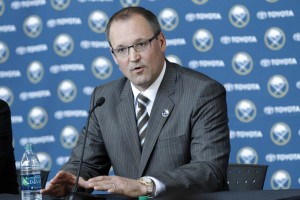 Dan Bylsma would be a very intriguing option. The former Buffalo Sabres head coach was let go shortly after the season ended. There was plenty of drama involving his departure, as Jack Eichel voiced his displeasure with Bylsma. Many believe that Eichel is responsible for Bylsma's firing, but we don't know for sure.
Before coaching the Sabres, Bylsma spent six years as the head coach of the Pittsburgh Penguins. There he led the Penguins to the playoffs each year, including a Stanley Cup championship his rookie year as a coach. He's currently serving as a guest analyst on the NHL Network, but wouldn't hesitate to coach again. Bylsma would likely prefer to be a head coach but would be just as valuable as an assistant.
Bob Woods
Bob Woods is someone who Boudreau who would presumably want by his side perhaps more so than the prior two names mentioned. Woods and Boudreau have a ton of history together as coaches. They spent time together in the AHL with the Hershey Bears. Boudreau also had him as an assistant in Washinton with the Capitals as well as his time with the Anaheim Ducks. Woods currently is an assistant with the Sabres, but the possibility of re-joining forces with Boudreau may be too tempting to ignore.
What Happens Next
Now that the calendar has turned the page to June, Chuck Fletcher has a busy month ahead of him. He has key free agents that need to be re-signed. He needs to also improve this team while trying his best to protect talented players from falling into the grasp of the Vegas Golden Knights.
Finding a new assistant coach is something that will likely wait. Fletcher has the whole summer to decide on a new assistant and will likely wait until later in the summer to make a decision.