After months of inspiring emotions ranging from hope to rage to indifference, the NHL and NHLPA have finally come to terms on a tentative Collective Bargaining Agreement, which will save the 2013 NHL season. According to various sources, the season will be between 48-50 games, and will be written in a condensed format to ensure that it doesn't stray too far into April at its end.
With the labor issues seemingly finally resolved, the 30 NHL teams are going to find themselves deposited into a whirlwind of activity in the next few days. Unsigned free agents, both restricted and unrestricted, will need to be quickly snapped up, and training camp will likely begin at some point toward the middle of the week. With all of those moving parts, speed will be the name of the game, and team chemistry will take a brief back seat.
So in a condensed schedule, which NHL Central teams will stand to benefit? Which teams are best equipped to handle the grind of having a schedule that will see them playing just about every other day, and will require them to get their new players up to speed in a maddeningly tight time frame?
The Beneficiaries:
Chicago Blackhawks
The Blackhawks have to be considered a big winner for several reasons during the lockout. For starters, they don't have to contend with any of the injuries that have befallen other players while they have been overseas. In addition, they have had time for players like Marian Hossa to heal from injuries that they suffered last season, so they will be as close to full strength as any team can get going into the shortened season.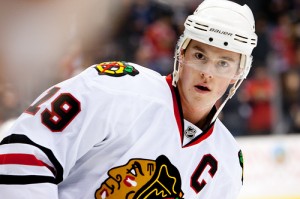 Finally, there wasn't much roster turnover on the club during the offseason, and with stalwarts like Patrick Kane, Jonathan Toews, and Duncan Keith all being long-tenured veterans of coach Joel Quenneville's system, this team should be primed for a great year with the chemistry that they possess.
St. Louis Blues
The Blues are another team that stands to benefit greatly from an abbreviated campaign. Not only do they have a slew of young players who will be able to better withstand the rigors of a compressed schedule, like David Backes, the newly resigned TJ Oshie, and Alex Pietrangelo, but they also have a couple of great veteran leaders on the roster in Andy McDonald and Jamie Langenbruner who will be able to keep the team grounded in the event that they hit a little bit of a skid.
Add to that their dynamic goaltending duo of Jaroslav Halak and Brian Elliott, and this team is one that can easily get hot at the right time and make some serious noise in the playoffs.
The Losers:
Detroit Red Wings
"Losers" may be too harsh a title for the Wings going into this season, but they will be behind the 8-ball just a bit as things get roaring along. Just about every key player on their roster is over the age of 30, with Pavel Datsyuk, Henrik Zetterberg, and Johan Franzen comprising that group. In addition, they have to absorb the loss of defenseman Nicklas Lidstrom, which leaves their blue line significantly weaker heading into the new campaign.
If they can get new defenseman Kyle Quincey acclimated quickly to their system, and if they can get solid backup goaltending behind Jimmy Howard (a must in a condensed slate), then the Wings will likely be okay, but those are a couple of big ifs heading into the campaign.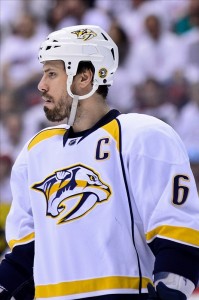 Nashville  Predators
The last time we heard from the Predators, they were coming precipitously close to losing both of their top defensemen, who comprised arguably the top pairing in the entire league. They did ultimately lose Ryan Suter to the Minnesota Wild, but were forced to match a 14-year mega offersheet from the Philadelphia Flyers on Shea Weber. Now, with two-thirds of their triumvirate still in place (Pekka Rinne signed a seven year extension last season), the Predators are going to be forced to adjust to life without Suter on the club.
It will be a tough slog for them, but ultimately the key will be the play of Weber and Rinne. Can Shea be the big play blue liner the team needs without Suter there to back him up? Will Rinne be able to withstand the pressure of new money and the grind of a shortened season? Odds are that one may succeed, but to ask both to seems a bit too far, hence their presence in "The Losers" column.
The Question Marks:
Columbus Blue Jackets
Anyone who claims that they have an accurate read on where exactly the Blue Jackets are headed into the future is deluding you and themselves. This team traded away their premier player to the Rangers (Rick Nash), but got a great return including Brandon Dubinsky and Tim Erixon. They brought in Adrian Aucoin, dealt away Marc Methot, and signed Jared Boll. Add to that their acquisition (and subsequent trade of) Jeff Carter, signing James Wisniewski, and trading for Jack Johnson, and you have a team with so many moving parts that it would take a Swiss watchmaker to make sense of it all.
Will they be an improved club this year? It's tough to tell, but you'd almost have to imagine that things can't get much worse than they were last year. The best approach with a team like Columbus is to sit back and wait, but after nearly five months of lockout-related nonsense, that's just about the last thing any of us want to do, right?
James started out for The Hockey Writers covering the Atlanta Thrashers in 2009, and has also covered the Chicago Blackhawks, served as NHL Correspondent, and is now a Managing Editor and the site's NHL Central Blogger. He also writes for The Golf Writers.