Now that Craig Berube's tenure in Philadelphia is finished, the Flyers now face a plethora of candidates to sift through. Will Ron Hextall find the right coach by siding with experience, or should the second-year GM covet up and coming potential behind the bench instead?
Recycled Candidates
If Craig Berube's ultimate downfall in Philadelphia centered around not getting the most out of his players, the previously fired candidate appears to simulate a dog chasing its tail. After all, being handed a pink slip isn't exactly a career accomplishment that tops a resumé.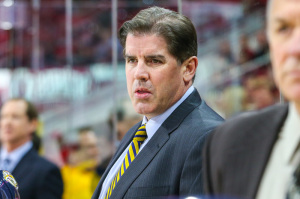 It's not uncommon, however, for organizations to quickly swoop in on another team's unwanted coach. And despite past failures, they're often not wrong for doing so.
It's worked out for several teams this year alone, with Peter Laviolette and Barry Trotz turning the fortunes of their new teams around.
Success itself is short-lived in the NHL today, which creates the opportunity for such turnaround.
If the Anaheim Ducks make an early exit in the post-season, nobody is sure if Bruce Boudreau will be back, while Arizona Coyotes coach Dave Tippett was much better at his job when he got a save or two. The Edmonton Oilers haven't made a decision on Todd Nelson's future either. — Bruce Garrioch, Ottawa Sun
Targeting the experienced coach, though, has also turned out well for both the Los Angeles Kings, and New York Rangers. Darryl Sutter's time in Calgary served him well in L.A., resulting in a pair of Stanley Cup championships, while Alain Vigneault has now led both Vancouver, and New York to appearances in the Stanley Cup Final.
That's why names such as, Todd McLellan, Claude Julien, Dan Bylsma, Dave Tippett, and even Guy Boucher, have appeared on the Flyers' radar, coming in behind the league's most desired coaching free agent, Mike Babcock.
"I think in a perfect world that's one of the things you look for, but that's not mandatory," said Hextall. "In the end we're going to look at every candidate that we feel merits looking at and go at it from there. Is [NHL experience] nice? Yes. Is it imperative? I'd say no."
Nobody holds his cards closer to his vest than Hextall. But with everything considered, the former assistant to Dean Lombardi will still have his work cut out for him, as an array of teams will compete for the top coaching candidates.
The playoffs, of course, will dictate the coaching landscape throughout the league. The fate of several squads could either contribute to, or take from the crop of candidacies, as rumors have kicked up involving St. Louis' Ken Hitchcock, Anaheim's Bruce Boudreau, and Pittsburgh's Mike Johnston.
Ted Nolan has been fired by the #sabres. A number of NHL coaching vacancies are going to open in the coming days and weeks.

— Chris Johnston (@reporterchris) April 12, 2015
The risk in pursuing this course is seen in Bylsma, John Tortorella, and Randy Carlyle. All three are Stanley Cup-winning coaches who are among the broad list of coaching candidates for several teams.
In other words, they're still unemployed – for the same reason Craig Berube is now.
Berube might have been right in believing the team was better than it played.

But a lot of it is the ability to get players to play to their level, help raise younger players' production and make changes to match opponents. In Hextall's judgment, the Flyers can do better than Berube. — Ray Slover, Sporting News
That may be so, but it doesn't ease the anxiety of replacing him with a coach that's been cut loose for similar indictments.
The Flyers, however, aren't necessarily held hostage to these scenarios.
Fresh Face Approach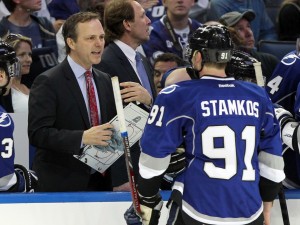 The biggest names among the available coaching ranks, of course, don't always stand as the best decisions. John Tortorella's single season in Vancouver immediately comes to mind.
A terrific example of a pleasant "unknown," however, can be found in Tampa Bay's Jon Cooper.
In some ways Cooper has lucked into his role as the coach of the NHL's hottest young team. Tampa's roster is loaded with 25-and-under talent with Victor Hedman, Steven Stamkos, Ondrej Palat, Jonathan Drouin, Tyler Johnson and Nikita Kucherov.

But the dude has paid his hockey dues in the minors, and advanced because [Steve]Yzerman thought outside the box to hire him to be the organization's AHL coach in 2010. And then saw him guide his young prospects and make them NHL-ready players. — Josh Cooper, Puck Daddy
Cooper's three seasons in Tampa could be the beginning of a trend throughout the league in the process of hiring a new coach. After all, even Scotty Bowman himself had to start somewhere.
But while Cooper's law degree has come in handy in an unorthodox way, duplicating a process similar to Yzerman's should garner far more attention. Especially with the current flavor among the AHL coaching ranks, Binghamton Senators coach Luke Richardson.
https://twitter.com/ABennett_10/status/587422139906662400
Unlike Cooper, Richardson actually played in the NHL, 21 seasons for six different teams to be exact. And although Richardson has been linked to Buffalo's current vacancy, one of the teams the former defenseman skated for was none other than the Flyers.
Former Flyers defenseman Luke Richardson has generated a lot of buzz as a potential NHL head coaching candidate after earning a lot of praise for his work with the AHL's Binghamton Senators. He also spent three years as an NHL assistant with the Ottawa Senators under Paul MacLean; a former Jack Adams award winning coach whom the Sens let go after 27 games this year. MacLean is also a possibility for the Flyers. — Bill Meltzer, Hockey Buzz
Meltzer goes onto mention Los Angeles Kings assistant John Stevens as a potential candidate due to Hextall's relationship with the former Flyers coach. But Stevens' last head coaching gig came with the Flyers before being fired in 2009.
Although there's familiarity in promoting from within, even that approach isn't bulletproof. Remember, Craig Berube was yanked from the Philadelphia Phantoms in his first year as an AHL head coach in 2006. Since then, he's been on the Flyers' bench as either an assistant, or head coach.
In the course of nearly 50 years as an NHL franchise, the Flyers front office has dipped into the well at either the minor-league level or at the right hand of the deposed head coach and hired a replacement from within on six occasions.

It has been disastrous, or at the very least, unsuccessful, five times. — Bob Herpen, The Phanatic Magazine
Whomever the next coach of the Flyers turns out to be, he'll undoubtedly inherit challenges that haven't departed with Berube.
Hextall says he'd like to have a coach in place by the draft.

— Dave Isaac (@davegisaac) April 17, 2015
Addressing these issues in the offseason could make all the difference in making the new guy look like the right fit, whether he's a recycled NHL coach, or a newbie looking to establish himself.
Once again, it's time for Hextall to pull a rabbit out of his hat.
Andy is a contributor for The Hockey Writers, covering the Philadelphia Flyers. He holds a Bachelor's Degree in Communications from Walsh University. He enjoys spending time with his family, golfing, and reading. He is married with a daughter. You can follow Andy on Twitter @ADudones.