Canucks Aren't Strangers to Hartley's Antics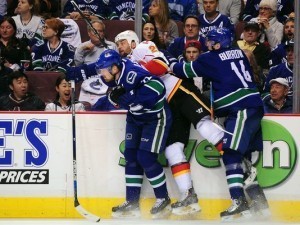 The Canucks and Flames series shifts to Calgary, for the first playoff game in six years at the Scotiabank Saddledome, at a 1-1 tie after an emphatic 4-1 win for Vancouver in game 2. Vancouver all but closed out the game after Radim Vrbata's empty net goal with 2:01 to go, but the biggest statement may have been made by Flames coach Bob Hartley 41 seconds later.
The shift after Vancouver's fourth goal, with virtually nothing left to play for in game 2, Hartley sent out his fourth line, and what ensued was 132 penalty minutes, not to mention a $50,000 dollar fine later.
The Flames personnel on the ice included Deryk Engelland, Brandon Bollig, Michael Ferland, Matt Stajan and Corey Potter. The league took note of Hartley's intentions at this point in the game, and came down with a $50,000 dollar fine the next day for his responsibility of the line brawl.
Seems like a hefty bill to pay for such actions, but it wasn't the first time the Flames coach was responsible for a line brawl. The Vancouver Canucks would surely remember.
As the Canucks 2013-14 regular season began to unravel after the Christmas break, en route to missing the playoffs for the first time in six seasons, Vancouver's lowest point may have been coach John Tortorella trying to get at Calgary coach Bob Hartley in their dressing room. This outburst lead to a 15 day suspension for Tortorella and a Canuck crisis, as the team went 2-4 in his absence and lost another 8 out of 9 games upon his return.
The suspension is all but cemented as the epitome of Tortorella's reputation in his time in Vancouver, but what is less publicized in what led to Tortorella's punishment is that Bob Hartley was entirely responsible for the line brawl in the first place.
This incident last season saw a visiting Flames team with a starting lineup then of Kevin Westgarth, Brian McGrattan, Ladislav Smid, Blair Jones and Chris Butler. The result of this line brawl two seconds into the game was 197 penalty minutes, Tortorella's suspension and a $25,000 dollar fine for Bob Hartley.
What Does Hartley Have Against the Canucks?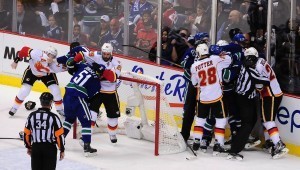 Whether or not these separate line brawls indicate that Hartley has an omen against the Canucks is not known. Calgary only had 24 fighting majors in the regular season and ranked third last with less than 8 penalty minutes per game, compared to Vancouver's 31 fighting majors and ranking 5th in the NHL with almost 11 penalty minutes per game.
What is key for Vancouver is to not get away from their game as the series shifts to Calgary, where the Canucks have beat the Flames in 4 of their last 5 playoff meetings.
Willie Desjardins still doesn't seem concerned about matching lines, saying the Sedin line will go up against whoever is out there @TSN1040

— Satiar Shah (@SatiarShah) April 19, 2015
It's no secret the Flames are a slow starting team that comes alive as the game goes along, albeit whether it's intentional or not. Calgary had the best third period goal differential in the NHL during the regular season.
Based on the Canucks 2013-14 regular season, we've seen the on ice result when players aren't playing in their natural roles. Additions this year have allowed the Canucks to rebound by finding their identity. To name a few, Radim Vrbata was 12th in the league with 31 goals, Derek Dorsett was 2nd with 17 fighting majors, and Wille Desjardins has succeeded for the most part in using his players in their best fitted roles.
The Canucks dominated the Flames in the first period of game 2 and never looked back. Now moving forward, their main goal in this quarter final series is to continue playing the way that has made them successful all year, and not redefine their game based on antics in the past from Bob Hartley and company.
Canucks contributor for The Hockey Writers. Maple Ridge, BC native. Contact: coltondavies95@gmail.com or @ColtonnDavies on Twitter.