On Tuesday, February 9th, the Toronto Maple Leafs and Ottawa Senators shocked the sports world, agreeing to a monumental nine player trade.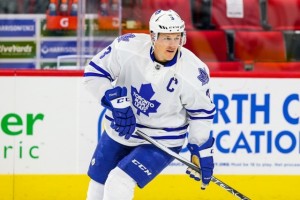 The key piece of the deal was undoubtedly Leafs captain Dion Phaneuf. Although he had been rumored to be available in trade for quite some time now, his name had seemingly been removed from trade talks thanks to a resurgence in play under Mike Babcock.
On the other hand, the Leafs acquired a relatively young defenseman with solid upside in Jared Cowen. Although his play has fallen off of late, his arrival in Toronto will surely provide him adequate opportunity to further develop his game, given he will log a considerable amount of ice-time.
The nine player deal is one focused largely around the salaries of the respective players involved and the cap situations of both teams. Ottawa is known as a team which limits its spending, and as a result they aimed to rid themselves of some of their more financially restricting contracts, namely those of Milan Michalek, Cowen and Colin Greening. The Leafs, who were able to take on further money, did manage to move Phaneuf's contract which carries a $7 Million cap hit, yet did lose out in term, as Phaneuf remains under contract for five seasons.
Let's take a closer look at the players acquired by the Leafs.
Toronto Maple Leafs Acquire: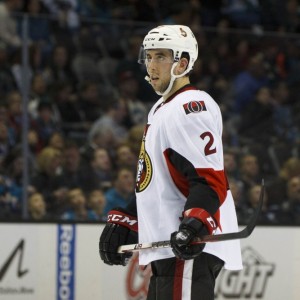 Cowen is a 25 year-old defenseman currently in his fifth year of play in the NHL. Originally drafted in the first round, ninth overall by the Senators in 2009, Cowen played a total of 249 games in Ottawa, logging 15 goals and 46 points.
Viewed as a promising defensive prospect while with the Spokane Chiefs of the Western Hockey League, Cowen has yet to develop into a truly valuable NHL defender. Not only have his points per game dropped on a yearly basis, but so too have his possession metrics, carrying a very poor 42.8 CF% with Ottawa this season.
Signed to a four-year, $12.4 Million contract with the Senators, Cowen has one year remaining on his contract following the current 2015-16 season at a modest cap hit of $3.1 Million. He is slated to become a RFA in 2017-18.
In all, picking up Cowen is a solid, low risk move for the Leafs considering their position in the Standings. Although he is 25, Cowen retains solid upside and could develop into a quality defender for the Leafs as they continue their rebuild.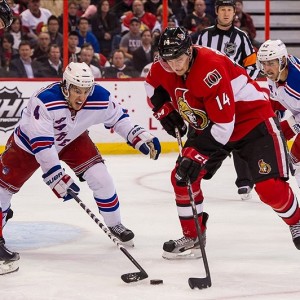 The 204th overall selection in the 2005 NHL Entry Draft, Colin Greening is an interesting acquisition by the Leafs.
At 29 years old, Greening has played 256 career games, recording 38 goals and 87 points in those contests. Greening's best season came in 2011-12, where he scored 17 goals and 37 points, while also playing in the NHL Young Stars Game. However, his play has degraded quite heavily in the time since, failing to produce any sort of significant offensive output.
As a result, Greening has found himself buried in the AHL, playing with the Senators' farm team in Binghamton.
In acquiring Greening, the Leafs pick up more salary, as witnessed in his $2.65 Million cap hit for 2016-17. At 29 years of age, the Leafs will likely see what they have in Greening before burying him in the minors. However, at 6 foot 2, 210 pounds, Greening's size could allow him to be an impact player on the Leafs fourth line.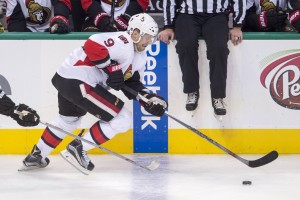 A former 35 goal scorer with the Senators in 2011-12, Milan Michalek will add offensive to an impotent Leafs lineup, if he can stay healthy that is.
Over the years, Michalek has been known as a solid offensive threat, registering 206 goals thus far in his career, alongside 436 points. However, he has been heavily plagued by the injury bug, playing 82 games just once in his 10 year career. At the moment, Michalek is currently sidelined with a fractured finger.
Michalek has one year remaining on his current contract, and carries a $4 Million cap hit through the 2016-17 season. Come the conclusion of his contract, he will be a UFA, and with no trade clauses in his contract, will likely be trade bait for the Leafs to dangle in order to further their rebuild.
At 31 years old, Michalek still retains the ability to be an impact player in the NHL. Whether his health cooperates, however, will surely determine his success with the Leafs.
If you have yet to hear of Tobias Lindberg, that will soon change.
Lindberg is a quality prospect with considerable upside who is currently playing in his first AHL season, and had scored five goals and 22 points over 34 games in Binghamton this season.
Drafted in the fourth round, 102nd overall in the 2013 NHL Draft, Lindberg recently came to North America from Sweden, where he managed to play in a few games with Djurgardens IF Stockholm of the Swedish 1st Division. In 2014-15, Lindberg skated with the Oshawa Generals of the OHL, where he scored an impressive 32 goals and 78 points in just 67 games played.
At 6 foot 3, 215 pounds, Lindberg is an offensive threat on the right-wing, and at 20 years of age, retains an immense potential given his size and skill set. Although he will likely remain in the AHL for the remainder of the season, Lindberg is a player which Leafs fans should surely keep their eye on.
Senators' 2nd Round Draft Pick, 2017


---
Instant Analysis
It's difficult to determine who truly 'won' this trade, and we surely won't be able to answer this question for quite some time.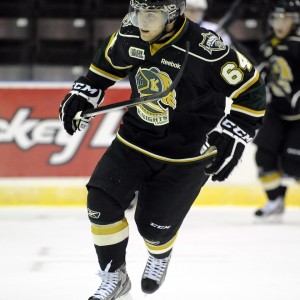 On paper, the Leafs did a good job of making solid depth additions to their existing roster, however, it is difficult to see any of the players acquired by the Leafs in this deal, other than Lindberg, remaining within the organization long-term. With the Leafs in the beginning of a rebuild, it would be hard to genuinely say that Michalek or Greening are essential to the future success of Toronto as a team.
Cowen's future on the other hand could prove to be substantially more interesting.
At 25 years of age, Cowen has plenty of time to develop, and could certainly rebound his young career under the careful guidance of new Head Coach Mike Babcock. However, with just one year remaining one his current deal, chances are he could one again find himself on the trading block in a years time if he fails to prove his worth with the Leafs.
In terms of what the Leafs gave up: Phaneuf, Matt Frattin, Casey Bailey, Ryan Rupert and Cody Donaghey, it is hard to see how this trade fits with their current plan of stockpiling prospects. Having traded three young prospects in exchange for a number of middle-aged NHL veterans does not exactly fit with their rebuilding goal from the outset of the season.
However, the trade deadline does remains mere weeks away, meaning not only could other trades be in the works, but the Leafs could in fact flip one of, or multiple players which they acquired from Ottawa.
Brett Slawson is a four-year veteran of The Hockey Writers who covers the Toronto Maple Leafs, NHL prospects, and the OHL's Mississauga Steelheads.
Contact Brett on Twitter @brettslawson92, or by email at brett_slawson@hotmail.com.