With just over three weeks to go before the NHL trade deadline the speculations and wild rumors are becoming the norm. This is the time of year that NHL fans get a little loopy in dreaming about that killer trade that will put their team in the Stanley Cup drivers seat.
For the Vancouver Canucks and their fans the trade rumors are swirling.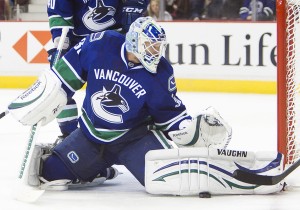 There have already been stories suggesting that George Parros is heading to Vancouver as well as a far-fetched rumor that Cory Perry would soon be wearing blue and green. If you read Vancouver Canucks message boards you will see names like Shea Weber and Zach Parise thrown about by wishful Canuck-heads.
The Canucks could stand to make a move or two. They need more depth on the blue line, their recent play has made this crystal clear, and perhaps another forward. Maybe one that can add a little more grit to their lineup.
In order to make a move however, they would have to give something up. This is something that we tend to overlook while deciding on whether or not we want to buy the home or away Shea Weber sweater.  Taking a look at potential trade pieces it seems that maybe the Canucks won't be making the big splash that so many dreamy-eyed fans would love for them to make.
Let's take a look at who the realistic trading chips might be.
For starters there are the untouchables. It should go without saying that the Sedins, Ryan Kesler, Alexandre Burrows and the like are not getting traded. Suggesting they might be should be saved for fantasy pools and video games. In reality the Canucks are not going to move someone Ryan Kesler, despite what some misguided radio callers might have been pushing for a few weeks ago. The same goes for the other big name players on the roster.
This also includes the always good-for-talk-show-banter Roberto Luongo. Despite what some fans may wish for, the Canucks are not going to move him. For starters, he has a no trade clause in his contract and even if he did waive it a team would have to be willing to take on his $5 million long term contract. While not impossible to conceive, it is highly unlikely.
The most compelling reason Luongo is not getting traded is that he is too good. He gets a lot of blame for the Canucks failures in the past and therefore his value has been skewed in some circles. In reality, he is one of the top goaltenders in the league and not an asset you give away easily.
So who is a possibility?
Cory Schneider: The stellar back up goalie has proven that he is ready for prime time in the NHL and would be a very attractive trading chip. There are many teams that would love to have a goalie as young as Schneider and make him the backbone of their franchise for the next ten seasons.
He is only making $900,000 this season and will be a Restricted Free Agent at the end of the year. Any team picking him up in February would have to be prepared to give him some dough at the end of the year.
Will he get moved? At some point the Canucks will need to do something with him. It won't be in February however. Schneider has proven to be a valuable part of the Canucks roster and with Roberto Luongo's playoff history the team can rest a little easier knowing that they have someone like Schneider, who has proven he can perform in big games, waiting in the wings.
It is most likely that he will still be wearing a Vancouver sweater on February 28th. Look for his name to pop up in serious trade talks this off-season however. There may be a better market for him then as well as teams that are out of playoff contention now may be interested in a franchise goalie. Moving him now would limit the number of potential suitors as only playoff teams would be interested.
Keith Ballard: Vancouver would love to unload Ballard and his hefty paycheck. Ballard has failed to fit into the Canucks system and often has found himself in Alain Vigneault's dog house more times than not. You have to feel sorry for Ballard as he seems like a good guy and hasn't complained too much, but he clearly could use some new surroundings.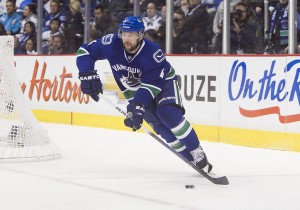 Ballard's skills may have some trade value but his $4.2 million contract may make a trade easier said than done. If the Canucks make a move it is likely they will try to include Ballard in the deal. You have to wonder, though, what a trading partner would be willing to give up. The Canucks may be forced to take on an equally overpaid player in return.
Whether that is worth it or not remains to be seen.
Mayson Raymond: Raymond is the most likely player to get moved. He is only 26 years old, has great speed and is a restricted free agent after the season. Raymond once showed that he might turn into a 30 goal scorer after potting 25 in 2009-2010. Since then however, he has struggled. He still has great speed and hands, but his game is on the outside and he's easily pushed off of the puck too often.
His goal scoring output has tanked the past two seasons and once a fixture on the second line, he has found himself a regular on the third line.
When the Canucks picked up David Booth at the beginning of the season it seemed that Raymond's days with Vancouver were going to be numbered. Booth has similar speed, but seems more willing to get dirty in front of the net and has meshed well with Ryan Kesler.
Raymond could add some offensive depth to a contending team, but it is unlikely he will bring in any big fish the other way. His name has already begun to pop up in some trade rumors and if you were to bet the farm on which Canuck would get moved he would be your best bet. Just don't bet on it being a 'blockbuster'.
The long shots:
If the Canucks really wanted to bring in a top flight player they would have to be willing to give up guys like Cody Hodgson or Chris Tanev.
Both are young, cheap and have great potential. In many ways Hodgson and Tanev are the biggest trading chips Vancouver has. Would they be willing to move them?
If you listen to general manager Mike Gillis he does not sound like a guy who is desperate to shake up his roster. So, it seems unlikely that they would move either of these young players.
Gillis would also be gambling with his personal future if he moved someone like Hodgson. If he gave up top flight, young talent and it didn't result in the big mug at the end of the season he would be run out of town.
The Canucks are simply too loaded to make a desperate move involving Hodgson or Tanev and doing so would hurt them in the future. These are two players that could be cornerstones for the Canucks for years to come.
Because of that, the expectations for Vancouver at the trade deadline should be muted. Guys like Parise, Weber, etc. are going to cost. That cost may be over Vancouver's head. Instead we should all be thinking more realistically about what depth players might be available.