The departure of Jarome Iginla from the Calgary Flames in March had two major implications. First and foremost, the club was able to smartly leverage an asset, ultimately turning a 35-year-old winger into three players (Morgan Klimchuk, Kenny Agostino and Ben Hanowski). Secondly, for the fifth time in club history, the team traded away its captain.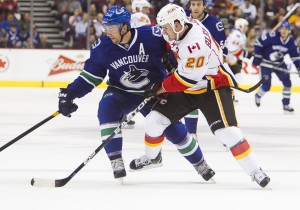 Thus, while there are many on-ice questions surrounding the 2013-14 edition of the Calgary Flames, arguably the most pressing one concerns the team's identity and its leadership. Most importantly, who will be the next man to fill the captaincy of the Flames as they go head-long into what may be a lengthy rebuild?
During the last stretch of basement-dwelling Flames hockey, the team's on-ice leadership seemed to get more haphazard as the team worked its way back to respectability. Joe Nieuwendyk was shipped off to Dallas, leading to Theoren Fleury – a dependable alternate captain and strong player, but arguably not ready for the media spotlight – inheriting the captaincy. Fleury lasted just a year with the C, leading to a revolving door of captains including depth defender Todd Simpson (generally considered the worst captain in club history), former Edmonton Oiler blueliner Steve Smith, veteran forward Dave Lowry and free agent signing Bob Boughner. It wasn't until Craig Conroy became captain in 2002 that the team had any semblance of stability, and it's probably not a coincidence that things turned around for the club as Conroy and Iginla formed the nucleus of the Flames' on-ice leadership.
So while the duration of the Calgary Flames latest rebuild won't depend solely on who the team chooses to be their new captain, the mood of the locker room, the tone of messaging and the public face the team puts forward to the media and the rest of the league rests on the new guy. After all, a team with future Hall of Famer Jarome Iginla probably has its act together, while a team that trots out a completely random dude to lead the way probably has some serious underlying problems.
While there are a few candidates that seem like pretty decent fits, there's nobody whose qualifications make them the "obvious" choice like Jarome Iginla was in 2003 when Craig Conroy stepped down from the post. In short – there's no heir apparent to Iginla's crown, although there are three or four individuals that, given the chance, could grow into the role and make it their own.
CURTIS GLENCROSS
One of two "main" contenders, Curtis Glencross joined the Flames as a free agent following the 2007-08 season. Originally signed by the Anaheim Ducks as a college free agent, he had stops with the Columbus Blue Jackets and Edmonton Oilers before landing in Calgary. When he arrived in the Stampede City, Glencross was widely considered a complementary player that may have some upside – his best offensive performance was 15 goals and 25 points, and he had just 71 NHL games under his belt when he came to town.
The Flames' faith in Glencross was soon rewarded. In four non-lockout seasons with the club, Glencross averaged roughly 20 goals and 40 points, while his rough-and-tumble style of play recalls Gary Roberts and Jarome Iginla at times. Glencross is presently second on the club in games as a Flame (with 327) and is the club's active leader in goals and points. And when he's "on" and engaged in a game, there's arguably few better to have on the ice when the game's on the line.
MARK GIORDANO
The second of the two probable front-runners is Mark Giordano. Undrafted in both the OHL and NHL drafts, Giordano made the OHL's Owen Sound Attack on a try-out and became a regular player and a key contributor. After he didn't get any NHL offers, Giordano was offered a contract to become a depth player for Calgary's split AHL affiliate in Lowell. He took that opportunity and ran with it, and by the time his entry-level contract was up, he had worked his way into 55 NHL contests. He refused a two-way contract offer from then-Flames GM Darryl Sutter and headed to Russia, where he played for Dynamo Moscow for a year before returning to Calgary to anchor the blueline.
Giordano's defined by two attributes: his work ethic and his effective two-way play. Giordano suffered a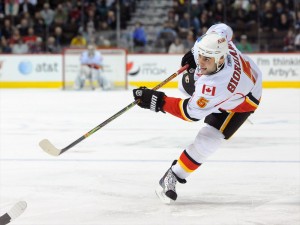 lower-body injury during the 2011-12 season and attempted to skate off the ice despite the injury, showcasing his lack of quit. He's been an alternate captain for the club since the beginning of the 2011-12 season and leads the team's active players in games played as a Flame with 385 contests.
MIKE CAMMALLERI
Likely one of the more "dark-horse" candidates, Mike Cammalleri is a bit behind Giordano and Glencross on the Flames all-time games and points markers, but he's arguably the team's most media-friendly and offensively-talented player. A veteran of hockey-crazed media markets via Calgary and Montreal, Cammalleri also has been featured in national advertising campaigns and is generally at-ease in front of the camera.
Cammalleri's been an alternate captain for the club since last season, and remains a steady veteran presence on the team and a few years removed from a 40-goal campaign. However, if the Flames hope to have their captain in place for the long-term, putting the 31-year-old Cammalleri in the spot may not work, as he's routinely trotted out as somebody that could be moved by the rebuilding Flames to a contender at the trade deadline.
MIKAEL BACKLUND
This may be a bit of a stretch, but hear me out. Mikael Backlund was Calgary's first round pick back in 2007. Originally more of an offensive-minded player in junior, Backlund has emerged not only as Calgary's best defensive forward, but he's also one of just a handful of Flames-drafted players who have emerged as NHL-level talents. A very adaptable player, Backlund chips in offensively, kills penalties and routinely stares down the league's best players at both ends of the ice.
On a Calgary Flames club that will most likely be extremely young and full of homegrown prospects, formalizing the club's most prominent homegrown success story may be tempting. It's also helpful that Backlund regularly appears in the community at charitable events and hasn't shied away from the gradually-growing media attention he's been getting over the past few seasons. The knock on Backlund's candidacy is mostly that he's a bit young and that there's some veteran options in-house, not that he wouldn't be a good fit.
NOBODY – CONTINUE WITH THREE As
Of course, with nobody emerging as a "no-doubt" contender for the C, the Flames may continue on as they did last season – with three individuals wearing the alternate captain's A on their sweaters rather than naming a permanent captain. While this approach may leave the franchise temporarily adrift from a leadership perspective, it also provides an opportunity for an individual on this list – or even one who's not on it – to distinguish themselves and remove any doubt.
Given that the club is in the very early stages of a rebuild, this may actually be the most likely option for the time being.