Oh, it's the greatest time of the year. While we chug eggnog, put our feet up by the fire, and open a few gifts from under a fully decorated tree, Boston Bruins General Manager Peter Chiarelli will be busy on the phone. With the Bruins on the outside of the playoff picture looking in, moves need to be made to reform this past championship contender into its old self. On the Bruins' holiday wish list, a first line right wing is the priority. The Bruins rank 21st in the league in goals per game, averaging an uninspiring 2.5 per contest. The question isn't really if the Bruins will swing a deal, but when and who. With Christmas Day upon us, who will Santa leave for the Bruins under the tree? [To read more posts like this, click here]
T.J. Oshie
Don't tell me that you have forgotten about him. Does Captain America ring a bell? After dismantling Sergei Bobrovsky in a shootout in the Sochi Olympics to give the USA a crucial victory, Oshie became the idol of every kid in the United States. Hell, he could have even made Tom Brady jealous!
This season, Oshie's numbers are rather disappointing. With a mere 12 points in 25 games for the St. Louis Blues, Oshie hasn't set the league on fire. While many find the former University of North Dakota product to be disappoint after a breakout season, Oshie is a very skilled playmaker who creates opportunities by utilizing his impressive skill. He owns a career 0.67 point per game ratio, and would dazzle playing beside David Krejci, as the two playmakers would compliment each other offensively.
Jordan Eberle
Eberle is a truly exciting player who would add a lot of spark to the top of the lineup. A playmaker with flashy speed and a nose for the net, Eberle would have the chance to pile up points if he joined the Bruins. Over the course of his career, Eberle has averaged an impressive 0.78 points per game ratio while playing for the lowly Oilers. His drive to play defense has been noticeably lacking at times, but Claude Julian certainly won't put up with lackluster effort on the back end. Eberle would certainly be a jolt to the struggling offense.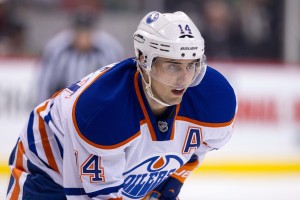 Eberle's Corsi rating is a 95, which is far and away the best on the Oilers. Not only can he provide his own offense (81 shots in 34 games), he makes his teammates around him better. Take a look at the following chart:
| | | |
| --- | --- | --- |
| Teammate Name | Corsi With Eberle | Corsi Without Eberle |
| Ryan Nugent-Hopkins | 54.5 | 43.3 |
| Taylor Hall | 52.6 | 45.8 |
| Benoit Pouliot | 58.0 | 45.6 |
The Bruins really could use a player who is not only offensively talented and can make plays, but one like Eberle who elevates the play of his teammates around him.
Chris Stewart
Chris Stewart rumors about being traded to the black and gold have been swirling around for some time now, although I don't believe he is the player to fill the hole in the lineup. Don't get me wrong, Stewart is a hard nosed hockey player who plays the game with grit. However, that's all he is. Hockey-Reference.com has him listed with negative offensive point shares this season. It would be a head-scratching move by Chiarelli to acquire a player who has his own difficulties putting the rubber into the back of the net.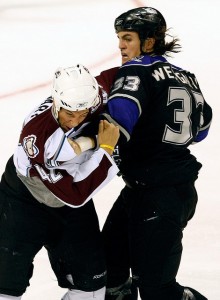 Between 2008-2011, Stewart was a force to be reckoned with in the attacking end. In those three seasons, Stewart boasted solid numbers, evidenced by his 0.74 point per game ratio. Since then? 0.44 PPG, a severe drop off from his previous numbers. Add in a salary of $4,100,000, and the logic doesn't add up for the Bruins trading for a player in decline.
Which player tops your wish list? Have other ideas? Comment below!
Cam joined The Hockey Writers in July of 2014 as a Los Angeles Kings writer. He has since transitioned to writing about the Boston Bruins. Growing up in Titletown, Cam bleeds the color of Boston sports teams. In addition to writing about his passion, the fastest game on earth, he is the co-founder of Press Room Sports. Cam is a junior at Phillips Academy, where he plays soccer, hockey, and golf.