In just three and a half years on the job, Alain Vigneault is already the third-winningest head coach in the 90-year history of the New York Rangers.
He has guided the Blueshirts to the 2014 Stanley Cup Final, 2015 Eastern Conference Final, and the 2014-15 President's Trophy.
This season Vigneault has seamlessly integrated new faces into the lineup as part of a significant overhaul of the roster, which now features 12 players aged 25 or under. Through 49 games his Rangers own the fifth-best record in the Eastern Conference, have scored the second-most goals, and are on track for another post-season appearance.
So, it was not a major surprise that Vigneault received a contract extension Tuesday, one that carries through the 2019-20 season.
#NYR head coach Alain Vigneault on his extension, the lineup for tonight and more before facing Columbus at The Garden. pic.twitter.com/9AMC1iFyTo

— New York Rangers (@NYRangers) January 31, 2017
On the most logical level, this is a solid business decision made by a general manager, Jeff Gorton, and owner, James Dolan, who have an excellent working relationship with the coach, and who respect what he has accomplished, and believe in his leadership moving forward.
However, Rangers fans are not all on board with keeping Vigneault around Madison Square Garden. In fact, a passionate, vocal, and often irrational, faction of Blueshirt Faithful, took to social media after the announcement to deride Vigneault and his contract extension.
if they LOST in the SCF one year. and DON'T make it back the next. THEY ARE WORSE.

— Ryan (@DaDuck87) January 31, 2017
So let's analyze why a segment of Rangers fans feel this way.
Favoritism
Tanner Glass. Dan Girardi. Marc Staal. Kevin Klein.
Mention those names and there are Rangers followers who will simply lose their minds.
Not only are fans upset with the overall play of these four players, but they are even more furious with the fact that Vigneault has stood by them at various times and continued to run them out on the ice even when they were struggling mightily.
…AV has consistently mishandled the D, from Girardi to Klein to Yandle & more… I also feel all teams he's coached lack grit/grinding…

— NHL Breakdown (@NHLBreakdown) January 31, 2017
In the case of Glass, who has spent the entire season in Hartford, his first season as a Ranger was an admitted disaster, compounded by Vigneault's decision to play him in 66 games during the 2014-15 season. Last year Glass was sent to the minors, but later appeared in 57 games with the Rangers, further inciting the Blueshirt Faithful even though Glass played better and offered a needed physical presence to the lineup. This season, Glass has not appeared in a single game, but Vigneault still absorbs the slings and arrows for his supposed devotion to the gritty Glass.
As for Girardi, a defenseman on the downside with a hefty contract, the fan base faults the coach for playing him too many important minutes, and for playing at all. Last year it was Dylan McIlrath who should have Girardi's spot in the lineup. This year it is Adam Clendening.
"AV plays favorites". "AV doesn't like young players". "AV has a blind eye for Girardi".
Insert the names of Staal and Klein for Girardi in the final statement, and you find three defensemen on the roster many fans believe should not be playing, or at least not as much or as often as they do. Valid hockey arguments.
That McIlrath is not able to crack the Top 6 with a new team in Florida or that Clendening is an inconsistent presence when in the lineup or that Glass was cut and is in the minors are also valid hockey arguments.
Youthful Regression
Another key argument against Vigneault is that he does not develop young players. Often cited on this list are front-line players such as Ryan McDonagh and Mats Zuccarello, minor leaguers like Marek Hrivik and Nicklas Jensen, and seventh defensemen in McIlrath and Clendening.
Of course, McDonagh is a two-time All Star in the midst of an outstanding 2016-17 campaign, and Zuccarello is on his way to another 60-point season. And the others are more fringe players, supplemental pieces.
This argument also ignores how Vigneault's steady hand, and often tough love, has helped make J.T. Miller and Kevin Hayes two of the club's most important players. It also fails to acknowledge how Vigneault is successfully bringing along Pavel Buchnevich, Jimmy Vesey and Brady Skjei; and how well Chris Kreider and Jesper Fast –different younger players with far different skill sets– have come along in their careers.
When the Rangers turned to a younger roster this season, many experts predicted a fall off for the Rangers, and likely a battle for one of the final playoff spots in the East. Instead the Blueshirts, under Vigneault, have adapted to become one of the most exciting teams in the league, and a true contender in the toughest division in the NHL.
Oh so Arrogant
Those who do not like Vigneault and are upset with this contract extension do have some valid points because no coach in the history of the NHL –not Scotty Bowman, not Toe Blake, not Al Arbour, not Mike Babcock– is perfect.
Each has his faults; and so, too, does Vigneault.
From stubbornness to in-game decisions to personnel calls. You can debate it all with Vigneault and point out his flaws.
However, at the end of the conversation it seems that what bothers the anti-AV faction has more to do with personality than anything hockey related.
That smirk he seems to have on his face most of the time. A quiet kind of arrogance. He knows more than you; and he knows it and wants you to know it.
And the gum-chewing. Oh, the gum-chewing!
Vigneault incessantly pounds that gum, and there are fans that simply can not stand it! No exaggeration. The clicking of the throat lozenge as he answers questions post-game, too. Oh, how there are fans who hate that!
He's a smug, gum chewing, no toughness, Girardi & Staal loving has been. Get someone young in here to coach. No old boys network candidate.

— gym2323 (@pitp23_kim) January 31, 2017
So, he's not soft and cuddly. AV keeps his distance. And he clearly does not care how anyone perceives him.
It just chaps some people.
"I've stayed humbled," offered Vigneault. "I've taken my job very seriously; but I don't think I've taken myself seriously. I know how privileged and fortunate I am to be in this position. I'm working my butt off to win the ultimate thing."
Final Result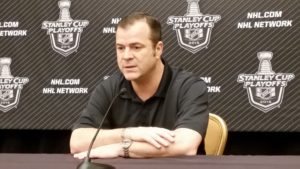 The only way the full Blueshirt Faithful embraces Alain Vigneault is if he leads the Rangers to a Stanley Cup championship. The one major omission from his stellar 15-year coaching career in the NHL is winning a Cup, and makes for a solid debate about if he'll ever be able to lead a team to the top of the mountain.
If he does accomplish that in New York, Vigneault will stand along with the flawed-yet-successful Mike Keenan as a legendary Rangers coach.
If not, all that he has accomplished since 2013-14 will go under-appreciated.
"My teams have won," Vigneault said on Tuesday. "They haven't won that one game; but I'm working my butt off to do it."