It was the week before the 2016-17 National Hockey League season started back in early October. I was riding in my car, tuned in to NHL Network Radio on Sirius/XM. Listeners were urged to call in and express their opinions about which coach they believed would be the first to be fired this season.
The overwhelming favorite was Alain Vigneault, head coach of the New York Rangers.
The one name I do not remember being mentioned? Gerard Gallant of the Florida Panthers.
Now here we are nearly two full months later and Vigneault is being widely praised for guiding the new-look Rangers to a 15-7-1 record and first place in the Metropolitan Division, while Gallant has just been relieved of his duties Sunday night after an 11-10-1 start.
Gerard Gallant fired as coach of the Florida Panthers, GM Tom Rowe takes over coaching duties.https://t.co/NndQDzJ6GV pic.twitter.com/Q2y3jeNpGP

— George Richards (@GeorgeRichards) November 28, 2016
Of course fans are not as privy to "inside information" as hockey journalists, beat reporters or broadcasters are, so there is no way to expect them to fully know of the inner dealings and conflicts Gallant had with the new front office group in Florida. Details are only now becoming more clear, with more insight perhaps to come when the respective parties speak to the press.
So overlooking Gallant as a top candidate to be fired at the start of the season, following Florida's first place Atlantic Division finish a year ago with an extremely exciting young roster, certainly makes sense.
But what of the common belief that Vigneault was tops on the firing line?
The Preseason Perception
Those who stated Vigneault would be the first coach fired this season largely based their opinion on the belief that a) Vigneault stubbornly mismanaged his lineup a year ago and b) he would not be able to adjust and win with a younger roster featuring a plethora of new faces.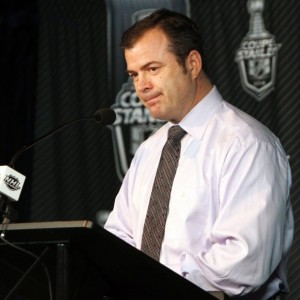 Vigneault's mandate a year ago was to win the Stanley Cup. The team's general manager, Jeff Gorton, said several times, including at last year's trade deadline, that he owed it to that particular group of players to take one more full-out try at winning a championship after advancing to the 2014 Stanley Cup Final and 2015 Eastern Conference Final.
So Vigneault made coaching decisions with that in mind, many times to a fault. Most notably he overworked tired, banged-up, veteran defensemen Dan Girardi and Marc Staal to the detriment of the team.
The Rangers did finish the season with 101 points; but their deficiencies were exploited by the Pittsburgh Penguins in a five-game blowout in the first round of the playoffs. Changes needed to be made, and they were during the summer as Gorton retooled the roster, getting younger, faster, and less expensive in the process.
However, many questioned Vigneault as being the right coach to lead these new-look Blueshirts because the most recent memory was of AV unsuccessfully trying to push his beaten down club to another deep playoff run. Plus wasn't Vigneault the same coach who seemed somewhat gun-shy of riding younger players in prominent roles, not only during his New York tenure, but in Vancouver and Montreal, as well?
There's no evidence to show that Gorton had any misgivings about his coach; but clearly the Blueshirt Faithful were not 100 percent behind Vigneault.
The Regular Season Reality
What has transpired over the course of the first quarter of the 2016-17 season is that Vigneault has shown tremendous flexibility as a head coach. He has expertly doled out important responsibilities and ice time to rookies Brady Skjei, Jimmy Vesey and Pavel Buchnevich. He has trusted each and been rewarded for that trust more often than not. When they have faltered, AV has reigned them in and reduced their responsibilities. That has happened several times with Vesey, who found himself on the bench during several third periods due to uneven play at both ends of the rink. Vesey has responded well to his benchings and is becoming a better all-around player with the lessons he is learning.
How deftly Vigneault has handled his rookies, and done so without public verbal rebuke, instead with understanding and confidence, shows the wisdom and skill of a man who has been an extremely successful National Hockey League head coach for 15 seasons.
Vigneault has also been fairly masterful at juggling his lines and defense pairings while navigating several injuries to important players already this season. Buchnevich and Chris Kreider have missed extended stretches, and Mika Zibanejad is now out six-to-eight weeks with a fractured fibula, yet the Blueshirts have maintained their fast-paced high-scoring winning ways.
He has expertly manipulated newcomers Michael Grabner and Brandon Pirri throughout his top four lines, and been rewarded for it as Grabner is among the league leaders with 12 goals and Pirri has ten points in 23 games. Vigneault has also maneuvered another newcomer, Nick Holden, among his Top Six defensemen, and has shown much confidence on the back end in the rookie Skjei, who is tied for the rookie lead with 11 assists.
It should also be noted that tough love from the head coach the past few years has helped coax youngsters Kevin Hayes and J.T. Miller into becoming extremely important two-way players on the current Rangers' squad. Hayes and Miller are playing in all important game situations and are tied for the team's scoring lead with 19 points apiece.
Of course it helps that Rick Nash has rebounded from injury and sub par play a year ago, as have Staal and Girardi, and that Grabner is having this amazing unforseen start to the season. And much credit goes to Gorton for assembling the current roster.
Vigneault, though, has made it all work; and even though the Rangers have slowed a bit of late, including Sunday's 2-0 home-ice loss to the Ottawa Senators, he has the team and its fans thinking big in a season many thought would be more about rebuilding than contending for a championship.
It is why Alain Vigneault's name will not be mentioned when the new topic on NHL Network Radio becomes Who will be the next head coach fired after Gerard Gallant?