This season was supposed to be a classic run to the 2017 Memorial Cup for the Windsor Spitfires. Instead, they've piled up wins and injuries to create an intriguing story for the OHL.
In May 2016, the Spitfires won hosting rights for the 2017 Memorial Cup. Windsor immediately went out and acquired talents to help push them into the upper echelon of the league. Those talents will be key as the second half pushes on and injuries continue to be at the forefront.
Three Key Injuries in January
January had been a solid month for the Spitfires. After a rash of injuries in November and December, things were looking up. The 2017 World Juniors were done, which brought back forward Julius Nattinen and defenceman Mikhail Sergachev, and injuries had settled a bit. The team was finally ready to show their fans what they could really do.
It was too good to be true.
Defenceman Logan Stanley, a Winnipeg Jets' prospect, was sidelined for up to four months after surgery for a torn meniscus. This isn't the end of it, either. Forward Logan Brown, who was out for 20 games during the first half, is out again after injuring his right hand in a game against Niagara a week ago. Brown is expected to be out for four weeks. Third, forward Jeremiah Addison is out for up to two weeks with a bruised lung. He was hit in the chest with a point shot from a teammate during the same Niagara game. Addison was hit earlier this month in a similar incident but didn't miss any time.
Windsor has been no stranger to injuries this season. In addition to Brown's injuries earlier in the season, forward Gabe Vilardi suffered a knee injury before the season and a lower-body injury in November. Addison was also out in late November for a shoulder injury. Former Spitfires' forward Cole Carter also missed time with a shoulder injury prior to a trade to Kitchener.
Depth Plays Vital Role
Injuries aren't helpful to any team. They won't break this team, though. Windsor endured the injuries during the first half and stayed in the Western Conference title race, much to the surprise of critics. How did they do it? Depth.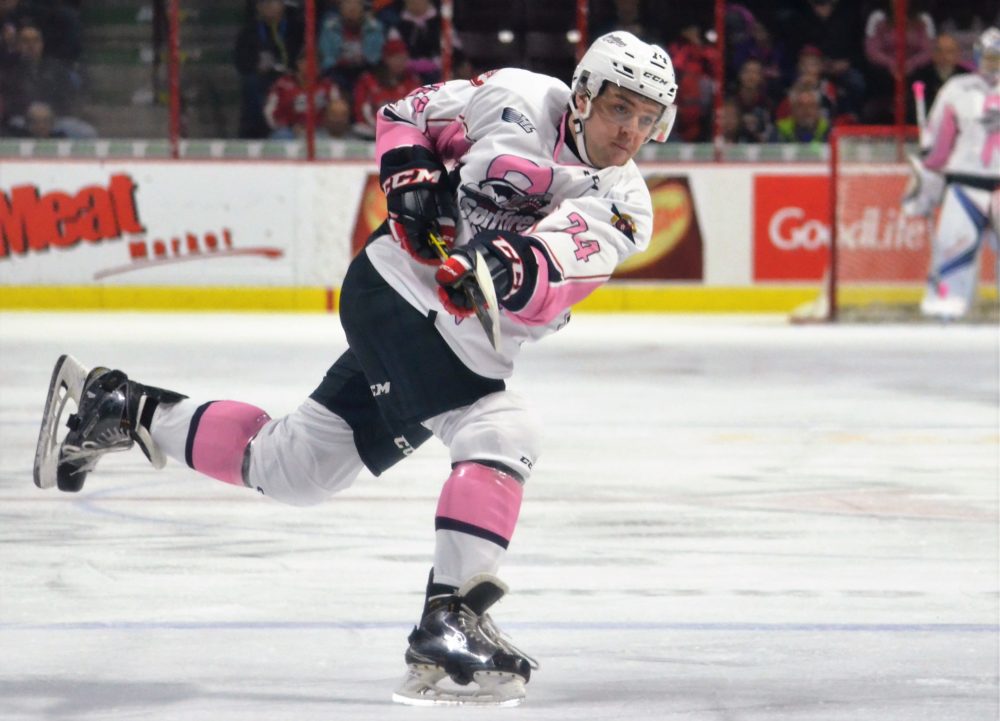 Before the deadline, the Spitfires brought in multiple veterans to help in the run. They acquired the 20-year-old Nattinen from Barrie, the 20-year-old Addison from Ottawa, 20-year-old forward Graham Knott from Niagara and 19-year-old defenceman Sean Day (pictured, above) from Mississauga. They also brought in shifty veteran forward Adam Laishram from Hamilton and he's been essential as an energy guy and a penalty killer.
Here's a video of Laishram after a recent Spitfires/Hamilton game that saw him score against his former team:
Windsor also kept forwards Cole Purboo, Luke Boka and Tyler Angle, and defenceman Connor Corcoran to give them valuable experience in this highly anticipated run.  They were chosen over the last two drafts. While they're young, they've all proven to be commodities on the third and fourth lines.
Defensively, losing Stanley is significant but can be overcome. Windsor still has Day, Sergachev, Tyler Nother and Jalen Chatfield, all of whom are either NHL prospects or have been to NHL camps. That's a top four that most teams would dream of. They also have veteran Austin McEneny, who has become a reliable defender, and newly acquired veteran Daniel Robertson.
One can't forget their elite goaltending tandem of Michael DiPietro and Mario Culina (pictured, below), either. DiPietro is a top prospect for the 2017 NHL Draft and Culina has goals-against average of 2.99 and a save percentage a sliver under 90 percent this season. It's a duo most teams would be thrilled to have.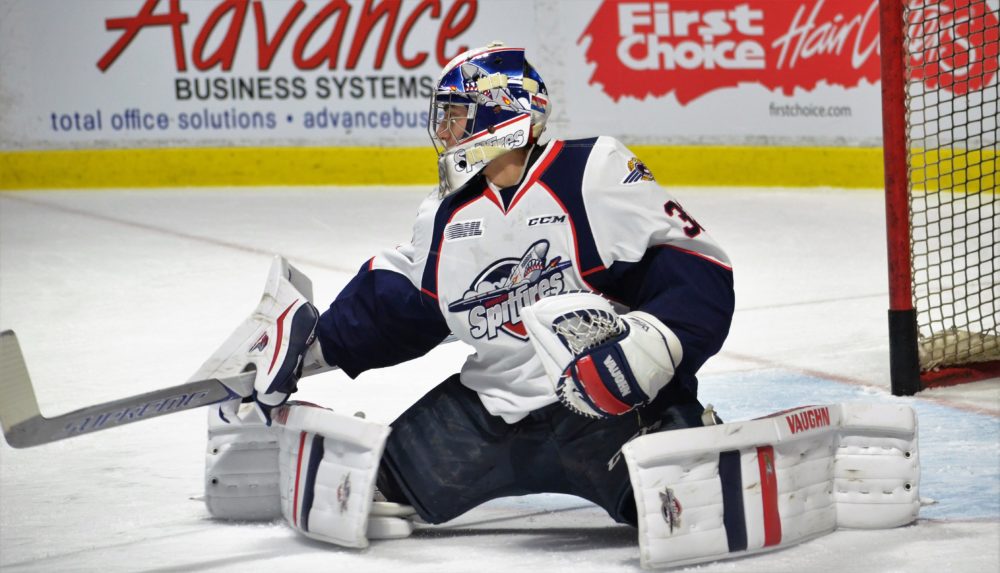 Don't Stop Believin'
The Spitfires have been down this road before and come out as strong as when they went in. Losing three key players isn't going to be easy, but that's why they made the moves they did —for situations just like this.
With multiple NHL prospects both up front and on defence and reliability between the pipes, there's no need to panic.  Head coach Rocky Thompson did a spectacular job with the lineup in the first half and will likely continue that into the second half.
While fans may groan at another round of injuries, the depth Windsor has accumulated will be key going forward. Optimism needs to be there. The Spitfires are in the middle of one of the best playoff races the OHL has seen in four years. As long as the players perform up to their potential, there is no reason why Windsor can't come out of this unscathed.