Ducks Set a Franchise Record with Eleven Straight Wins
Since the Christmas break, there has been no team hotter than the Anaheim Ducks in the NHL. Hot isn't even the word, they have been scorching through the league over the past 31 games with 25 wins and only four regulation losses. Out of a possible 62 points, they collected a whopping 52.
So what gives? How did all this happen after such a horrible start to the season?
Filling the Net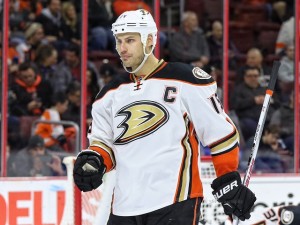 In early January, the Ducks were dead-last in offence averaging 1.9 goals per game, but they were able to keep their heads above water because of their stout defence and solid goaltending tandem of John Gibson and Frederik Andersen. They now find themselves 21st by raising their season average to 2.5 per game. But what happened?
The team's centres finally jumped their games up a notch, while noticing their defence as well as Corey Perry and Rickard Rakell's contributions were carrying the team. It has also helped that coach Bruce Boudreau separated longtime line-mates Corey Perry and Ryan Getzlaf in January. The team now has a lot more scoring depth throughout their lineup, instead of having it concentrated on two lines.
Great Coaching
Rather than make up line trios, Boudreau created his offensive lines with skilled duos accompanied by above average offensive role players to complete each line. The top line is comprised of Getzlaf with David Perron and Mike Santorelli/Nick Ritchie. On this line, Santorelli or Ritchie dig pucks out of corners and do some the dirty work and allow the skilled players like Getzlaf and Perron to do what they do best: be creative and dangerous. The same is true of the second line with newby Jamie McGinn retrieving pucks and standing in front of net while Rakell and Perry play the cycle game and skate circles around the opposition. The duo of Ryan Kesler and Jakob Silfverberg on the third line is completed with speedy Andrew Cogliano. His relentless forecheck and puck pursuit creates turnovers and gives his linemates more time in the offensive zone. 
Saturday night's win against the Kings was Boudreau's 400th in his career.
Congrats, Bruce! Boudreau is the fastest coach to 400 wins in @NHL history! Stat courtesy @EliasSports. pic.twitter.com/BCY52S0owa

— Anaheim Ducks (@AnaheimDucks) March 6, 2016
Key Additions in 2016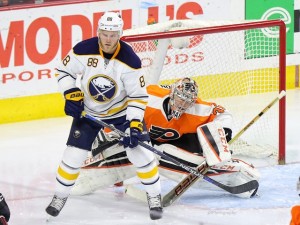 In each of the first three weeks in January, GM Bob Murray made a trade. Some were obviously more important than others such as picking up Ryan Garbutt and Perron in separate trades for Jiri Sekac and Carl Hagelin. Murray followed that up on Trade Deadline Day by acquiring McGinn and Brandon Pirri and cutting ties with Patrick Maroon. Although we haven't seen Pirri suit up for the Ducks yet, the McGinn move has already paid dividends, as he's picked up two goals, an assist and 10 penalty minutes in three games played so far with the Ducks. Anaheim has been able to add two players to the top two lines and you could not have hoped for a better start from either Perron and McGinn.
Personal Favorites to Win the Cup
The Ducks are looking like the most dangerous and versatile team in the league right now. They have three lines that can score and play any style from free-wheeling to down right nasty as we saw against the Kings on Saturday. Even Rakell recorded his first hockey fight.
Ricky Balboa!!👏🏻Congrats on the first NHL fight! I guess there is a little Viking in him. https://t.co/20enBdEI7M via YouTube

— Hampus Lindholm (@HampeLindholm) March 6, 2016
 The fourth line has a lot of speed and grit. The defence is extremely mobile with the likes of Sami Vatanen, Cam Fowler and Hampus Lindholm. They also have some bruisers like Josh Manson and Kevin Bieksa. If that wasn't enough, they have the best goaltending tandem in the league with Gibson and Andersen, as they have the Ducks sitting at number one in goals against with 2.3 per game and the third best penalty killing efficiency at 86.2 per cent.
They say your best penalty killer has to be your goaltender. Well, this is what great goaltending does. The Ducks are flying high and I didn't even mention that they possess the second best power play in the league too. League beware. Next on the schedule, the Capitals come to The Pond in what could very well be a Stanly Cup final preview.