After much speculation, the 2015 NHL Trade Deadline went by relatively quietly for Garth Snow and the New York Islanders. Making a goalie swap that saw Chad Johnson traded to the Buffalo Sabres for Michal Neuvirth, Snow did not have the same type of day that he had at last year's deadline when trying to get back the best return for Thomas Vanek.
With so much clamor about who the Islanders should and shouldn't have targeted, some Islanders fans are undoubtedly upset that Snow didn't make a splash for one of the more well-known players on the block, but sometimes it's better to do less than to be as active as possible. While some might not be happy with Snow's haul at the 2015 deadline, New York's General Manager addressed his team's needs, and gave up close to nothing in the process – something that Isles fans can definitely get used to.
The Main Move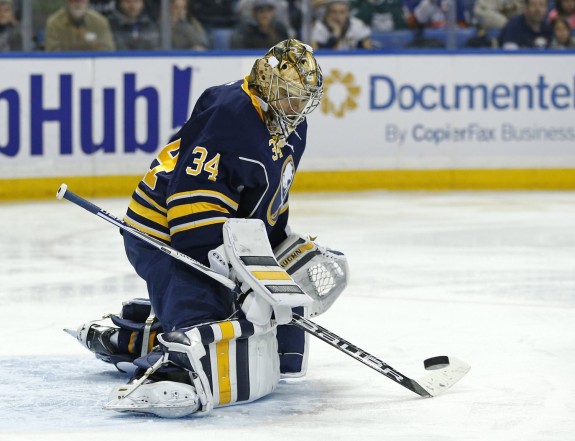 At this time last season, Islanders fans were probably wondering what Garth Snow would get in return for Thomas Vanek, and were most likely disappointed with the return that their team's GM received for the winger.
This year, as Peter McEntee from Islanders Insight noted, things drastically changed for the Isles – and it certainly has been for the better. Not having to worry about making a big trade to better his team's playoff chances, Snow was able to sit back and improve his team as best as possible. Of course, it would have been nice if the Islanders bolstered their defensive units with a trade for a rearguard, but if history has shown Isles fans anything, then it is that Snow will not go out of his way to make a trade that will mortgage his team's future.
Playing with an unbelievable amount of fluidity from their first to fourth lines – as well as from their first to third defensive units – the Islanders weren't in desperate need of adding a forward or defenseman at an astronomical asking price. Coveting his prospect pool, Snow found a deal that made sense for his team on a number of levels – and even though it might not have been a popular trade that some fans were expecting, it was a trade that needed to be made.
Neuvirth deal came together over weekend. "We thought it was an area we could upgrade." Neuvirth and Kennedy expected in Dallas tomorrow.

— Arthur Staple (@StapeAthletic) March 3, 2015
Battling inconsistency and not being played too often, Chad Johnson couldn't get into a solid rhythm this season on Long Island, and his peripheral statistics (8-8-1, 3.08 GAA, & .889 Save Percentage) more or less told such a story. While Michal Neuvirth didn't have jaw-dropping stats (6-17-3, 2.99 GAA, & .918 Save Percentage) either, the goalie was playing on a rebuilding Buffalo Sabres team that did not help out his stat-lines or winning percentages.
Considering the fact that Neuvirth would constantly see at least 30 shots per game during his starts, fans should look past the goalie's peripheral stats as they don't necessarily reflect poor play as much as they do the fact that Neuvirth had practically no help from his supporting cast this season when manning the Sabres' crease. However, what is beneficial about Neuvirth seeing so much rubber while playing for a sub-par team is the fact that the goalie has had time to settle into some sort of groove – even if he has been showing up on the wrong side of the win-loss column.
Trading Johnson – who had another year left on his contract – and a 2016 third-round pick for Neuvirth simply made sense for Snow and the Islanders. Not seeing enough – whether in limited time or not – from Johnson, Snow made a move that will ultimately free up the Isles' option come summer time. With Neuvirth slated to become an unrestricted free agent during the offseason, New York will now have the flexibility to determine who they want as their back-up goalie next season.
Whether or not Neuvirth re-signs with the Islanders is anyone's best guess, but trading for a goalie that will be a UFA next season gives Snow the option of re-signing his newest number two, shopping around the free-agent market, or bringing up a netminder from his stacked pipeline.
Although some fans might not be pleased with such a move, bringing in a reliable netminder with a good amount of playing time will allow Jaroslav Halak to get some much needed rest, and will give the Islanders a back-up goaltender that they can trust. Seeing as how the Islanders have four back-to-back games left to play(March 9-10, 13-14, 28-29, and April 10-11), it's hard to see how Snow's move to get a reliable back-up was not the right one to make – especially when it came at a fair price.
The "Minor" Move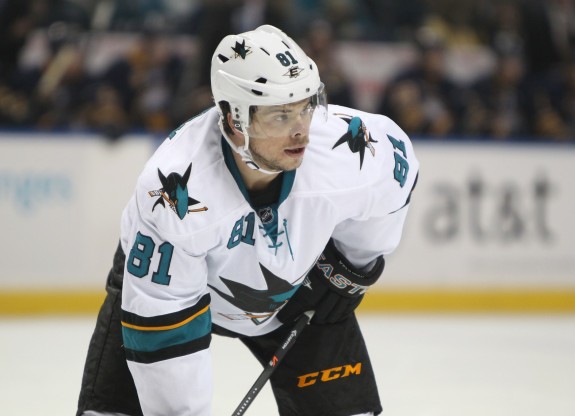 Although Tyler Kennedy has a plethora of experience in the NHL (464 GP), fans shouldn't expect the forward to return to the form that he had as a member of the '10-'11 Pittsburgh Penguins.
Strengthening his bottom-six forward rotation, Snow's move to get Kennedy from the San Jose Sharks added to the depth that the Islanders already have on their four lines. Of course, fans might be questioning where another winger will fit in on the Isles' already-stacked lineup, but that has been the beauty of having such a deep rotation of forwards.
In case of any potential injury to the Isles' forwards, Kennedy would be able to take the place of that winger and provide New York with some much-needed experience in their bottom-six rotation. Scheduled to become a UFA – much like Neuvirth – acquiring the likes of Kennedy puts no pressure on Snow in terms of deciding Kennedy's future with the Islanders.
Giving up either a seventh-round pick in the 2015 or 2016 NHL Draft or a third-round pick in the 2016 NHL Draft if the Islanders win the Stanley Cup and Kennedy appears in 50% of those games, Snow gave up a relatively small amount in order to get an experienced forward that could step into a professional lineup at a moment's notice.
A Deadline Without Dilemmas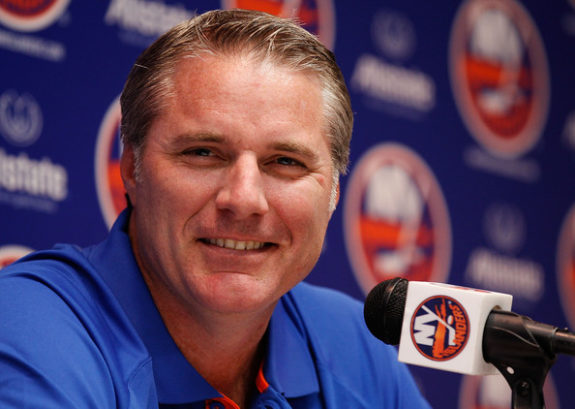 While Snow managed to add depth to the Islanders at the NHL level with the acquisitions of Neuvirth and Kennedy, he also made some smaller moves to solidify his AHL roster in Bridgeport. Trading goaltender David Leggio for defenseman Mark Louis and Cory Conacher for Dustin Jeffrey, Snow also freed up some space on the Sound Tigers' roster in preparation for the team's offseason.
All in all, Snow and the Islanders had a very stress-free deadline day. Not forced to make any decisions on trading away impending free agents or players that simply didn't fit the mold of the Isles' identity, Snow came away with a good haul that will help his team as they look to lock up one of the top seeds in the Eastern Conference playoff race.
More importantly, Snow did not alter the Islanders' make-up – something that has been a key driving force for the team's success. Persevering and overcoming adversity at various stages of the season – especially when analysts and other NHL teams probably expected the Isles to fall apart – New York has managed to get by with their players supporting each other through thick and thin.
With key cogs such as Kyle Okposo and Casey Cizikas set to rejoin the Islanders at some point in March, making a deadline deal for more prominent pieces would've just created a bigger logjam for New York. As a matter of fact, if one couples the returns of Okposo and Cizikas with Nick Leddy's long-term extension and the potentiality of a renewed contract for Johnny Boychuk, then it would be plain to see that Snow managed his most pressing issues first before improving his team through trades.
Having his team playing at such a high level of comfort with each other, it would have made little sense to fix something that wasn't broken by bringing in new personalities that could have disrupted the nature of New York's locker-room. Instead of going for the gusto and reeling in one of the deadline's hotter commodities, Garth Snow made deals that perfectly encapsulated the Isles' current situation – and ones that illustrated the fact that the organization firmly believes in their current on-ice product and their ability to be consistent winners.