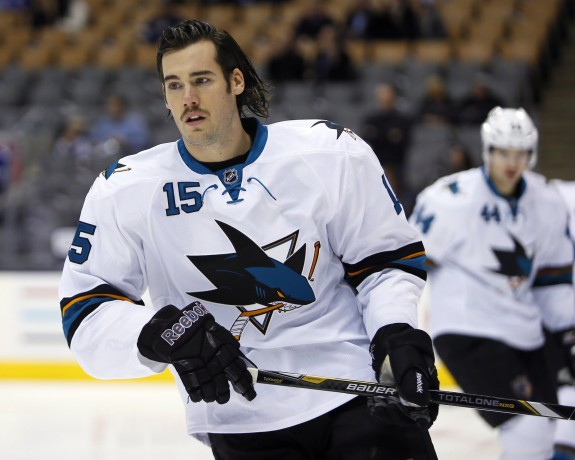 Sharks Sacrificed For the Future
Doug Wilson may have avoided a blockbuster trade at the deadline, but that does not mean that he wasn't active in the market. In the time leading up to March 2nd, San Jose's general manager executed four trades for his roster. They are listed below:
1) James Sheppard to NYR for a 2016 4th round pick
2) Tyler Kennedy to NYI for a conditional 2015 7th round pick (becomes 3rd round if NYI wins the cup and Kennedy plays in at least 50% of the games)
3) Andrew Desjardins to CHI for Ben Smith and a conditional 2017 7th round pick (San Jose retains 50% of Desjardins's salary)
4) Freddie Hamilton to COL for Karl Stollery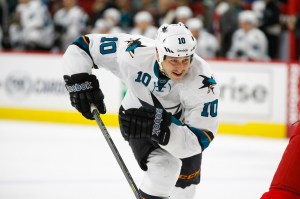 While it is hard to argue that any of the players dealt by San Jose were what was wrong with the team this season, the moves made by Wilson were definitely the right ones. As mentioned in a previous article, the Sharks are not winning the Stanley Cup this year and it would be wise for them to sell as many of their unrestricted free agents as they can. This is exactly what they did, with Sheppard, Desjardins, and Kennedy's contracts set to expire after this season.
It is doubtful that Wilson would have re-signed any of these three skaters in the summer. So, it was a good decision for the team to get something in return for them as opposed to letting them walk for nothing. Obtaining three draft picks, a defensive prospect, and Ben Smith (who had a phenomenal debut against the Montreal Canadiens) is better than keeping the former Sharks an extra six weeks in a doomed season. It is time to fully sacrifice this campaign for the sake of the team's future.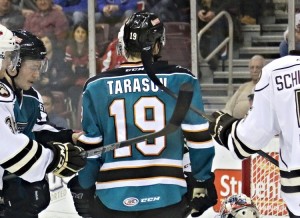 It will be interesting to see how the Sharks utilize their roster since two consistent starters and one typical scratch were replaced with just one NHL-ready player. Perhaps this will give Daniil Tarasov a chance to develop on San Jose's fourth line, or maybe John Scott will become a regular in the lineup. While I hope for the former rather than the latter, it is difficult to figure out how Wilson plans to ride out the rest of the season.
The season is not over and there is still a small chance that San Jose will qualify for the playoffs. However, the odds of them winning it all are outrageously small at this point and Wilson was smart to start planning for the future now. Because of these trades, the Sharks' pool of prospects may get an opportunity to acclimate to the speed and physicality of the NHL before the start of next season.  Sheppard, Kennedy, Desjardins, and Hamilton will all be missed, but they are a necessary sacrifice for the years to come in San Jose.
Drew Weber is a columnist for the San Jose Sharks at The Hockey Writers. He previously wrote articles and appeared on podcasts for Teal Town USA (formerly Pucknology) and contributed briefly to Fear the Fin. You can follow him on Twitter at @puck_over_glass.