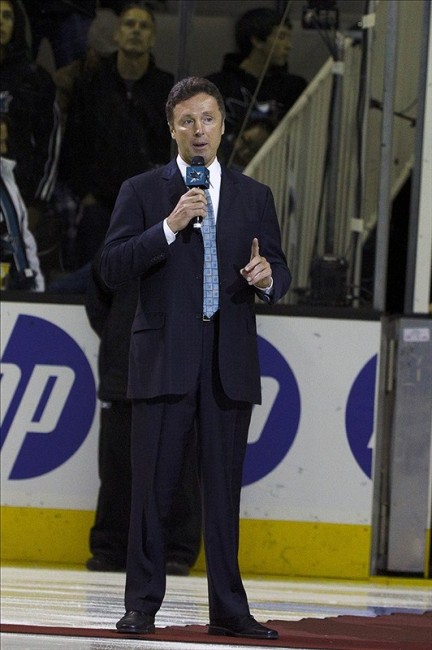 A Doomed Season
The San Jose Sharks are not winning the Stanley Cup this season. While this is probably not a surprise to most of my readers, it is something that general manager Doug Wilson needs to realize for the sake of his team's future. Ultimate victory may be out of reach for now, but it does not mean that next season can't be a breakthrough year. San Jose must rebuild.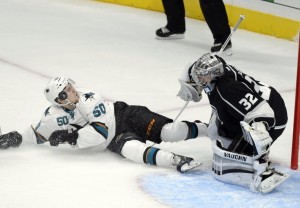 At no time has this Sharks' club looked like a true Cup contender. They have only  had four, three-game win streaks this season and their key statistics have declined significantly. As of now, San Jose is 17th in the NHL in 5v5 corsi-for percentage and are ranked 25th overall in 5v5 goals-for percentage. For comparison purposes, the Sharks were ranked fifth and seventh respectively in those departments last season. This club is nowhere near as good as the team that collapsed in the first round of the playoffs.
An atrocious offseason, poor lineup decisions, and inconsistent play have doomed the Sharks for the time being. If management wants their team to be competitive in the near future then they will need to sacrifice points now for contention later.
Rebuild at the Deadline
The trade deadline is on Monday, March 2– just four days away. With San Jose looking to be sellers this weekend, Wilson needs to summon his inner Billy Mays and trade a number of his unrestricted free agents in return for prospects or picks. It is better to deal the UFA's now and get something in return for them than wait until the offseason and let them walk for nothing.
In my opinion, the following players should be moved prior to the deadline: Scott Hannan, Tyler Kennedy, James Sheppard, and Antti Niemi.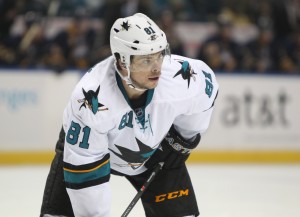 This is not to say that the above players are unskilled; Sheppard and Kennedy have occasionally been bright spots in the bottom-six and Antti Niemi was nominated for the Vezina Trophy in 2013. However, they are not ideal in the Sharks' lineup and it would benefit both the players and the franchise to go their separate ways. Of this group, Sheppard is the only person that I could see Wilson re-signing in the offseason. The only reason I think he should be traded is because he holds a lot of value to teams planning to make a deep postseason run. He is a fantastic player that can significantly help a third or fourth line on a team lacking depth.
Seasoning the Youth
While moving these current Sharks gives San Jose the opportunity to acquire draft picks and prospects for later on, it also provides them the chance to give their youngsters more playing time in the NHL. Skaters like Mirco Mueller, Barclay Goodrow, and Chris Tierney have all spent a large amount of time in the press box this season. This is the worst possible use for them. These rookies have the potential to be this franchise's future, yet management is sitting them out of games instead of letting them season in the AHL or giving them experience in the big league. With open roster spots and practically nothing to lose, this is the perfect situation for Wilson and coach Todd McLellan to test out their younger players. My ideal lineup– written below– is what I believe is optimal for player development and could help build chemistry for the next season. Some skaters are hyperlinked to other articles that I used as a premise for my lineup choice.
Hertl – Thornton – Burns
Wingels – Couture – Karlsson
Goodrow – Desjardins – Tierney
Vlasic – Tennyson
Mueller – Braun
Dillon – Fedun/Irwin
Stalock
Grosenick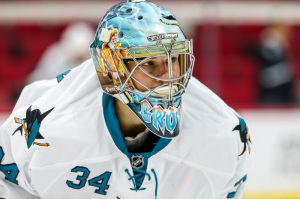 What this extensive use of rookies does is set San Jose up for a win-win situation. On one hand, if the Sharks tank with this group then they get a higher draft position and have an idea of what needs to be done in the offseason to improve. On the other hand, if San Jose somehow does qualify for the postseason, then the young players will gain valuable experience performing in a playoff atmosphere. This team has little chance at making the playoffs, let alone winning the Stanley Cup, so experimenting with the lines and giving prospects more playing time can only benefit this squad.
Offseason Decisions
Last summer was a nightmare for Sharks fans. Rather than signing free agents that could have boosted the club to the next level, Wilson elected to offer deals to the likes of John Scott and Michael Haley, effectively making his team worse than it was the prior year. This year must be different.
First off, Scott and Tye McGinn need to go. They have provided nothing positive for San Jose and are a waste of a roster spot and cap space (little as it may be). Each time they dress for a game is robbery for the skilled and developing players that can actually make an impact on scoreboard. While I understand the need for a physical presence in a tight game, there is no reason to employ players who can do nothing else aside from it. Tommy Wingels and Andrew Desjardins are the ideal enforcers in San Jose– smart, responsible skaters that can do more than bang bodies.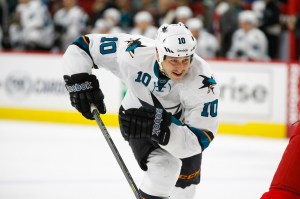 While Scott and McGinn have been expected busts this season, there are a number of pending free agents that will fit well in next season's roster. These skaters are Melker Karlsson, Brendan Dillon, Andrew Desjardins, Matt Irwin, and all notable prospects playing in the AHL. Karlsson has been a huge impact since his arrival in San Jose, Dillon is growing into his top-four role, Desjardins is an underrated depth player who has been plagued with terrible linemates, and Irwin is a good sixth or seventh defenseman that can fill in during injuries or cold streaks. They may not be star players, but they are who the Sharks need on their bench to deepen their youthful lineup.
Obviously, Team Teal would still have a number of flaws on their roster for the coming season if they took this path, the most notable of them being in the top-four defensive group and in net. This is where free agency really comes into play. San Jose would need to acquire a competent, right-handed defenseman to play on the second pair as well as a starting goaltender to replace Niemi.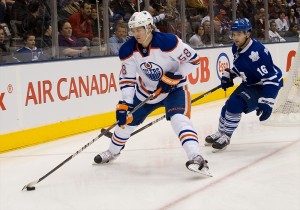 Some defensive free agents that the Sharks could pursue include Zbynek Michalek, Jeff Petry, and Michael Rozsival. Michalek and Petry have been rumored to be on the trade block lately, but if they do not get moved before the deadline then it is unlikely for them to be re-signed by their clubs. Meanwhile, Chicago is dealing with cap space issues and not re-signing Rozsival may be a way for them to gain some breathing room.
The riskiest part of this plan though is finding a netminder that can be considered an improvement over Niemi in free agency. Alex Stalock is not ready for the starting role in San Jose so it is vital for the team to sign a goaltender that can handle that kind of work load. Some possibilities are Viktor Fasth, Karri Ramo, and Jonas Gustavsson. The problem with these names is that they are unproven and may or may not be a better fit in teal than the Sharks' Finnish goalie. This is in addition to the possibility that each one of them may be extended by their current team before free agency begins. While I am on the fence about moving Niemi, I don't think Wilson well re-sign him, which is why I have put him into my analysis.
Next Season's Lineup
With the above moves being done, the Sharks would be poised to make another serious run at Lord Stanley's cup. This group would be younger, faster, and most importantly: hungrier. All of these factors could very well contribute to the team being elite once agin and propel them deep into the postseason. Come opening day, I would hope for a lineup like the one below:
Hertl – Thornton – Burns
Wingels – Couture – Karlsson
Marleau – Pavelski – Nieto
Goodrow/Goldobin – Desjardins – Tierney
Vlasic – Braun
Dillon – Michalek/Petry/Rozvisal
Mueller – Tennyson
Fasth/Ramo/Gustavsson
Stalock
This roster has skill throughout and could be incredibly dominant when compared to the lineup the Sharks have iced this season. Of course, rookies are a gamble. But, they are probably more skilled than many of the players McLellan has inserted into the group so far this year. At worst, the team is developing more for the seasons to come.
Other Options
There are two other options that could help San Jose in the future that I did not use in my plan. One of them is selling Desjardins at the 2015 trade deadline and putting Daniil Tarasov in his place for the rest of the year. Then, come the 2015-2016 season, rookie Nickolay Goldobin would be able to have a full-time roster spot on the fourth line with Tierney and Goodrow.
The other possibility is keeping and re-signing Niemi for another year to avoid having questionable goaltending next season. Niemi hasn't been phenomenal this year, but he hasn't been a total disaster and has come up with some huge saves. He may not be the best in the league, but with a better team in front of him he may be good enough to bring his squad to the Stanley Cup Finals.
While there are other beneficial ways the future can pan out for San Jose, each with their own set of risks and rewards, the worst thing this franchise can do is stand pat at the deadline and during free agency. Wilson seriously hurt this team with the terrible offseason last year. If the Sharks want to be contenders once again, then a change needs to happen. Developing players don't improve by sitting in the press box, goons don't produce offensive pressure, and aging defensemen don't perform well on the blue line. This team isn't good enough to win now, but with some key adjustments, they can improve dramatically in the 2015-2016 season. Mr. Wilson, you cannot sit idle while this team continues to flounder. It is time for the rebuild.
Drew Weber is a columnist for the San Jose Sharks at The Hockey Writers. He previously wrote articles and appeared on podcasts for Teal Town USA (formerly Pucknology) and contributed briefly to Fear the Fin. You can follow him on Twitter at @puck_over_glass.