A few weeks ago, reports came out that new Las Vegas General Manager George McPhee sought Washington's permission to interview Ross Mahoney for the vacant assistant general manager position. Considering that McPhee was the Capitals' General Manager for 17 years before current GM Brian McClellan, it would be understandable why getting Mahoney would be such a priority for him. While Washington never won a Stanley Cup while together, Mahoney and McPhee were responsible for moving on from an era that featured Peter Bondra, Dale Hunter and Olaf Kolzig and the building the current edition of the Capitals that features Alex Ovechkin, Nicklas Backstrom and Braden Holtby. In achieving the latter core under a tight salary cap and through a tough rebuilding process, the two front office minds had to use the draft to develop as many NHL quality players as possible. They did so with great results.
With that in mind, let's take a look at each draft class McPhee and Mahoney worked together on from 2004 to 2013, also known as the "Ovechkin era". If a Capital has or has the potential to play over 410 games as a skater or 205 games as a goaltender, that draft pick would be considered a successful selection. The rest will be under the "other draftees" category. It is important to note that the average NHL team barely gets over one draft pick that becomes an NHL mainstay per year. So any draft class with multiple "successes" is considered a tremendous achievement. Under McPhee and Mahoney, the Capitals were able to "hit" on 18 of their 83 selections in that ten-year span and had six of their ten draft classes result in multiple draft picks becoming NHL regulars. If there's one thing you can count on, is that if Mahoney leaves for Las Vegas, they will become among the best in the sport in finding and developing young talent.
2004
Successes: Alex Ovechkin, Mike Green, Jeff Schultz
Other Draftees: Chris Bourque, Mikhail Yunkov, Sami Lepisto, Clayton Barthel, Oscar Hedman, Pasi Salonen, Peter Guggisberg, Andrew Gordon, Justin Mrazek, Travis Morin
On the last year the NHL used nine rounds for an amateur draft, the Capitals began their rebuilding process with 13 picks. Along the way, this draft class produced three NHL veterans and three AHL mainstays. Alex Ovechkin and Mike Green would become some of the best to wear a Capitals uniform while Jeff Schultz has over 400 career games and won a Stanley Cup with Los Angeles in 2014. Meanwhile, Andrew Gordon, Travis Morin and Chris Bourque have combined for 1,357 points in 1,521 games.
2005
Successes: None
Other Draftees: Sasha Pokulok, Joe Finley, Andrew Thomas, Patrick McNeill, Daren Machesney, Tim Kennedy, Viktor Dovgan
Without a shadow of a doubt, this was the worst draft class of the ten being observed today. While it is admirable for a sixth round pick Tim Kennedy to play in 162 career NHL games, Sasha Pokulok and Joe Finley were major disappointments for the Capitals' organization. For Pokulok, he would never have an AHL season that surpassed his 44 game total from 2008. Meanwhile, Finley's infamous reputation for only generating fighting majors (along with attacking collegiate mascots) carried him over to the professional level and he was never able to develop any goal scoring abilities.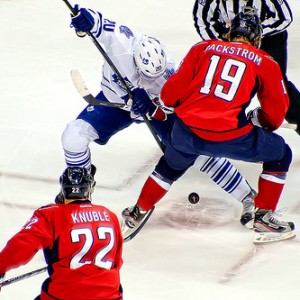 2006
Successes: Nicklas Backstrom, Semyon Varlamov, Michael Neuvirth, Mathieu Perreault
Other Draftees: Francois Bouchard, Keith Seabrook, Oskar Osala, Luke Lynes, Maxime Lacroix, Brent Gwidt
If 2005 was such a misery, 2006 was the complete opposite. No other draft class has been able to top the success that this one brought to the Capitals. Of their 10 selections, four of them have played over 200 NHL games and two of them have experience as starting goaltenders.
While Nicklas Backstrom is the only one of the four successful draft picks remaining with the Capitals, it should be commendable to see so much talent pulled out from different rounds of the draft. While Backstrom and netminder Semyon Varlamov were first-round picks, another goaltender in Michael Neuvirth was a second-round pick and forward Mathieu Perreault was a late sixth-round pick. It should be noted that while Perreault only played in 159 games in a four-year span with Washington, he has developed into a legitimate top-nine skilled forward while with Anaheim and Winnipeg.
2007
Successes: Karl Alzner
Other Draftees: Josh Godfrey, Theo Ruth, Phil Desimone, Brett Bruneteau, Brett Leffler, Dan Dunn, Justin Taylor, Nick Larson, Andrew Glass
Even though Karl Alzner is the only draftee able to find any success from this draft class at the professional level, it is commendable enough to see Mahoney's and McPhee's first round pick that year (let alone a top-five selection) be able to live up to his billing and become a regular top-four defensemen. With the team record for most consecutive games under his belt, the soon-to-be 28-year old will hope to add a Stanley Cup and a hefty contract extension after this upcoming season.
2008
Successes: John Carlson, Braden Holtby
Other Draftees: Anton Gustafsson, Eric Mestery, Dmitry Kugryshev, Joel Broda, Greg Burke, Stefan Della Rovere
With Ovechkin, Backstrom and Green beginning to develop into future stars this season, a run of three straight draft classes was starting where multiple picks were becoming NHL regulars for the Capitals. This particular one was a strong crop that featured the first-round pick John Carlson and fourth round pick Braden Holtby. While it seemed difficult to imagine Holtby as a long-term answer to Washington's starting goaltender position after Varlamov and Neuvirth were selected, he has gone on to win a Vezina Trophy, tie the NHL record for most wins in an NHL regular season and is now considered the best goaltender to ever don a Capitals uniform not named Olaf Kolzig. Meanwhile, Carlson has gone on to become one of the better defensemen in the NHL.
It should be noted though that first-round pick Anton Gustafsson was never able to live up to his potential due to a series of concussion issues that bothered him during his early professional career. He has since been able to recover from them as he is now playing for the Langnau Tigers in the Swiss A League. Meanwhile, a seventh-round pick Stefan Della Rovere was able to get some playing time for St. Louis as the team's enforcer.
2009
Successes: Marcus Johansson, Dmitry Orlov, Cody Eakin
Other Draftees: Patrick Wey, Brett Flemming, Garrett Mitchell, Benjamin Casavant
2009 could be McPhee's and Mahoney's most underrated draft class as three selections have gone on to combine for 940 career NHL games so far in their young careers. Already Marcus Johansson is considered among the most productive players from his draft year despite being picked 24th overall. Meanwhile, Dmitry Orlov is finally developing into one of the best bottom pairing defensemen in the league while Cody Eakin has developed into a top-six forward in Dallas. Along with that, Garrett Mitchell has become one of the most unsung heroes of the most recent iterations of the Hershey Bears.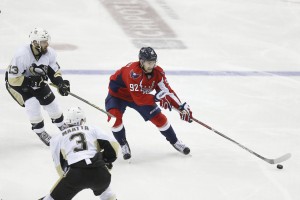 2010
Successes: Evgeny Kuznetsov, Philipp Grubauer
Other Draftees: Stanislav Galiev, Caleb Herbert, Samuel Carrier
It may have taken a handful of years for him to finally arrive in North America, but Evgeny Kuznetsov has finally lived up to his international billing and more for the Washington Capitals. 2010 is the first draft class that is being evaluated more on "potential" more than "set in stone" successes or failures. None are better examples than currently analyzing Philipp Grubauer and Stanislav Galiev. While both have not played that many games at the NHL level, you can envision Grubauer receiving more playing time as a young backup goaltender, no matter what team he plays for while Galiev has been mainly used as a thirteenth forward under head coach Barry Trotz. With all these skaters hitting their age-24 seasons, time is running out for some of these players to start hitting their complete potential.
2011
Successes: None
Other Draftees: Steffen Soberg, Patrick Koudys, Travis Boyd, Garrett Haar
While this draft class could end up becoming the least fruitful of the McPhee-Mahoney era, it should be noted that their first selection came in the fourth round when they picked Norwegian goaltender Steffen Soberg. On draft day, McPhee traded his first round pick in exchange for Troy Brouwer while the second and third round picks were traded away in previous midseason trade deadlines in exchange for Joe Corvo and Dennis Wideman, respectively.
However, sixth round pick Travis Boyd had a strong first full season with AHL Hershey. Do not count out his chances of him becoming an NHL regular just yet.
http://gty.im/471960316
2012
Successes: Tom Wilson, Filip Forsberg, Connor Carrick
Other Draftees: Chandler Stephensen, Thomas Di Pauli, Austin Wuthrich, Riley Barber, Christian Djoos, Jaynen Rissling, Sergey Kostenko
With 11 selections, Washington has had its last chance so far to replenish the prospect pool for the future of the team. So far, it has produced tremendous results, even if one of them was inexcusably traded to Nashville in exchange for a past-his-prime Martin Erat. Filip Forsberg aside, Connor Carrick could see some playing time for a rebuilding Toronto Maple Leafs team while Tom Wilson is among the top ten in games played among those in his draft year.
Skaters to watch that could still live up to their potential are Chandler Stephensen, Riley Barber and Christian Djoos. Meanwhile, Thomas Di Pauli is testing free agency after a fantastic senior season at Notre Dame.
2013
Successes: Andre Burakovsky
Other Draftees: Madison Bowey, Zach Sanford, Blake Heinrich, Brian Pinho, Tyler Lewington
With Andre Burakovsky already becoming a mainstay for the Capitals, the real question now falls into who else will join the team and make a name for themselves. Madison Bowey, Tyler Lewington and Zach Sanford each have a shot of joining Washington soon while Brian Pinho still has ways to go in his collegiate career in Providence.
Ben covers the Washington Capitals at the hockey writers. He has been blogging about the NHL since March 2013. Follow him @DCSportsDork