Carolina Hurricanes general manager Ron Francis has a nearly flawless track record of signings, re-signings, draft picks and trades since taking over at the helm of the organization back in April of 2014, but one mistake he did make was not bringing back center Riley Nash this offseason.
Instead of extending Nash's deal, the Canes went in a different direction. They let the 27-year-old walk, and he ultimately signed a cheap two-year contract with the Boston Bruins.
Carolina's need for forward help was apparent after sporting a lackluster offense for the majority of the 2015-16 campaign, and Riley Nash definitely wasn't a big point producer, as he finished 10th on the club with 22 points.
However, the new-look Hurricanes wouldn't have needed Nash to be a game breaker offensively.
As it stands now, the Canes will be looking at Jay McClement to be their fourth line center. McClement is an accomplished NHL veteran with a solid track record as a locker room friendly, defensive forward, but for a vast majority of this past season, he was a complete liability outside of the faceoff circle.
He sported a harsh 46.32 Corsi-for percentage, which ranked worst amongst Hurricanes skaters with at least 25 games played. His goals-for percentage of 33.96% ranked ahead of only Brad Malone and Nathan Gerbe, who both signed two-way contracts with different clubs earlier in the offseason. His goals against per 60 minutes ranked second-worst on the club.
http://gty.im/460859032
In terms of advanced statistics, not only did Jay McClement finish well below-average, he was one of the worst forwards in the NHL this past season.
It's important to consider both the statistics and the eye test, but McClement failed in both areas.
While he wasn't in a role to produce offense, his lack of offensive competence was tough to watch at times. He's a player that has struggled mightily around the net, receiving passes, delivering clean passes in pressured situations and putting the puck into the net when he gets opportunities. He finished the season with just 11 points in 77 games and a minus-17 rating, the second worst plus/minus amongst Carolina forwards.
The Benefits of Riley Nash
Nash sported the fourth best Corsi-for percentage on the Hurricanes last season at 51.96. His on-ice save percentage and goals-for percentage both ranked in the top-half of Canes forwards in 2015-16.
Granted, Nash played with more capable linemates. He saw time with Jeff Skinner and Victor Rask at several points in the season.
Riley Nash won't blow you away with his offensive contributions. He finished the year with 22 points in 64 games.
What sets Nash apart from McClement is his ability to play all three zones on the ice. McClement not only looked out of place in the offensive zone at times, he looked lost in his own end as well. This happened far less frequently with Nash, as he used an active stick, his physicality, and his skating ability to move around and play capably in the defensive end.
He has enough skill to perform successful breakouts, play the puck effectively in the neutral zone, and take advantage of offensive opportunities. Nash also has the ability to play up and down the lineup and do it well.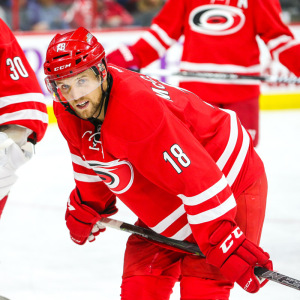 The one aspect of McClement's game where he truly has an edge over Nash is in the faceoff circle. McClement finished the season winning 55% of his draws, compared to just 50% from Nash.
Jay McClement's faceoff capabilities shouldn't be underestimated. He is great at it and it does create opportunities for the club to set up offense and get out of defensive jams, but if that is the only true asset that he provides, then I'm left wondering why he was the choice over Riley Nash for the club's fourth line center role.
I also understand that McClement's veteran presence is a plus for a young locker room. In that aspect, he's elite, but by all accounts, Nash was a popular player in the dressing room and he was a fan favorite for many. Given Carolina's many millions in cap room, the option of keeping both players around would have been more than feasible.
I'm rooting for Jay McClement to prove me wrong and have a bounce back season. I would be the first person to admit I was wrong, but given that he is now 33 and moving towards the latter stages of his career, it's far from a guarantee that this will happen.
Maybe playing with the likes of Viktor Stalberg and Bryan Bickell on the fourth line will help him, but on paper, a fourth line centered by Nash looks exponentially better than one centered by McClement.
A Missed Opportunity
At $900,000 a year for two seasons, the Boston Bruins got themselves a great player for the money in Riley Nash. It is unfortunate that the Hurricanes chose against bringing him back, even if the price would have been slightly higher.
Covering News and the Carolina Hurricanes for The Hockey Writers. Senior writer for SB Nations's CanesCountry.com. Former editor of CardiacCane.com (2013-2016).
Contact: bfinger30@gmail.com, @brettfinger (Twitter)